I received this product for free from the sponsor of the Moms Meet program, May Media Group LLC, who received it directly from the manufacturer. As a Moms Meet blogger, I agreed to use this product and post my opinion on my blog. My opinions do not necessarily reflect the opinions of May Media Group LLC or the manufacturer of the product.
Even though winter storms are happening back to back, it's almost hard to believe that before long it will be spring. La vie est grande when spring finally make its arrival. Then, you try on last year's bathing suit. Oy vey! Instead of enlisting on Google's expertise for the latest fad diet or burkini suppliers; reduce your appetite, jump start weight loss, increase mental focus, enhance hair and skin quality, improve digestion, relieve bloating, amp up your immune system, and detox with a juice cleanse and cold pressed juice delivery service.
Skinny Limits was founded in Austin, Texas by two avid juicers: Cary and Joanie Frieden. Many juicing companies claim that their juices are raw juices, but the truth is that there is little truth to their claims. Many of these companies have used the High Pressure Processing (HPP) method to extend the shelf life of their products. This in return kills all the living cells inside the juice, rendering it useless and ineffective. Cary and Joanie Frieden came up with a convenient and efficient solution to Juicing. Their juice line, Skinny Limits, is made of the freshest ingredients and never been pasteurized or processed. Their ingredients are also gluten-free. Unlike most "raw" juicing brands on the market, Skinny Limits' ingredients are so fresh that they're high perishable. Therefore, you must immediately cleanse the day after you receive your juice.
After your cleansing has been completed, be sure to check out their vast collection of raw vegan recipes. Some of my favorites are Raw Vegan Butternut Squash Soup with Mushrooms, Raw Vegan Chocolate Caramel Pecan Cake, Raw Vegan Mocha Energy Bars, Raw Vegan Pumpkin Cheesecake with Chocolate Sauce, and "Forever Young" Super-Antioxidant Black Currants Grape Juice.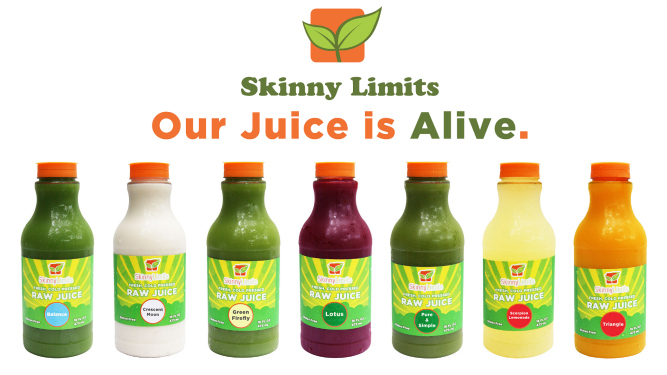 Skinny Limits sent me the Standard Juice Cleanse. Their 3-day juice cleanse ($147) includes 18 16oz. bottles of five varieties of fruit/vegetable combinations – Pure & Simple (Green Juice): Kale, spinach, parsley, cucumber, apple, and lemon; Balance (Green Ginger): Kale, spinach, parsley, cucumber, apple, lemon, and ginger; Green Firefly: Kale, spinach, parsley, celery, cucumber, apple, lemon, and pineapple; Scorpion Lemonade: Lemons, agave nectar, cayenne, and filtered water; and Crescent Moon: Raw cashews, vanilla bean, cinnamon, agave nectar, coconut oil, Himalayan sea salt, and filtered water.
It is recommended to drink a cup of hot water with lemon (and a pinch of cayenne for good measure) to jump start the cleanse. This wakes up the body and gets the system moving! Then, you follow up with the Pure & Simple juice. To avoid confusion, each bottle is numbered and color coded. You should have your next bottle 2-1/2 – 3 hours later and each subsequent juice every 2-1/2 to 3 hours, with your last one at least 2 hours before bed. Since you're basically fasting, the sole purpose of a fast is to abstain from food.
Some find it a challenging experience to forgo food for a few days. Even though they rather you not cave since they want to reap the full benefits of the juice cleanse, you can eat a couple of stalks of celery, half of a cucumber, 1/4 of an avocado with this juice fast. You can also drink other "green" beverages or herbal teas other than water between takes.
I did a cleanse over the summer, with positive results. So another bout of a few days of eliminating food sounded like another easy feat for me. Much as I want to say it was three unforgettable days of euphoria, mental clarity, focus, boundless energy, and happiness; there were moments where I felt unusually bloated and backed up. I guess it was my body's way of trying to get used to a cleansing period once again. I also felt like I had to choke down the Pure & Simple at times since the cucumber was strongly evident (I'm not much of a fan of cucumber in beverages.). Other than that, I had a positive experience. The Scorpion Lemonade reminded me of KeVita's Daily Cleanse (Lemon Cayenne), which I buy quite often, and their Crescent Moon was the perfect ending for each day. The Crescent Moon was somewhat thick and creamy, with a delightful cinnamon and vanilla taste, and fulfilling (300 calories and 19g of fat). Even though weight loss isn't the focal point of this juicing plan, the scale did tip downward.
Have you ever tried a cleanse?
Connect with Skinny Limits
Twitter | Pinterest | Facebook | Google+