Rodan + Fields Dermatologists are changing skin and changing lives by partnering with independent business owners across the United States to redefine the future of aging. Founded by world-renowned dermatologists Dr. Katie Rodan and Dr. Kathy Fields in 2002, Rodan + Fields' patent-pending MACRO Exfoliator and AMP MD System make real results possible at home without injections or other invasive procedures.

Prior to beginning Rodan + Fields Dermatologists, Drs. Rodan and Fields created Proactiv Solution, the best selling acne treatment system in America. Both are Stanford-trained professors of Dermatology and maintain private practices in Northern California.

Rodan + Fields achieves a high standard of excellence in business operations, and was awarded numerous awards for business campaigns and products. It quickly became a leading dermatologist brand in top-tier department stores, but became the first prestige skincare line to exit the department store and enter the direct selling market in 2008. This company helps people treat everyday skin concerns. Rodan + Fields is the anti-aging company to watch!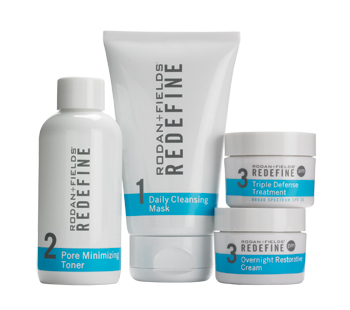 I was sent the REDEFINE Regimen for the Appearance of Lines, Pores and Loss of Firmness. The REDEFINE Regimen features four full-size products: Daily Cleansing Mask, Pore Minimizing Toner, Triple Defense Treatment SPF 30, and Overnight Restorative Cream. Based on Multi-Med Therapy, REDEFINE combines clinically effective levels of active cosmetics and OTC ingredients to help defend against and reduce the visible signs of aging.
The Daily Cleansing Mask is a gentle cleanser that cleanses without stripping my skin, and it removes daily build up of dirt and oil. It is a gentle exfoliator that seems to minimize my enlarged pores. The facial mask seems to be helping my skin. Not only it gives my skin the moisture that it craves for it, but my skin also looks healthier.
Using a good toner is a must. As skin ages, it begins to loose its elasticity. Toning can help keep the skin clear and firm. The Pore Minimizing Toner helps to reduce my pore size. I needed something to tighten my facial pores, and I really like the fact that my pores don't seem noticeable now. My pores are now beginning to be a no show!
The Triple Defense Treatment SPF 30 helps to protect skin from sun and environmental damage while reducing the appearance of fine lines and wrinkles. It seems to moisturize my face, promoting a soft and healthy looking tone.
I think the REDEFINE Regimen for the Appearance of Lines, Pores and Loss of Firmness Kit is worth the price. You can treat yourself to Rodan + Fields Dermatologists products for Christmas, or you may want to get something for a family member or friend. Here's to a healthier and more youthful look in 2014!