It wasn't long ago when Jessica Alba told Net-a-Porter's digital magazine, The Edit, that she wore two corsets day and night for three months after the births of her children in 2008 and 2011 in order to obtain her pre-pregnancy body. She chalked off the experience "sweaty", but worth it. She also went on to say that it was brutal and it's simply not for everyone. Even though it sparked controversy, many couldn't help but be intrigued by her weight loss method.
According to Baby Center, it's commonly practiced in some Latin American countries for new mothers to use a girdle or compression bandage after childbirth to help them recover their pre-pregnancy figure.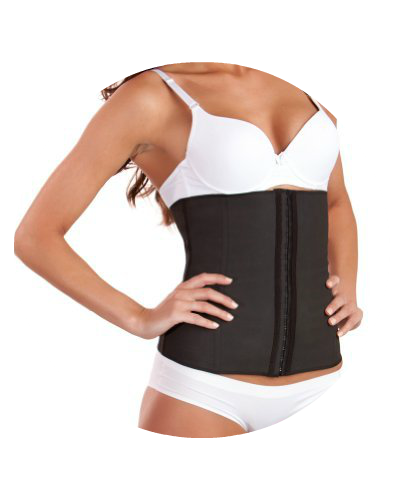 Hourglass Angel, an online shapewear shopping destination, offers shapewear, body shapers, and waist cinchers that will nip, tuck, and slim you within minutes without vigorous exercising or pricey surgeries or cosmetic products.
I received the Classic Cincher Waist Trainer by Amia A102 ($54; Available in Nude or Black), formerly known as the Almighty Cincher, for my review. Prior to this, I didn't have any experience with a cincher and was slightly surprised how restricting it was. Admittedly, it took me a few days to fully get used to wearing it, but I was able to wear it with effortless ease after that.
This cincher has a PowerLatex core that stimulates thermal activity and perspiration, mobilizing fat and toxins. On the site, they promise the wearer that they'll notice a sustained reduction of 1-4 inches in the waistline after wearing it 8-10 hours a day for 30 days. Additional benefits include a lifted bust, reduced back pack, and straighter posture.
Tempting, as it may be, it's not recommended to wear this during a workout (this is what the Active Band Waist Trainer by Amia A100, $60, is designed for). Otherwise, the boning might start coming out, which you don't want to happen since the boning helps the cincher retain shape.
As you start losing fat in the midsection, there are two columns of hook-and-eye closures on the cincher that enable you to size down with you. Although I still have some ways to go, I have noticed a difference in my waistline since I have been alternating between wearing this cincher and a steel-boned underbust corset. If you're not familiar with wearing either one, both are different in appearance and fit, and the corset is far more restricting. Yet, both are helping me achieve my goal of sculpting my waistline, which has always been a troublesome area – even long before having children.
Amia will donate $1 from your purchase to go towards The Woman's Alliance, which gives career training and work attire to low-income families.
This post is in partnership with Hourglass Angel.