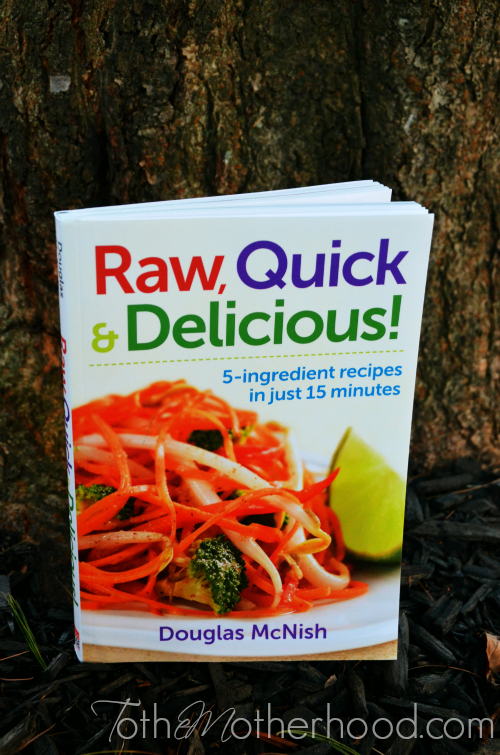 Raw food diets are becoming more and more popular, yet many of the recipes require a significant amount of planning, a dehydrator, and a sprouting technique. Many claim that following a strict raw diet may not be the easiest thing to do, but it's one of the most rewarding and beneficial diets out there. Some of the benefits include increased mental clarity, an astounding amount of energy, better sleep, and more regularity. Although I have never followed a raw food diet, I have always found the diet to be intriguing, nonetheless. The only thing that turned me off is the amount of dedication that is needed, such as sprouting your own grains or a food dehydrator. Not only I don't have a food dehydrator, I simply do not have the time or desire for that kind of dedication. Then, I was introduced to Raw, Quick & Delicious! by Douglas McNish.
Raw, Quick & Delicious! extends a warm welcome to the raw diet food world by proving that you can create wondrous, healthy, and raw meals at home without the usage of a food dehydrator or anything that takes a vast amount of time. All the meals for every time of the day are covered: Breakfast, Smoothies, Drinks and Juices, Snacks, Salads, Dressings, Main Courses, Pasta and Noodles, and Sides and Desserts. Some of my favorites are Cauliflower "Mashed Potatoes", Beta-Carotene Booster Juice, Celery Root Ravioli, Squash Burrito, Sweet Potato Enchilada, Apple Pear Lemonade, and Spiced Apricot Smoothie. Best of all, most of these recipes require 5 ingredients (some are 6-7) and 15 minutes of your time!
This book is perfect for the dedicated raw foodist or the foodie that doesn't mind a raw food meal once in awhile. I'm sure you'll be astounded like I was by the wide selection of tasteful recipes!