Disclosure: I was provided media passes in exchange for an honest review.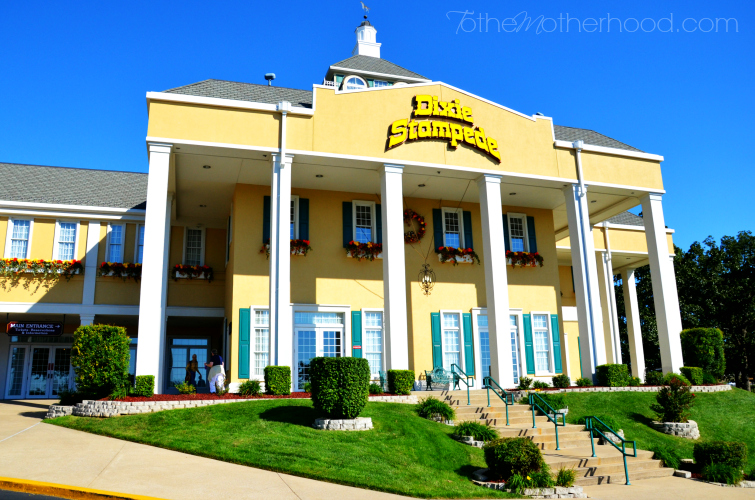 Touted as Branson's most fun place to eat, Dolly Parton's Stampede Dinner Attraction is a family-friendly experience that is a spectacle to behold. To get the most out of the experience, it's recommended to arrive an hour early to take a stroll at the horse walk and get warmed up to an entertaining live pre-show in their Carriage Room. They'll take your picture before you enter so you can have a choice to buy them later on or not. Once you enter the Carriage Room, your own usage of photography and video recording is not allowed. While you're in there, you can nosh on peanuts or popcorn and quench your thirst with an ice-cold Pepsi or frozen, non-alcoholic fruit beverage in a collector series Souvenir Boot Mug.
After the pre-show is over, they will whisk you off to the heart of the Dolly Parton's Stampede Dinner Attraction. For all in good fun, they will either seat you in the North or South section (we were seated in the North) and there will be a friendly competition between both sides. From their 32 show-worthy horses and top-notch riders with daring feats of trick riding and competition to their unforgettable, satiable four-course feast, you will cherish every moment that you are there! They even hand-pick people from the audience to join in on the fun. My husband I had a wonderful time, but I believed my daughter enjoyed the dinner show the most. She clapped, sang along, danced, and swayed to the music continuously throughout the show, especially when the Southern Belles appeared.
Seeing my daughter enjoy the show so immensely made it worth being there every minute. I had never been to a dinner show previously, so this was a new and profound experience for me as well. Everyone, including the servers, was very friendly. The food was bursting with flavor and fulfilling – it's almost certain that you won't leave there hungry!
Regular Menu:
Tender Whole Rotisserie Chicken
Hickory Smoked Barbecue Pork Loin
Buttery Corn on the Cub
Original Creamy Vegetable Soup (contains chicken broth)
Hot Homemade Biscuit
Herb-Basted Potato
Flaky Apple Pastry
Unlimited Pepsi, Tea, or Coffee
Vegetarian Menu:
Pasta
Buttery Corn on the Cub
Hot Homemade Biscuit
Herb-Basted Potato
Flaky Apple Pastry
Unlimited Pepsi, Tea, or Coffee (I opted for water)
Before the Show: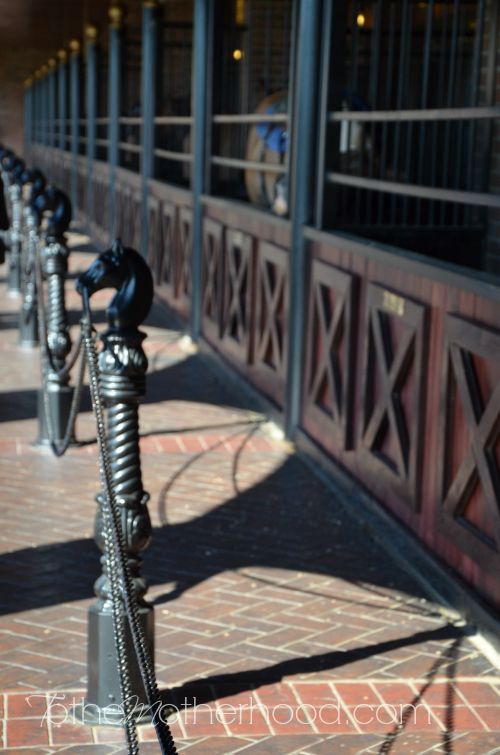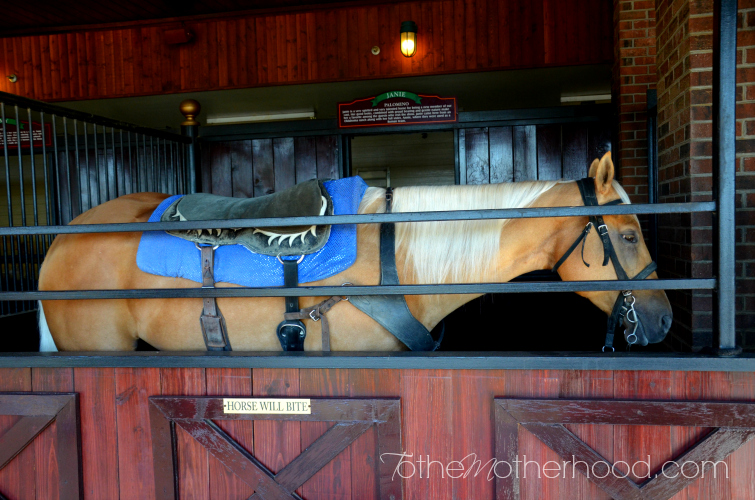 Most of the horses look horse-gone tired, but it was exciting to have my daughter be able to see the horses up close – just not too, close! It's warned on each of the gold plaques that the horses will bite. However, they were a sight to see, nonetheless!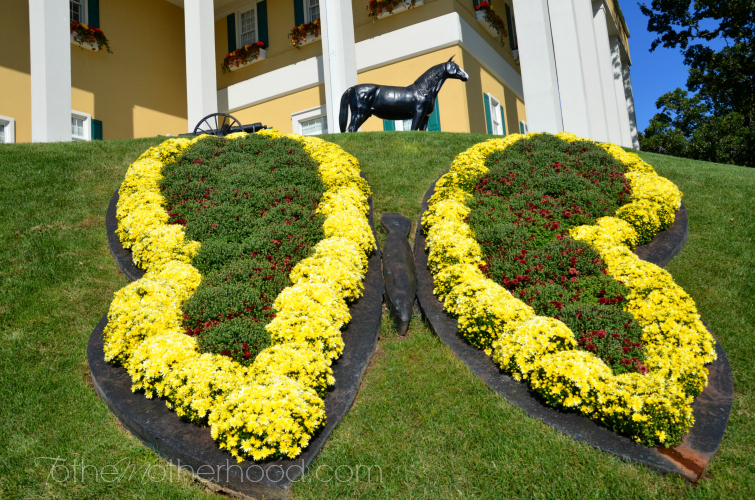 The outside of the building is just as beautiful as it is inside. I instantly fell in love with the butterfly-shaped garden. Right above it was a horse statue.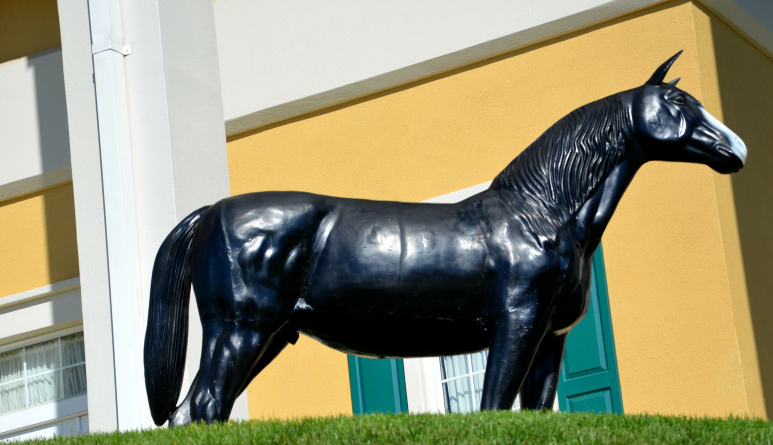 A closer look…..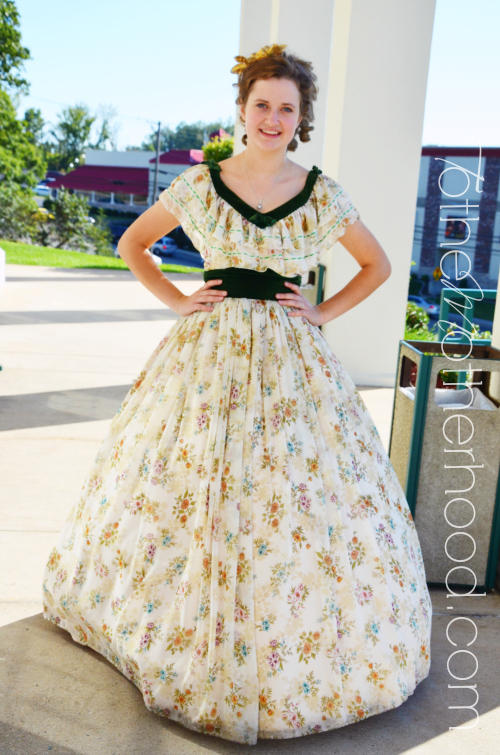 As we ventured to the outside of the entrance, we were greeted by this cheerful Southern Belle.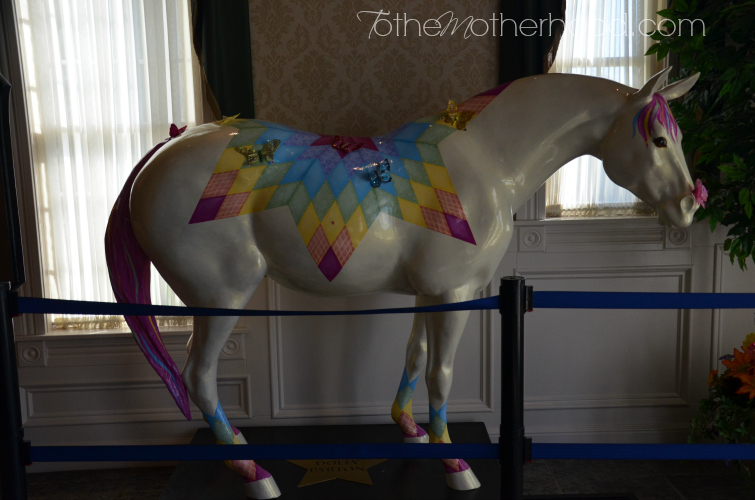 Everything inside the building was breathtaking. I was in awe of what looked to be antique (possibly circa the 1800s) china cabinet that was made of dark wood and intricately designed, high ceilings, and all of the gigantic art masterpieces that hung up high.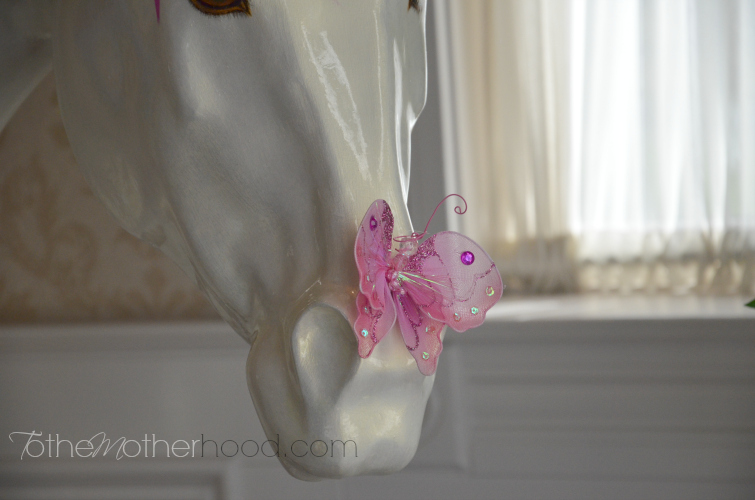 I was most impressed by the colorful horse, the "Colt of Many Colors", which was inspired by her legendary song Coat of Many Colors. This song is about a poor mother that sews her daughter a patchwork coat out of rags, which she confidently wears to school, but other children start to tease the young girl about her coat. Therefore, she tells them it truly means to be "rich". For her Painted Pony, Dolly Parton used a star-pattern quilt and butterflies to bring Coat of Many Colors to life. It is rumored that this Painted Pony is valued at $75,000 and a percentage of the proceeds will go to Dolly's favorite charities, Dollywood Foundation and Dolly Parton's Imagination Library.
Ticket Information:
Admission starts at $44.99 per person.