The texture and color of chambray remind me of denim. Although I wear denim jeans and jackets from time to time, I have never been particularly fond of denim dresses, or in this case, chambray dresses. My disdain for chambray went out the door when eShakti offered me to review one of their pieces, and one of the pieces that I instantly fell in love with was no other than the Art Deco Embellished Chambray Dress ($71.95).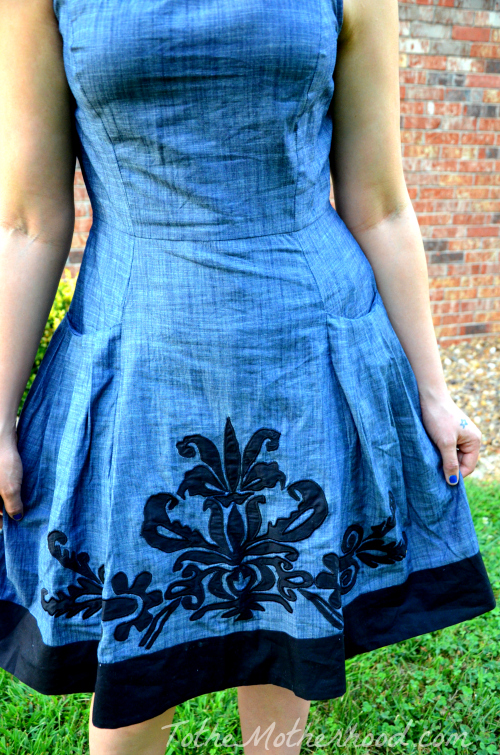 I still haven't quite jumped on board with this ongoing trend, but the Art Deco Embellished Chambray Dress stands out among the crowd. I call it "Country Girl Meets Parisian Chic." It features a princess seamed bodice and a full A-line skirt shaped by plush pleats from the curved front pockets. The unique, yet elegant design on this dress adds femininity and a touch of whimsy to the chambray trend, which, in most cases, comes across as being mundane, utilitarian, and overly conservative. Don't get me wrong, designers are trying to add a bit more playfulness to the chambray trend by adding polka dots, but it still really isn't my style. Yet, eShakti offers several different styles of chambray dresses that are awfully cute.
The beauty of eShakti is that you can customize this dress, or any item in their store, to suit your personal style. You can request for the sleeves to be capsleeves, inset cap, elbow length, or short length; the dress length to be short, above the knee, or below the knee; and the neckline to be scoop, wide scoop, or v-neck. You can also request for the pockets to be removed – no extra charge. To ensure the perfect fit, you can take your measurements (height, shoulder, chest, bust, under bust, waist, hip, upper arm, and length of arm) and have a dress completely customized by your measurements. Custom sizing and styling only cost $7.50. The most challenging part of the process is choosing an item, because they have an overwhelming amount of clothing. It's like the Amazon of customized clothing.
My other favorite items include the Birdsong cotton poplin dress ($79.95), Ruffle Hem Graphic Print Skirt ($7.95), Retro Style Contrast Tipped Dress ($64.95), Buttoned Pleat Front Skirt ($47.95), and Plaid Print High-low Dress ($99.95).
Connect: Facebook | Pinterest | Google+ | Instagram
The Deets:
Art Deco Embellished Chambray Dress, $71.95
Hair Bow/Brooch by Paparazzi Jewelry & Accessories, $5
Naya Giada Wedge Sandals, Was $155.00 $49.94
This post is in partnership with eShakti.