Most children accumulate their lifetime sun exposure before age 18, so it's important for us, as parents, to teach our children about sun safety early on. Using the right precautions can help reduce the chances of your child possibly developing skin cancer, eye damage, immune system suppression, or skin damage. Wearing clothing that offers sun protection is one way to practice sun safety.
I was a recently introduced to Sun Angels, a company developed by two sister-in-laws (Stacy DeVreese and Monica DeVreese) that were frustrated by the limited options they found for cute, yet effective sun protection gear for their own children. After spending years slathering on sun block, strapping on hats, and coaxing their kids into the shade, they decided to take matters into their own hands. That's when they developed Sun Angels sun protection gear. To raise awareness about sun safety and provide support and resources for those who share the same mission, they created the Sunrays of Hope program.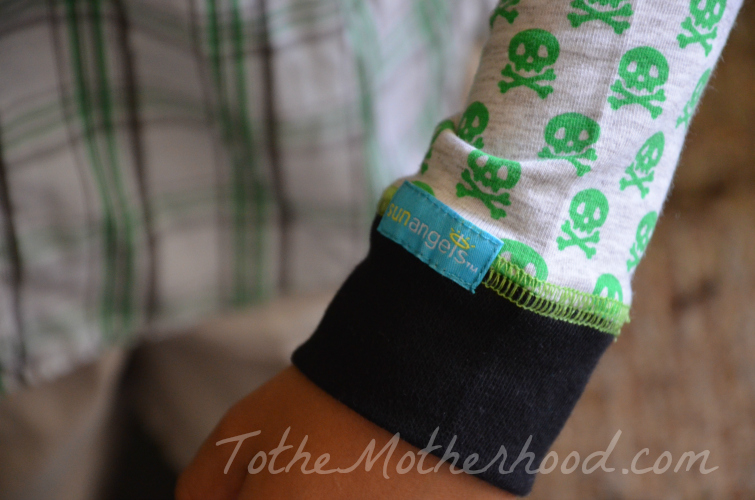 They offer the cutest, yet functional arm sleeves ($19.99) that offer the highest rating in sun protection (UPF 50+). My son and daughter both received a pair, the Bad to the Bone and Mod print. By these being arm sleeves, you'd think they would cause children to be "burn" up even more in the heat. Yet, they're surprisingly lightweight, and made with breathable fabric (60% polyester/35% cotton jersey/5% spandex fabric blend). My son is utterly picky about what he wears, but these arm sleeves met his approval. My daughter, on the other hand, will not keep the arm sleeves on, so I couldn't get a picture of her in them.
Connect with Sun Angels via Twitter, Facebook, Instagram, and YouTube.