I participated in a campaign on behalf of Influence Central for T3.
Remember that Herbal Essences commercial that happened eons ago where the woman is passionately screaming yes, yes, yes . . . because of a shampoo? Not only that commercial always creeped me out, I never understand why and how could a product like that evoke those feelings. Then, I was introduced to the T3 'Source' Hand Held Shower Filter ($150). Yes, a showerhead, but not just any showerhead, mind you.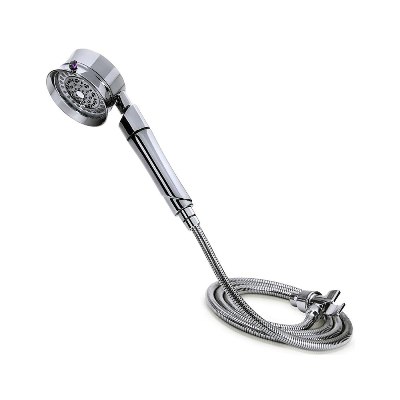 Featuring eight different spray settings, the T3′Source' Hand Held Shower Filter will make your skin and hair feel like they have been to a 5-star spa and hair salon. It filters out 95% of chlorine from shower water, which can cause dryness and frizziness. I've mentioned before that I hardly have any luck finding a shampoo that fits my hair's needs, but it's most likely been the water quality for most of the time since I've noticed that my shampoos seemingly work tremendously better. Prior to using this showerhead, my hair would normally be dull and a tangled mess when I stepped out of the shower. Now, my hair is no longer dull and tangled after I step out of the shower. I noticed a difference at day 1. Not only this showerhead brings my hair to life by eliminating the hindrances commonly found in shower water, but it also improves the skin's health. I now refuse to wash my face at the sink. As I've had my share of hair woes, I have also have had my share of skin woes, considering I've been plagued with "teenager's skin" since I was a pre-teen.
I'm normally not one to get fanatical over a product, but I feel like this product has changed my life, hair and skin wise. Best of all, it's easy to install. All I needed was a monkey wrench to remove my previous showerhead. Also, it's recommended that the filter ($25) is replaced every 6 months to extend the life of the showerhead.
The Deets
► Resists scale buildup.
► Eight spray settings.
► Includes shower arm bracket and extendable hose.
► Filter included.
► Max 2 1/2 gallons per minute flow.
► 3,000-gallon filter life or 6 months.