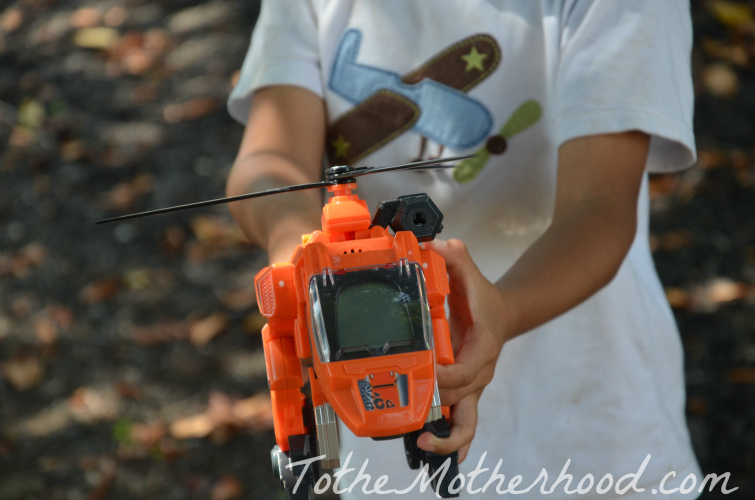 Thanks to VTech's Switch & Go Dinos, dinosaurs have never been so fun and entertaining! Dinosaurs, cars, and helicopters – we all know by now that nothing appeals to boys (and some girls) more. A combination is ingenious. Last year, my son was introduced to the VTech's Switch & Go Dinos, which quickly became a favorite. Although my son gets bored easily with his toys, like most children do, he still plays with these even to this day! Besides being fun and educational, I like how durable they are. I also like how they can transform easily without any issues. When we were first introduced to the line, it originally boasted seven interactive dinosaur toys that transformed into vehicles within seconds. The line has expanded since then, because now there are 15 in all!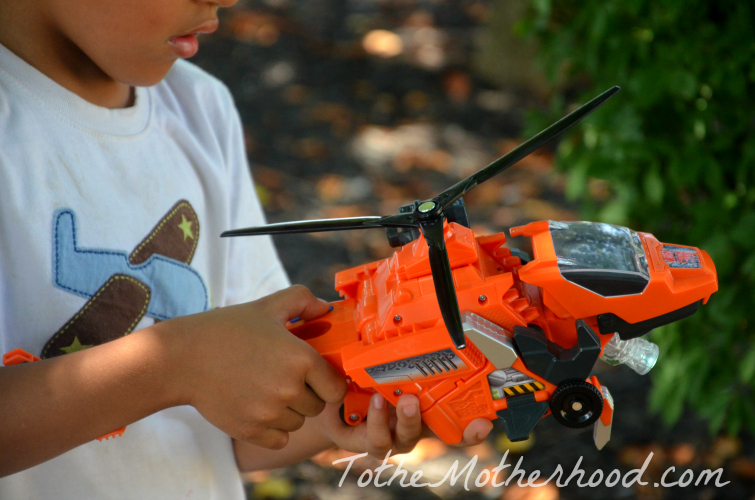 Meet Blister the Velociraptor. Don't let his smallness fool you, because he is known for his fierceness and speediness, along with his "intimidating" claws and teeth! Aside from the realistic dinosaur sounds that he emits, he is full of pre-historic facts that adds educational value to this unique toy. Blister isn't your typical Velociraptor, because he can transform from a dinosaur to a sleek, colorful helicopter within seconds. It's complete with a spinning propeller, search-light, and authentic flying sounds when in helicopter mode. You can also launch a rocket with a touch of button.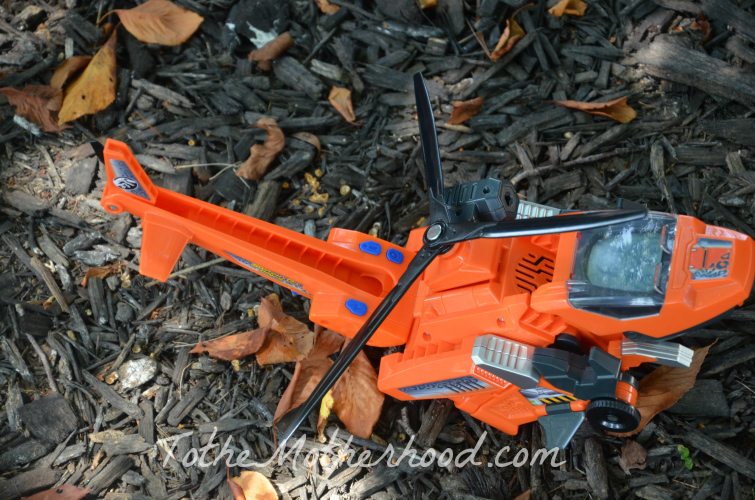 Features:
• Play in helicopter mode with a cool button-controlled spinning propeller, bright LED search-light and a launcher-fired rescue claw. Equipped with a motion sensor, Blister responds to movement with realistic helicopter sound effects.
• Switch to dinosaur mode to see Blister's animated dinosaur eyes, moveable arms and his long, curved, sickle-like claws.
• Sound effect buttons emit realistic dinosaur sounds and phrases that teach pre-historically awesome dinosaur facts!
• He's quick and agile! You never know when this transforming dinosaur toy is going to launch a surprise attack!
• Each of the collectible Switch & Go Dinos® feature high-quality electronics and a unique transformation feature to provide a 2-in-1 imaginative play experience.
• In dinosaur mode, sound effect buttons emit realistic dinosaur sounds and phrases that teach facts about each dino, providing kids with fun and enriching playtime.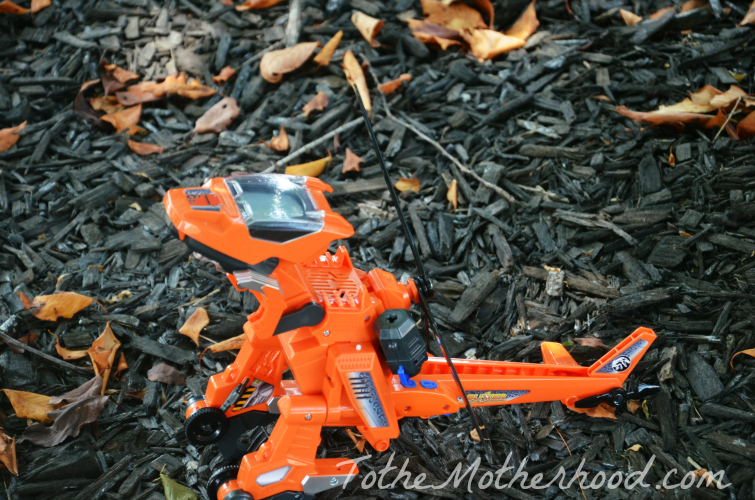 Even as a child, one brand that I loved and will always love is VTech. It's a brand that my mom heavily relied on since she liked that they provided endless hours of entertainment, yet their functionality was versatile to bring educational value. I love this concept, because it teaches children that learning doesn't have to be boring – it can be fun and exciting!
Additional Dinos in the Switch & Go line include Jagger the T-Rex™, SkySlicer the Allosaurus™, MC Roar the Giganotosaurus™, Stompsalot the Amargasaurus™, Quiver the Stygimoloch™, Torr the Therizinosaurus™ and Akuna the Velociraptor™ – collect them all!
Prize(s): One winner will receive the Blister the Velociraptor from VTech's Switch & Go Dinos® line.
The giveaway will conclude on September 12th.
Disclosure: The product(s) in this review was provided to the reviewer for keeps and the purpose of writing a review. This in no way affects the quality of the review provided. No monetary exchange occurred in exchange for the writing of the review. The views expressed in this review are strictly that of the reviewer. All reviews provided here are the work of the reviewer and remain completely unbiased.