Logic Product Group offers eco-friendly products that are safe and effective for the whole family. They're the makers of TotLogic, BarkLogic, LiceLogic and BedbugLogic.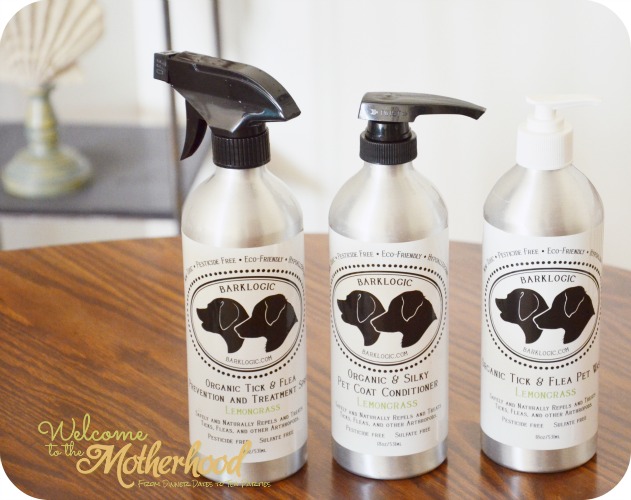 Like it or not, flea season is peeking around the corner, and the best way to keep these annoyances at bay is prevention, prevention, prevention. There are many flea treatments that are flooding the market, but I personally don't want to use something on my dog that says avoid contact with skin. If it's not good for me to come in contact with, chances are that it isn't good for my dog either. In fact, many tick and flea treatments contain carcinogens and other toxins. Thankfully, there are some companies that have done their research and nixing the issue by providing a natural, safe, and effective alternative.
The Dirty Deets on Fleas:
– Fleas reproduce at alarming rate (a single adult can lay between 40 and 50 in a single day).
– There are 4 stages to the flea lifecycle: egg, larva, pupa and adult. Fleas can remain in the pupa stage for up to 8 months if necessary. They wait until a suitable host is present and environmental conditions are right before becoming an adult. Environmental cues that trigger a pupa to emerge include vibration, heat, carbon dioxide, and warm, moist environments. This can make it very difficult to get rid of a flea infestation.
– Fleas can be carriers of tapeworm.
– Depending on temperature and humidity, eggs can take 2-14 days to hatch.
– Fleas can cause flea allergy dermatitis (FAD). This condition is an allergic reaction from flea saliva and can manifest through symptoms of itching, redness, bumps and pus. In some cases, it can even cause hair loss in your pets.
BarkLogic Tick and Flea Prevention and Treatment is a natural and safe line that is pesticide free and ideal for everyday use. I've been using the BarkLogic Tick & Flea Prevention & Treatment Kit everyday ($71.40) on my Shih-Tzu, Lucy Diamond, for superior prevention. This kit includes BarkLogic Tick & Flea Prevention & Treatment Spray, Pet Coat Conditioner, and Tick & Flea Pet Wash. Not only this kit helps keep the fleas and ticks away, but each product has a light, pleasant lemongrass scent and gives Lucy's coat a beautiful and healthy shine!
While the BarkLogic Tick & Flea Prevention & Treatment Kit is most ideal for flea and tick prevention, you can also buy each product separately.
Disclosure: The product(s) in this review was provided to the reviewer for keeps and the purpose of writing a review. This in no way affects the quality of the review provided. No monetary exchange occurred in exchange for the writing of the review. The views expressed in this review are strictly that of the reviewer. All reviews provided here are the work of the reviewer and remain completely unbiased.