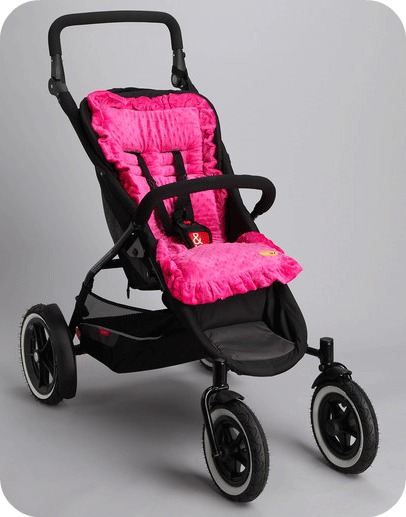 Some of my favorite ways to bond with my daughter is taking her for stroll at Indian Hill Overlook Park (Newburgh, Indiana) or the riverfront in Newburgh or Evansville, Indiana. My daughter seems to love these strolls, because she is usually at her mellowest and takes everything in with wonderment and blissfulness. Naturally, I want her to be able to sit safely and comfortably in her stroller so she can enjoy these quiet strolls even more. Then I accidentally stumbled across the Baby-BeeHaven Pink Cush 'n' Go Stroller Cushion ($39.99; Also Available in Black).
The Baby-BeeHaven Pink Cush 'n' Go Stroller Cushion is a memory foam stroller cushion that is recommended and used by medical professionals. It is fashionable and fun yet functional since it offers superior support for a baby's head, neck, and back. The reversible, two-sided design is what makes it fashionable and fun. One side is a dark pink and the other side is leopard print with a pink ruffle edge. It will definitely add pizazz to any ordinary stroller! Both sides are very soft to the touch, so you know your baby is getting the best of comfort. Best of all, it's compatible with most stroller harness systems and machine washable!
Disclosure: The item(s) in this review was provided to the reviewer for keeps and the purpose of writing a review. This in no way affects the quality of the review provided. No monetary exchange occurred in exchange for the writing of the review. The views expressed in this review are strictly that of the reviewer. All reviews provided here are the work of the reviewer and remain completely unbiased.