Between deep-down-to-the-pores shine cleansers, exfoliating micro beads, cleansing cloths that remove dirt and makeup, and moisturizers that provide 24-hour hydration, treating yourself to a micro-facial, has never felt so good (or been so easy!). Your skin will look fresh and rejuvenated with the Olay Fresh Effects newest product line-up.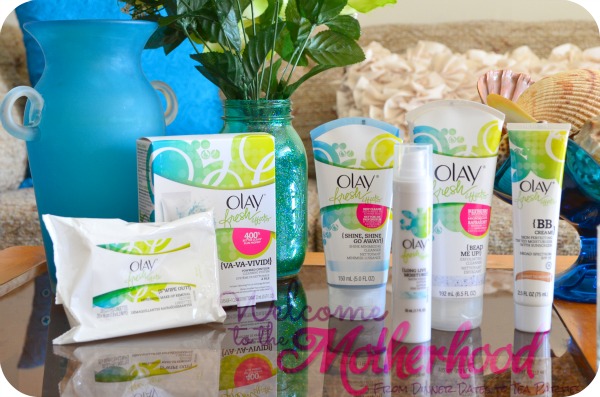 · Shine, Shine Go Away! Shine Minimizing Cleanser – This cleanser makes my skin look and feel smooth, taut, polished, and firm. It smooths out the skin beautifully so that make-up goes on flawlessly and it helps foundation stick.
· Bead Me Up! Exfoliating Cleanser – As Dr. Dennis Gross quoted in May/June's 2013 issue of Natural Health Magazine, "exfoliating daily will remove dry, dead skin, keeping dark spots at bay, and skin looking and feeling firmer." Most of us know that dead skin cells contribute to making skin look dull and older, but it is a less known fact that they also clog pores, thus causing breakouts.
The Bead Me Up! Exfoliating Cleanser is a gentle and mild formula that will gently exfoliate the skin without causing an irritation. Therefore, it is suitable for all skin types, especially sensitive skin. Use in conjunction with the Va-Va-Vivid! Powered Contour Cleansing System for an even more pampering experience.
· S'Wipe Out! Refreshing Make-Up Removal Cloths – I wear waterproof mascara, so it isn't always easy to remove with a cleanser, unless it's an oil-based cleanser. However, I always managed to get that into my eyes, temporarily blurring my vision. These make-up removal cloths take two or three wipes to get the mascara off, but I like that I don't have to rub extra hard in order remove the mascara.
· Long Live Moisture! Satin Finish Lotion – I'm uber picky about facial moisturizers, because most of them cause me breakouts. Unfortunately, this product wasn't ideal for my skin. However, it's perfect for dry skin since it is very moisturizing, yet lightweight. It will also give your skin a very satiny feel.
· BB Cream! Skin Perfecting Tinted Moisturizer with Sunscreen – Thanks to the popularity in Asia, BB Creams have become a full blown trend with beauty editors, reviewers, celebrities, and make-up artists all over the world. Believe or not, but this is my first time ever trying out a BB Cream – gasp! And I'm a beauty blogger, too – collective gasp! Since I have hormone ridden skin of a teenager, I was always a bit apprehensive about using a tinted moisturizer on my face, but I finally decided to take the plunge and try it out, regardless of the consequences. Believe it or not, it didn't break me out and love how sheer it is, yet provides an ample amount of coverage to conceal skin imperfections, such as old acne scars and blotches. I am in lurve!
· Va-Va-Vivid! Powered Contour Cleansing System – I'm probably in the minority when I say that the Clarisonic never worked for me, because I feel like it caused some of my breakouts in the past. So I was a bit reluctant about trying out this cleansing system past due to my past experiences with other cleansing devices. I wouldn't say that it is extraordinary, but I love that it gives my face a smooth, squeaky clean feeling. I also love that it massages the skin while cleansing it – such a pampering feeling!
Olay does not represent or warrant the accuracy of any statements or product claims made here, nor does it endorse any opinions expressed within this blog.