Earth Day is April 22nd. Celebrate natural beauty by detoxifying your life – starting with your skincare routine!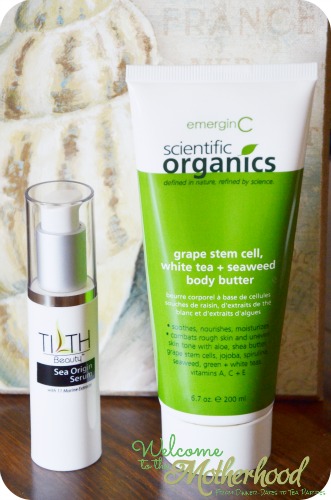 A radiant complexion will instantly turn back the hands of time, aging wise. Promising a healthier, visibly brighter, youthful-looking skin after just one application, the Tilth Beauty Sea Origin Serum ($62) is a powerful and soothing serum that is blended with 11 marine extracts. I've used many serums in the past, but this has become one of my top favorites. I like that it isn't greasy or sticky in the least, unlike some serums I've tried out in the past. It's fast absorbing and lightweight enough to wear underneath make-up. I have been only using it a few days, but the luminosity is instantaneous after it is applied.
I don't have dry skin, but it is more noticeably soft and supple when I use something deeply moisturizing, such as the emerginC Scientific Organics Grape Stem Cell, White Tea + Seaweed Body Butter ($45). It has a light, delightful citrus scent that instantly perks up the senses, whilst the white and green teas, grape stem cells, seaweed, algae, and shea butter amongst other natural ingredients deeply nourishes and softens the skin. The body butter is thick and creamy, but it doesn't sit on top of the skin since it absorbs well.
Disclosure: The product(s) in this review was provided to the reviewer for keeps and the purpose of writing a review. This in no way affects the quality of the review provided. No monetary exchange occurred in exchange for the writing of the review. The views expressed in this review are strictly that of the reviewer. All reviews provided here are the work of the reviewer and remain completely unbiased.