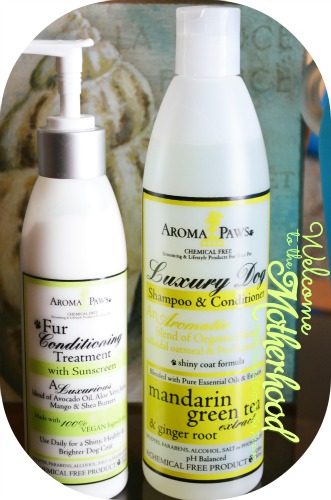 Lucy Diamond, my Shih Tzu, suffers from dry skin, and I've bought a few shampoos and conditioners that promised to remedy this to no avail. I found the Mandarin Green Tea Shiny Coat Formula ($13.99) to be the best shampoo and conditioner duo for her so far. It smells so good that I'm almost tempted to try it out in my hair! It is a gentle formula that is formulated with Ginger Root to promote better circulation, Mandarin Oil to diminish environmental build-up, Green Tea Leaf Extract that will naturally make your dog's coat shiny and glossy, Aloe Leaf Extract that will soothe their skin, and Sweet Almond and Coconut Oils that will help detangle and relieve dryness. Best of all, it doesn't contain any dyes, salt, alcohol, synthetic fragrances, parabens, or phosphates.
I was told that the Vegan Fur Conditioner with Sunscreen ($11.99) may be a little heavy for my Shih Tzu's coat, so I liberally applied it to my hands first and then gently throughout as a conditioner, as recommended. The key ingredients are Avocado Oil, Organic Aloe Vera Juice, and All Natural Refined Shea & Mango Butters to provide superior conditioning and restore shine to a dog's skin and coat. Not only it deeply moisturizes Lucy's coat, but she itches way less since this product helps relieves the dryness that is causing the itching.
You can connect with Aroma Paws by following them via Facebook and Twitter.
Disclosure: The product(s) in this review was provided to the reviewer for keeps and the purpose of writing a review. This in no way affects the quality of the review provided. No monetary exchange occurred in exchange for the writing of the review. The views expressed in this review are strictly that of the reviewer. All reviews provided here are the work of the reviewer and remain completely unbiased.