This post is in partnership with Maylee's Boutique.
Maylee's Boutique offers a variety of children's clothing and accessories for those special occasions and celebrations in life, whether it is christening apparel, dress up costumes, or communion apparel. You'll also find kids bedding and crib sets that will help your child's room stand out amongst the crowd!
Tired of the run-of-the-mill, ordinary designs and colors, I started seeking high and low for the perfect crib set for my daughter's nursery. Sure, butterflies, fairies, and cartoon characters are cute, but they get "old" after awhile, especially if they have been done over and over again. I wanted a feminine and sophisticated crib set that wasn't for a typical nursery, something my daughter could easily grow into. The Caden Lane Sophie Luxe 4 Piece Baby Crib Girl Bedding ($398) outstandingly exceeded my expectations in every aspect – the damask pattern, color combination (dark and light pink, white, and charcoal gray accents), utterly soft Minky fabric, luxurious trimming, and exquisite satin ribbon ties. It goes for the wow factor and beyond!
Since my daughter's crib is made a little differently than most standard cribs, I couldn't easily tie the satin ribbons in the front. Therefore, I had to secure the front with a small safety pin in order for it to hold up correctly. I will be putting velcro on it soon. This was only a minor issue since it turned out to look just as good.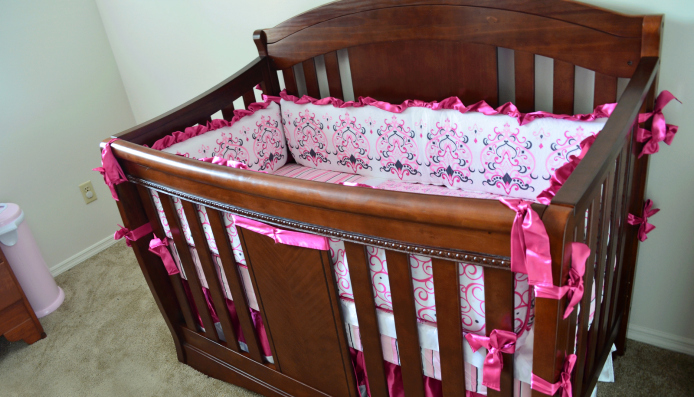 This crib set comes with four pieces: a fitted sheet with striped pattern, bumpers, skirt, and blanket. To ensure easier cleaning, the bumpers are slip-covered. They are 2″ thick and stand at least 11″ tall. You can buy additional bumpers for conversion cribs. Not only the extra long satin ribbon ties ensure that the bumpers are secured, but they give the crib a well polished and classy look. Additional sheets are available.
I can't help but love what other crib sets they have to offer. While the one I have has won my heart, I also adore the Parker Luxe 4 Piece Set Baby Crib Boy Bedding ($398). I wish I had something like that when my son was a baby. However, I would have no qualms about using it in a girl's nursery, because it exudes a Breakfast at Tiffany's-esque vibe. The Preston Luxe 4 Piece Set Baby Crib Boy Bedding ($398.99) is also super cute!
About Caden Lane
Katy Mimari, the designer of Caden Lane, goes above and beyond to cater to today's modern parents' style. Adios to pastels and primaries! Say hello to the bold and beautiful! Their bedding sets, diaper bags, baby shower gifts, and nursery collections exude sophistication with vibrant, playful colors and prints. This brand is a favorite among celebrities and Tinseltown's elite, such as Ashlee Simpson, Samantha Harris, Brooke Burke, and Tori Spelling.