Share the post "Ruby Falls in Chattanooga, Tennessee"
My family and I had an adventurous time when we visited Chattanooga, TN. One of our stops was at the renowned Ruby Falls. I had visited this cave when I was a child, but my memory of it is very vague. My only recollection is a photo that my parents had taken outside of the cave. That is one of the reasons why I wanted to visit again someday. I just never knew when until I recently suggested to my husband about visiting there at the spur of the moment. Those spur of the moment adventures can be the best!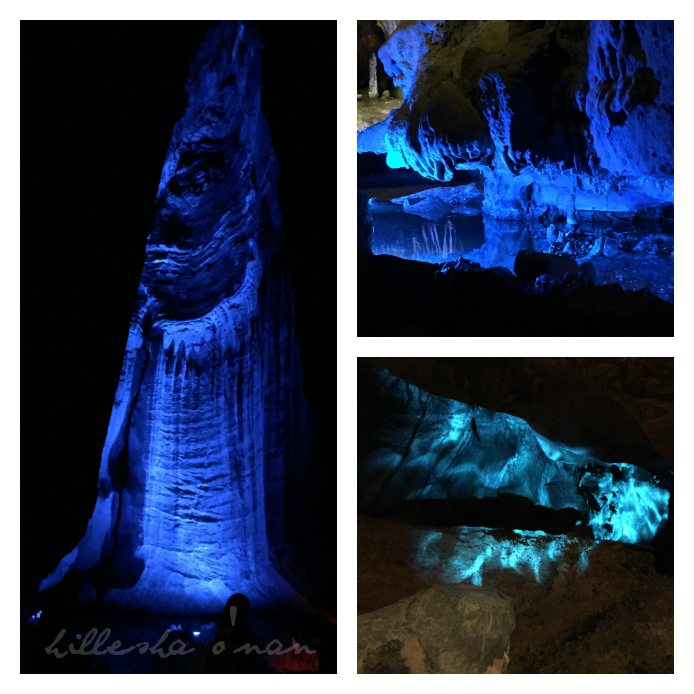 Ruby Falls is the deepest and tallest waterfall in the United States and measures 1,120 feet below ground. It is nestled within the heart of Lookout Mountain near Chattanooga, Tennessee. The story begins with the "older sister" cave of Ruby Falls: Lookout Mountain Caverns, whose natural entrance is located at the foot of Lookout Mountain on the banks of the Tennessee River. The Southern Railroad Company sealed off its natural entrance in 1905 because of geographical limitations. Leo Lambert, a spelunker, had explored the cave before it was closed off. It wasn't until 1923 that he concocted a plan of reopening it to the public. His plan didn't come to fruition until he hired a crew in the late fall of 1928 to drill an elevator shaft. One of the workers discovered a void in the rock and felt a sudden whoosh of air. This void was located at the 260 foot level, still 160 feet above the Lookout Mountain Cave. Upon further inspection, an opening, 18 inches high and five feet wide, was discovered.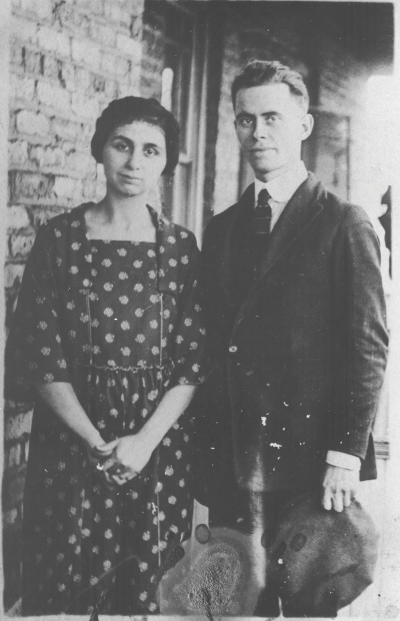 Leo Lambert and the crew explored the new found cave, discovering a myriad of beautifully unique rock formations, stream beds, and flowing passages. They explored further and further into the cave until they reach its final destination that it would be known for, a magnificent waterfall! Leo was in such of its pure beauty that he couldn't help but bring his wife Ruby along the next time he explored the cave. He named it in her honor, thus that is how Ruby Falls was born! It has been opened to the public since 1930.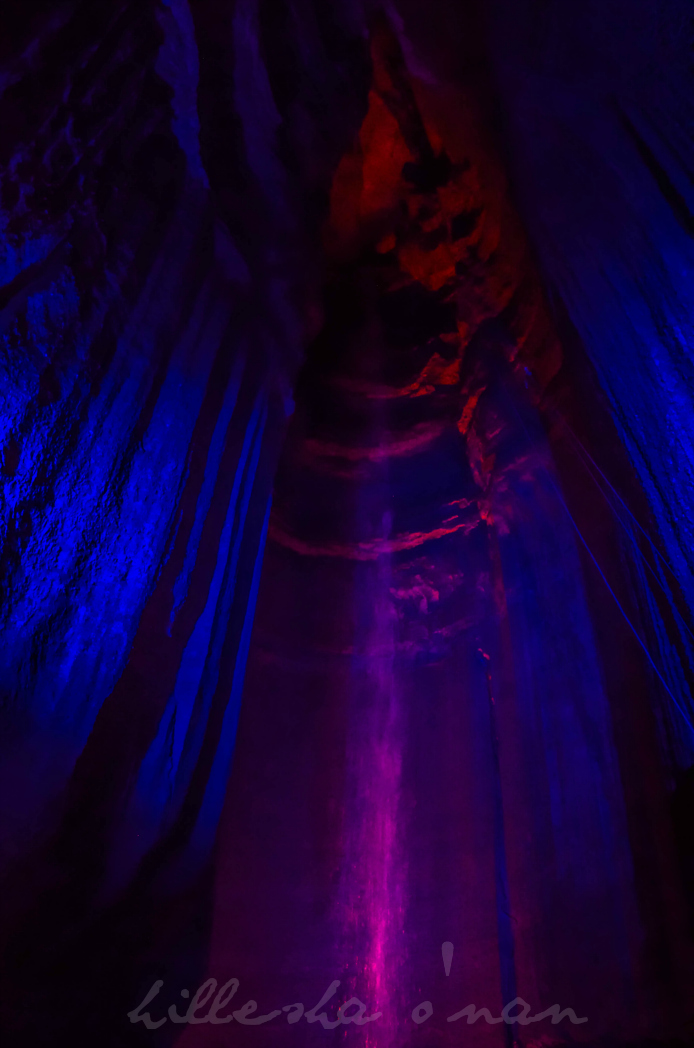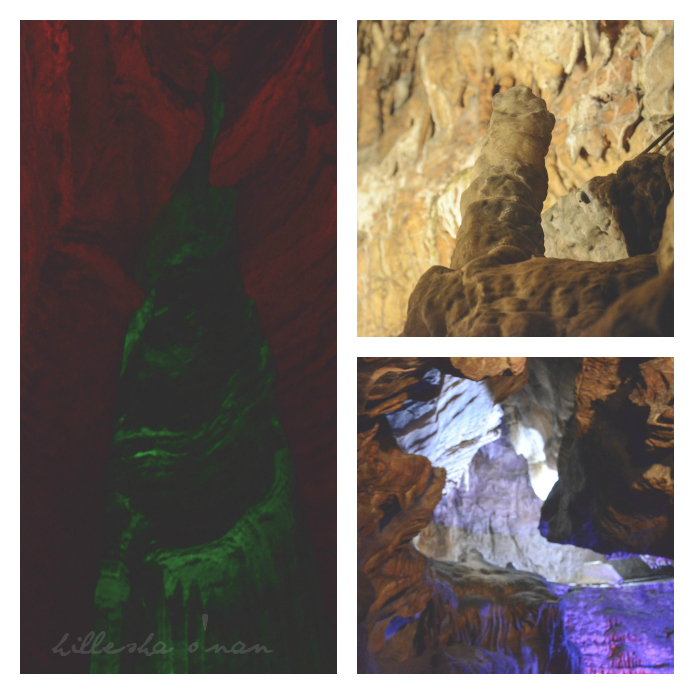 As a self-proclaimed spelunker (without the credentials), I was in awe of all of the geological wonders that Ruby Falls had to offer. Some of rock formations had playfully creative names like Steak and Potatoes, Tobacco Leaves, Elephant's Foot, Onyx Column, Ruby's Drapery, and Angel Wings, to name a few.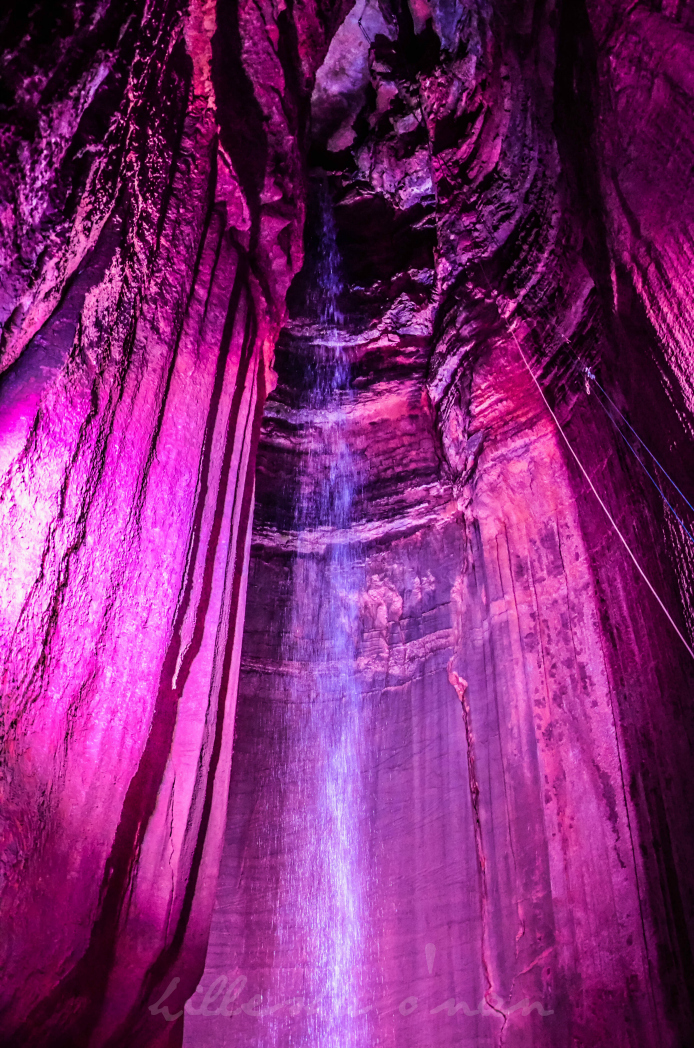 Ruby Falls is known all over the world for its majestic waterfall, but its deeply rich history spans from today all the way to 30 million years ago. Some of the inhabitants and passers-by of this cave includes Native Americans, cave enthusiasts, notorious outlaws, and soldiers who served in the Civil War. Hundreds of Civil War soldiers scrawled their names in the soot on the walls, yet one name stands out the most amongst the names: Andrew Jackson. It remains a mystery if it was the signature of the president of the United States or not, but the signature has been analyzed. It is believed that it dates back to 1833 when Andrew Jackson was touring the Northeast.
It is recommended to visit Ruby Falls during the cooler months to get the utmost experience since it draws a herd during spring and summer. It opens at 8 AM EST daily year-round (closed on Christmas). Also, there isn't any need to worry about temperature, because it is always a comfortable 60°! You can post your adventures as they happen since wifi hotspots are now available in select locations in the cave.
Connect with Ruby Falls
As if our vacation couldn't get any more fun, CustomInk designed four custom tees for my family of four, featuring a vintage-esque couple and the words "O'Nan Family Vacation" adorned on the front.
Not only these tees are perfect for a fun-filled family leisure like a vacation, but they're also ideal for family reunions! In the spirit of summer and family togetherness, CustomInk unveiled the T-Shirts and Genes: Family Reunion Contest on June 4th. They're asking entrants to submit a photo of themselves and at least three of their family members with a brief photo caption that details how they would use $1,500 from CustomInk to help unite their family this year. To enter, you must be a resident of the United States and over the age of 18 years old. The submissions can be sent via their Facebook page. The entry period will conclude on June 25th. Winners will be announced on July 6th.
Connect with CustomInk
CustomInk provided compensation and t-shirts. The content and opinions expressed here are all my own.