SUNDÃRI (prounounced as sun-'dar-ee), in Sanskrit, means beautiful woman.
SUNDÃRI boasts a distinctive and wide collection of anti-aging beauty products that are made with rare and pure ingredients that are derived from nature. Their products are free of synthetic fragrances and dyes. They also strive on formulating their products with organic ingredients where ever possible. Beautiful skin is healthy skin, after all.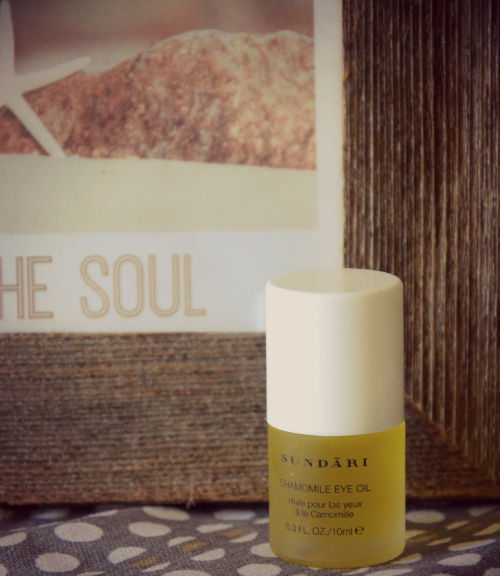 I quickly became a SUNDÃRI devout ever since I tried SUNDÃRI's Neem and Coconut Hair Treatment Oil and Omega 3 and Flaxseed Body Exfoliator in 2009. True to their name, their products will make you feel beautiful inside and out. I recently had the opportunity to to try out their Chamomile Eye Oil ($48), a deeply moisturizing eye oil that diminishes the appearance of wrinkles and fine lines.
Although I'm not experiencing any issues with either, I know that it is never too early for a preventive treatment since I am nearing my 30s. Since I can't vouch for their effectiveness whether or not that it treats wrinkles and fine lines, I can attest to the fact it is well moisturizing and soothing. It also helped me clear up an allergic reaction that I had to teal eyeshadow, which the eyeshadow had not only stained my eyelids (it took a week for the color to fade), but it had also caused my eyelids to become red, itchy, blistery, and painful. Later on, my eyelids had adapted a leathery look, making it looking like my eyes had aged 30 years! It cleared up in matter of days, thanks to the anti-inflammatory benefit of the Chamomile Eye Oil. It was truly the weirdest thing since I had never had this experience with eyeshadow before, but I now believe that my colorful eyeshadow experimenting days are over!
In a 4 Week Study:
64% users felt that their eyes looked smoother, had better texture and fewer lines and wrinkles.
Users experienced 44% improvement in spacing of fine lines and 26% improvement in spacing of Crow's Feet.
52% users rated this product better than their current eye treatment product.