This post is in partnership with Basic Invites.
The holiday season is an incredibly special time of the year. It's all about spreading cheer, spending time with loved ones, and sharing your joy with those around you. One of the most cherished traditions during this time is sending and receiving holiday cards. There's something truly magical about receiving a personalized, heartfelt card in the mail. That's where Basic Invite comes into play! This holiday card maker can help you make your holiday season unforgettable.
Customize Your Holiday Cards
---
Basic Invite is a game-changer when it comes to personalizing your holiday cards. Unlike most online stationery companies, Basic Invite offers almost unlimited color options with instant online previews. You can select a design and then change the color of each element on the card, allowing you to create a card that perfectly captures your holiday spirit. With over 180 colors to choose from, your Christmas cards are sure to be exactly how you envision them.
Experience the Quality First-Hand
---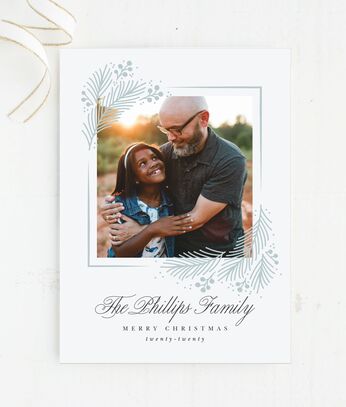 Worried about how your Christmas cards will look in print? With Basic Invite, you can put those worries to rest. You have the option to order a printed sample of your actual card before you place your final order. This way, you can see the paper quality and how it will print, ensuring your card is perfect.
Envelopes That Stand Out
---
A beautiful card deserves an equally beautiful envelope. Basic Invite offers over 40 different envelope colors to choose from, so your envelope can match your invitation. Plus, all of the envelopes are peel and seal, allowing them to be closed quickly and securely.
Address Capturing Service
---
Basic Invite offers a unique service that allows customers to share a link on social media to request their friends and family's addresses. The addresses are stored in the customer's account and can be selected during the design process. As a bonus, Basic Invite offers recipient address printing at no cost on all card orders.
Add a Touch of Elegance with Foil
---
For those who want to add a little sparkle to their cards, foil cards are available in gold, silver, and rose gold. You can choose flat or raised foil on all of Basic Invite's foil designs, adding that extra touch of elegance to your holiday cards.
Tips on How to Display Cards
---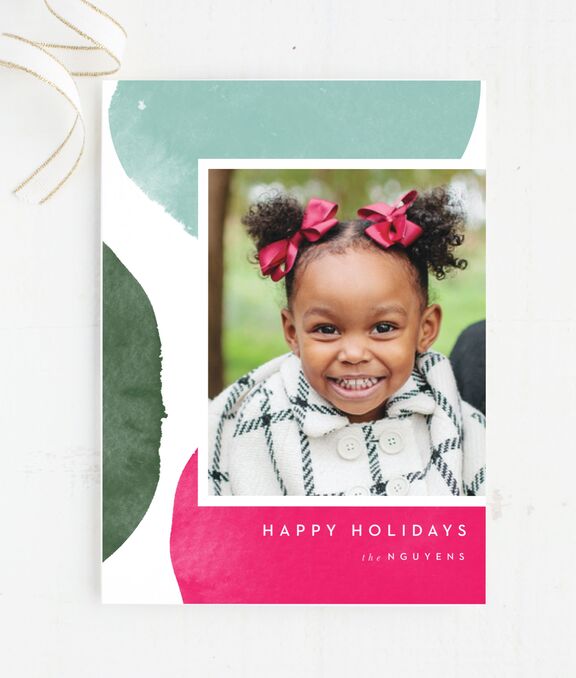 – Create a Designated Card Display Area: Find a prominent location in your home where you can dedicate a space specifically for displaying holiday cards. It could be a bulletin board, a wall, a mantelpiece, or even a string of lights.
– Make a Festive Garland: Hang a decorative garland along a staircase banister or across a wall, and use mini clothespins or clips to attach the holiday cards. This adds a festive touch to your home decor while displaying the cards.
– Display Cards on a Tabletop: If you have limited wall space, consider placing the cards on a tabletop or a shelf. Use a festive plate stand, a wooden card holder, or a decorative tray to showcase the cards.
– Rotate the Cards: As you receive new cards throughout the holiday season, rotate and rearrange the display. This allows you to showcase different cards and gives each one a chance to be prominently featured. Remember to respect the privacy of the senders by keeping the cards in a secure and visible location, away from sensitive information or personal messages. Enjoy the festive display of holiday cards and let them bring joy and cheer to your home during the holiday season!
– Incorporate Cards Into Your Existing Decor: Arrange the holiday cards among your existing decorations. For example, place the cards on a mantelpiece alongside garlands, candles, or other holiday-themed items. This seamlessly integrates the cards into your overall holiday decor.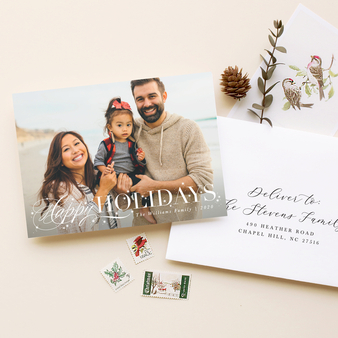 To make your holiday season even more special, Basic Invite is currently offering a 15% off with coupon code: 15FF51 at the online checkout. Start creating your unforgettable holiday memories today with Basic Invite. Your personalized, heartwarming Christmas cards are just a few clicks away!