Founded by Alesia Hall, Sea Witch Botanicals is a captivating collection of clean + cruelty-free products that are good for the body, soul, and environment.
This post is in partnership with Sea Witch.
Founded by Alesia Hall, Sea Witch Botanicals is a captivating collection of clean + cruelty-free products that are good for the body, soul, and environment. Offering everything from candles and incense to fragrance and skincare, Sea Witch Botanicals makes a concerted effort to source from manufacturers who use less plastic and more compostable packing materials. Sea Witch Botanicals is a certified B Corp and certified "Towards Zero Waste" company that chooses to recycle, compost, and reuse any ingredients, packaging, and waste.
Alesia's interest in sustainable plant magic began in the spa industry after working as a massage therapist, aromatherapist, makeup artist, and soapmaker. She discovered a love for teaching natural DIY recipes while working at the soap shop. In fact, her own scent and skin sensitivities are what led her to the personal research that inspired this totally plant-based and synthetic-free line of products!
Sea Witch Botanicals stand with Black Lives Matter and all those marginalized and abused by systemic racism. They operate on stolen Coast Salish land and benefit from a history of genocide against indigenous people. They're committed to uplifting indigenous voices and organizations in support of their efforts for sovereignty, dignity, safety, and the preservation of their cultures.
---
Spellbound by Sea Witch Botanicals
Lucidum Reishi Facial Serum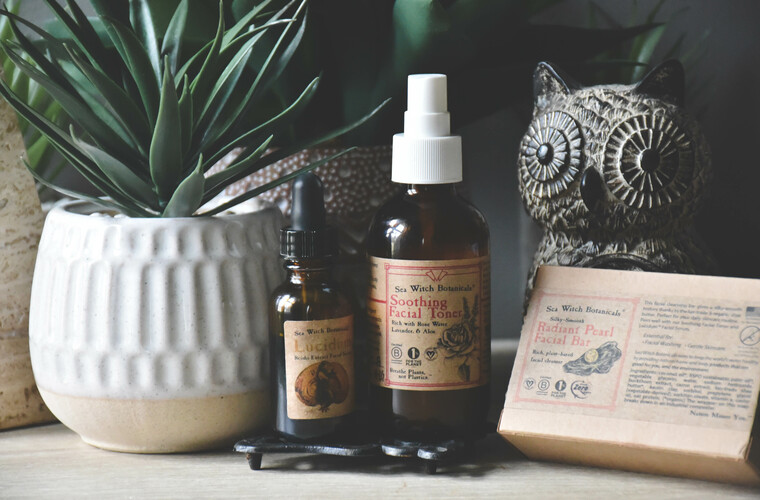 This anti-aging face oil is made with organic reishi mushroom extract. The Lucidum Reishi Facial Serum ($36), named after the reishi fungus Ganoderma lucidum, promotes bright, dewy skin without leaving you feeling greasy. This face oil contains anti-aging ingredients, including sea buckthorn, nettle, and frankincense to keep your skin looking youthful. Reishi is also an anti-inflammatory and is known for its wealth of benefits for the skin and body. It's also great for soothing razor bumps after shaving.
I have several serums, but I often reach for this serum! It makes my skin feel so hydrated without a tinge of greasiness or stickiness. It also has a deep, earthy scent that I love. It has been a true asset to my skin! I have combination skin, and this serum doesn't trigger any breakouts like some serums I have used.
Radiant Pearl Facial Bar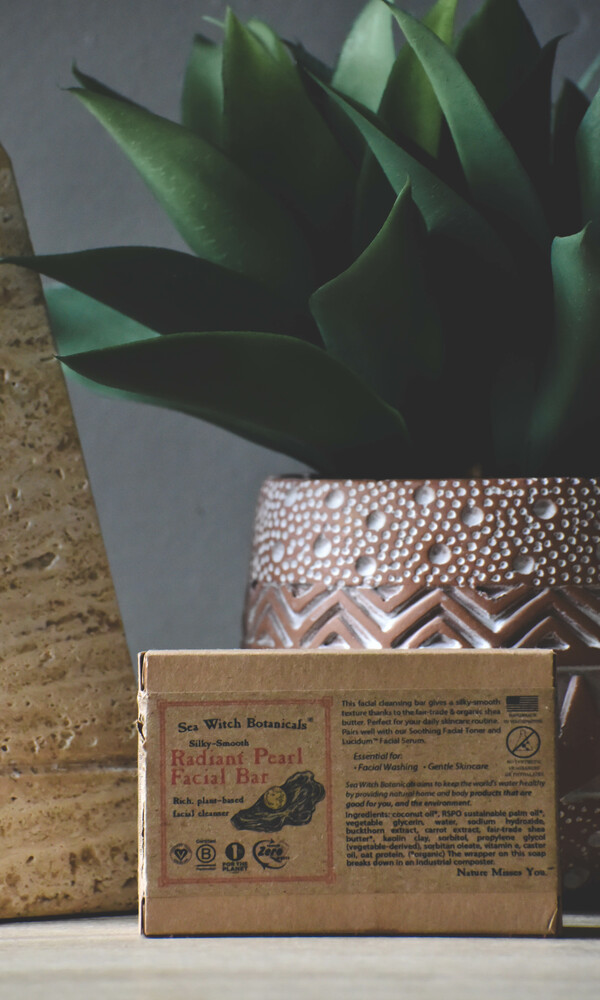 Do you want gorgeously glowing and healthy skin without a rigorous and complicated beauty routine? Look no further than Radiant Pearl Facial Bar ($12)! Organic, fair trade shea butter, organic coconut oil, plus extracts like buckthorn and carrot make up the Radiant Pearl Facial Bar. It was created to help remove excess oils and dirt while remaining gentle and moisturizing. For a spell-bounding skincare routine, use it in conjunction with their Soothing Facial Toner and Lucidum Facial Serum.
Soothing Facial Toner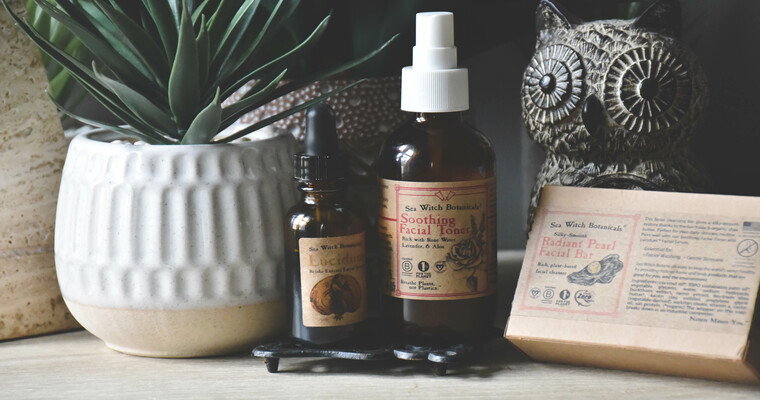 Tone the skin with their Veritum Soothing Facial Toner (formerly known as Soothing Facial Toner; $16) to support the skin's natural processes of cleansing and renewal. Part of their 3-Step Facial Collection, this toner gives my skin the balance that it needs, especially when it's stressed – thanks to calming ingredients like aloe, lavender, and rose water. Not only does it make a great toner, but thanks to its versatility, customers have also used it as everything from an aftershave and pillow spray to a stress relief spray.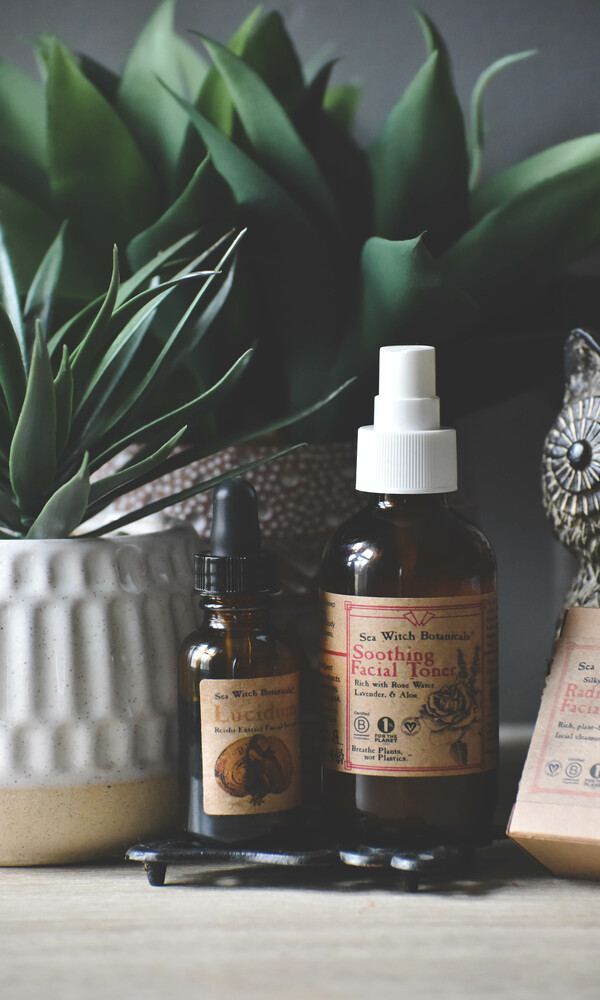 Connect with Sea Witch Botanicals