With EVXO Cosmetics's line of high-quality, organic, vegan, gluten-free makeup products, customers don't have to choose between high-quality ingredients and healthy skin.
This post is in partnership with EVXO Cosmetics.
EVXO Cosmetics is on a mission to provide makeup products that offer high-quality ingredients and improve the look and feel of skin. Their organic vegan make-up line uses sustainable packaging and contains ingredients that provide multiple skin benefits for a lush and youthful look.
EVXO Cosmetics was created by ethical founders who champion animal rights and advocacy. They wanted to create cosmetics that were organic and vegan using only natural, sustainable ingredients. EVXO is Leaping Bunny certified, meaning their products are cruelty-free. No products are tested on animals, and the company is committed to always remaining cruelty-free.
Organic Vegan Make-Up at EVXO Cosmetics + Review
The company offers a wide range of vegan products, most products contain organic ingredients, and a large portion of the products are gluten-free. The company's top-selling foundation is an organic, liquid mineral foundation formulated to even out skin tone and texture and doubles as skincare with ingredients like thyme, chamomile, and gluten-free vitamin E. Other top sellers include the organic blush sticks available in four shades, Strength 'n Length Mineral Mascara, and bamboo velvet reusable makeup remover pads.
In addition to cosmetics for the face, eyes, and lips, EVXO offers a line of body products, including an exfoliating, unscented loofah bar, succulent shea butter soap, and a green tea bath bomb.
Livingston says, "EVXO Cosmetics saw a gap in the market when it came to healthy cosmetic and body products. We made it our mission to offer products that range from vegan, gluten-free, organic, or all of the above! With EVXO Cosmetics, you'll get cosmetics and bath and body products that heal your skin while helping you look your best."
+ Peek-A-Boo Organic Liquid Mineral Foundation +
The Peek-A-Boo Organic Liquid Mineral Foundation ($29.99; Desert Sand) arrived at the ideal moment, with the autumnal season in full swing! This skin-perfecting foundation serves as a multitasker by evening out skin tone and supplying the hydration it requires. The included full-coverage creamy foundation smoothly conceals any imperfections or lines, leaving you with a beautiful, flawless complexion. It is available in 12 perfect-match shades that are buildable. Simply blend the foundation evenly onto the skin using a damp sponge to achieve the most desirable results.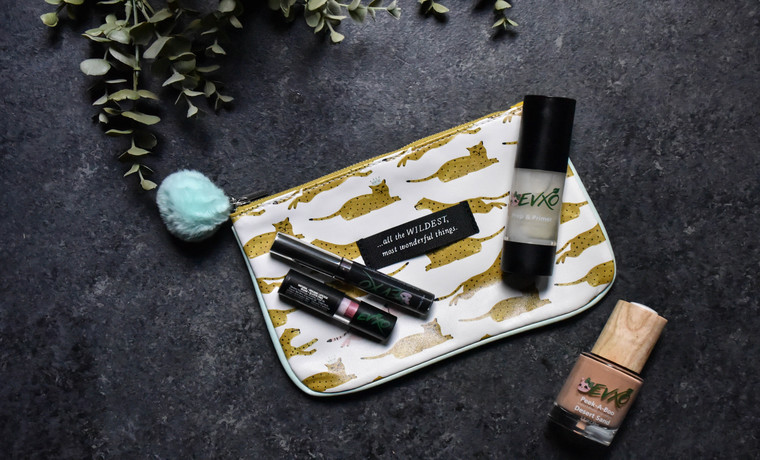 + Strength 'n Length Mineral Mascara +
My lashes now have the volume, definition, and length that they badly needed thanks to the Strength 'n Length Mineral Mascara ($19.99). Because the volume and pigment are so powerful, I can get away with only a few swipes. In three strokes or less, the mascara is evenly spread throughout the lashes, giving them immediate, smudge-proof length and volume!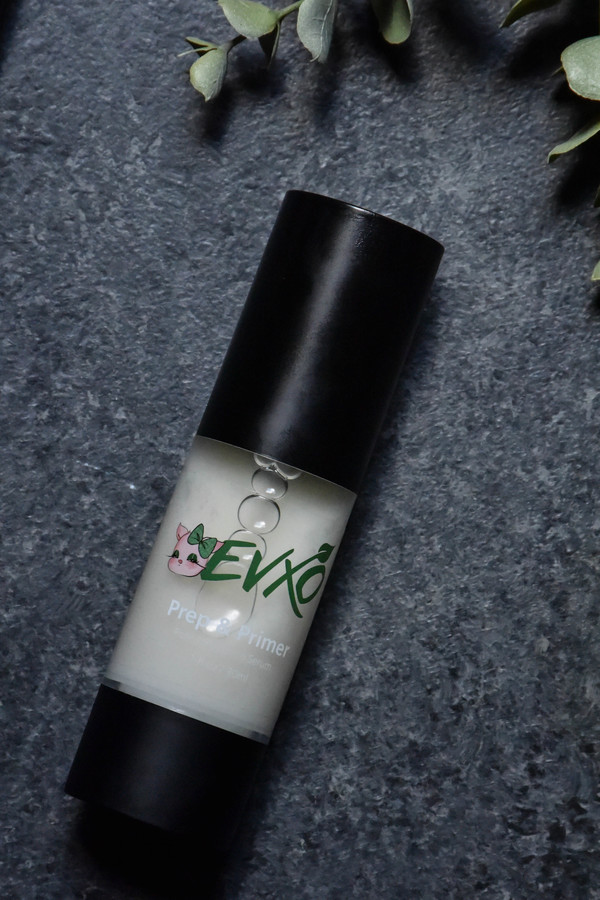 + Prep and Primer Pore Smoothing Serum +
Prep & Primer Pore Smoothing Serum ($24.99) is one of my favorite products from this company. This primer is a must-have because it's light yet gives you a lot of coverage, making it a true multi-tasker! It's a great makeup primer, emollient moisturizer, and anti-aging powerhouse all in one.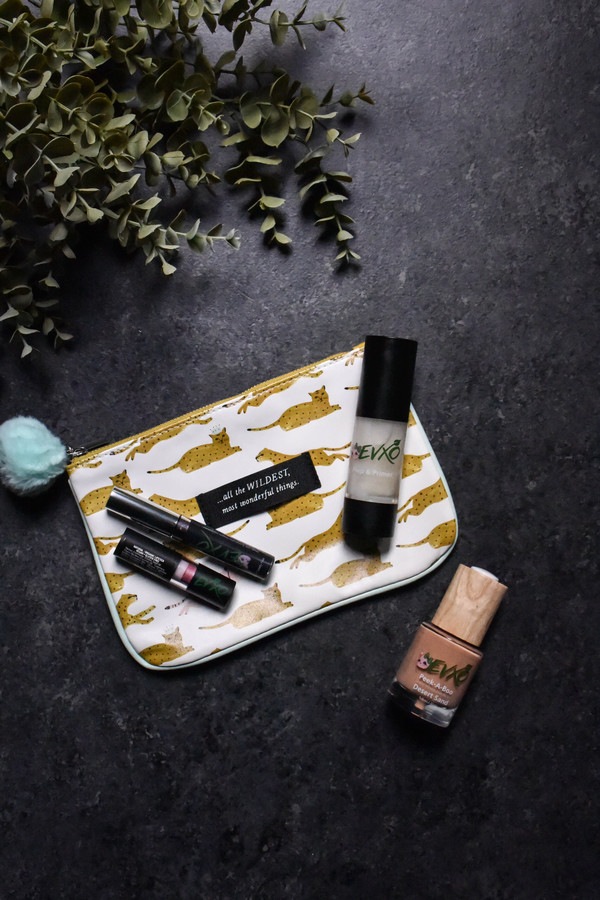 + Organic Lipstick +
Are you looking for the perfect natural lipstick? You'll like EVXO Cosmetics' organic lipsticks ($17.99; Sweet Pea)! These EVXO Cosmetics lipsticks are beautifully crafted to guarantee that you receive the finest quality natural lipstick that is both moisturizing and pigmented. There are 4 shades and each color is jam-packed with anti-aging antioxidants, making this cruelty-free lipstick a beauty hero!
EVXO Cosmetics goes above and beyond when it comes to their makeup products. Their makeup offers organic, vegan, and gluten-free products to promote a healthy way of living. With their products, you'll never have to choose between high-quality ingredients and healthy skin! Whether you're vegan, celiac, or simply looking to make healthier choices for your skin, EVXO has an option for you.