Memories In Clay creates unique handprint keepsakes that customers will cherish as their kids and pets grow older. The whole process is done through the mail with simple to follow directions in the convenience of your own home.
This post is in partnership with Memories in Clay.
This past year has reminded me how quickly children grow! Not only my oldest child turned 12 years old, but it is almost hard to grasp at the fact that my third and youngest child is already 16 months old. How time flies! My children haven't grown so quickly as to not take a moment to capture and cherish those fleeting milestones over the years. The first coo. Smile. Giggle. Rolling over. Tooth. Crawling. Sitting up. Word. Step. All of these are "magical" moments that parents look forward to, cherish, and celebrate. I relish in every single of these moments and cherish them.
Preserve Precious Memories with Memories in Clay
We may not have the power to freeze time, but there are ways of preserving memories of their childhood besides pictures. Many moms like myself can't help but ooh and aah over those tiny feet and hands. Knowing that they will not stay that forever, how about having them imprinted in clay? These type of keepsakes are timeless with sentimental value. This holiday season, preserve your child's handprint or footprint with Memories in Clay for you and your child to cherish for years to come.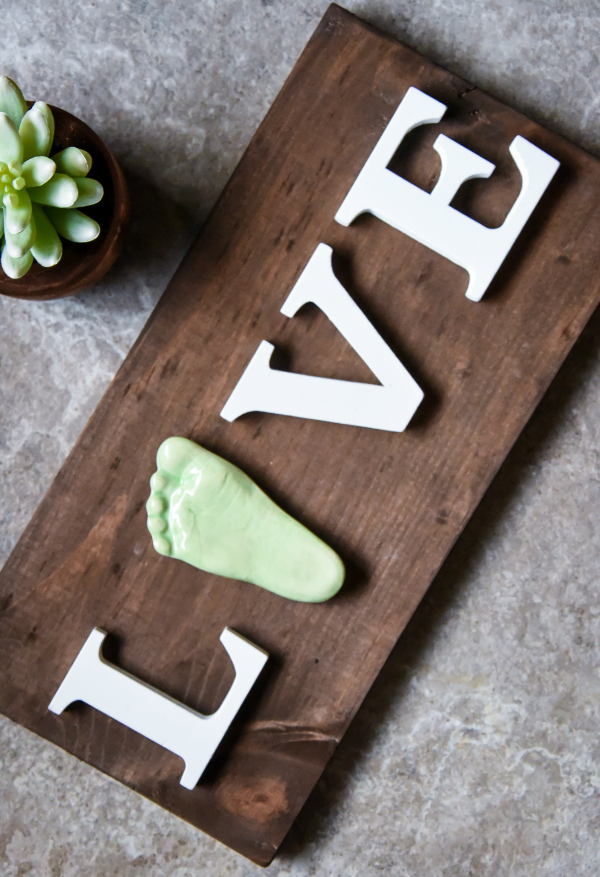 Joe and Jessica Rohrhoff offer an array of handprint and footprint keepsakes as well as keepsakes to preserve your dog's paw prints. These beautiful keepsakes range in prices from $64.99 – $99.99. I couldn't have been happier with the Wooden Sign with 3D Ceramic Footprint ($99.99) Joe and Jessica worked on. This personalized, ceramic keepsake is one that I'll treasure long after my little one isn't little anymore! Memories in Clay can turn any child's handprint into a customized ornament, plaque, or wooden sign for display. It is done completely through the mail.
How the Process Works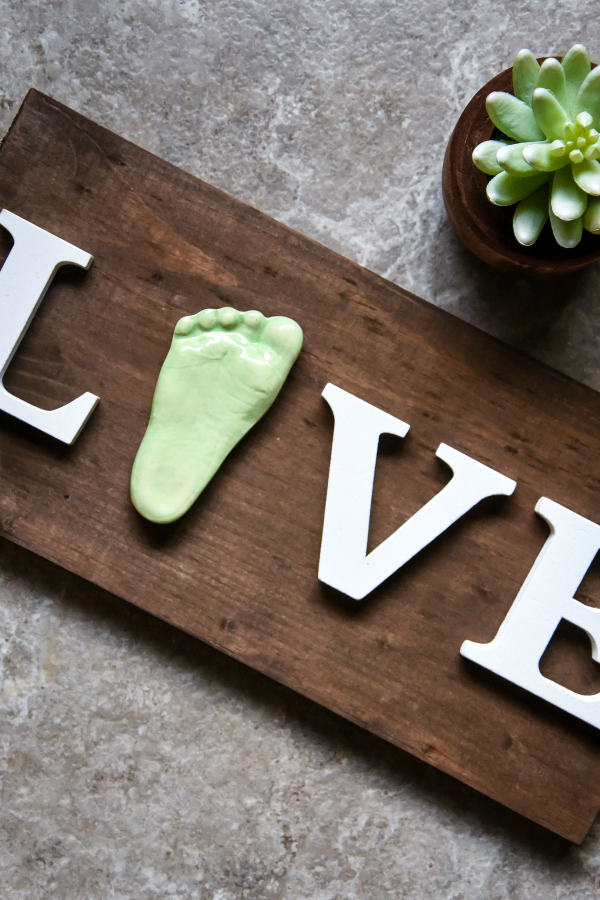 Memories in Clay will mail you a print kit along with instructions on how to capture the perfect print. Each print kit includes clay, aluminum foil, a tube to roll out the clay, a return envelope that is prepaid and addressed, and simple instructions. This print kit is effortlessly easy to use and isn't messy in the least. It is 100% forgiving of any smears, wiggly feet, or any little participants that are less than willing. The imprinting process can be repeated as many times as you want.
Memories in Clay will follow-up with an online order customization form to fill out, which enables you to tell them what colors, text, and other customization you want for your product. Your keepsake will typically arrive in the mail about 4 weeks after they begin working on your order. The reason for the long wait time is that it takes time for clay to dry before they can fire it in the kiln. It will take about two weeks for the product to dry, but times can vary based on product size and humidity. The products will then be fired in a kiln at about 2,000 degrees Fahrenheit. Once they cool, glazes will be applied to add color. They will then be fired in the kiln for a second time. After that, the finishing touches are put on the product. For example, some products are then attached to a wooden board, whereas other products have ribbon added. They will then be securely packaged and shipped to you. It is well worth the wait!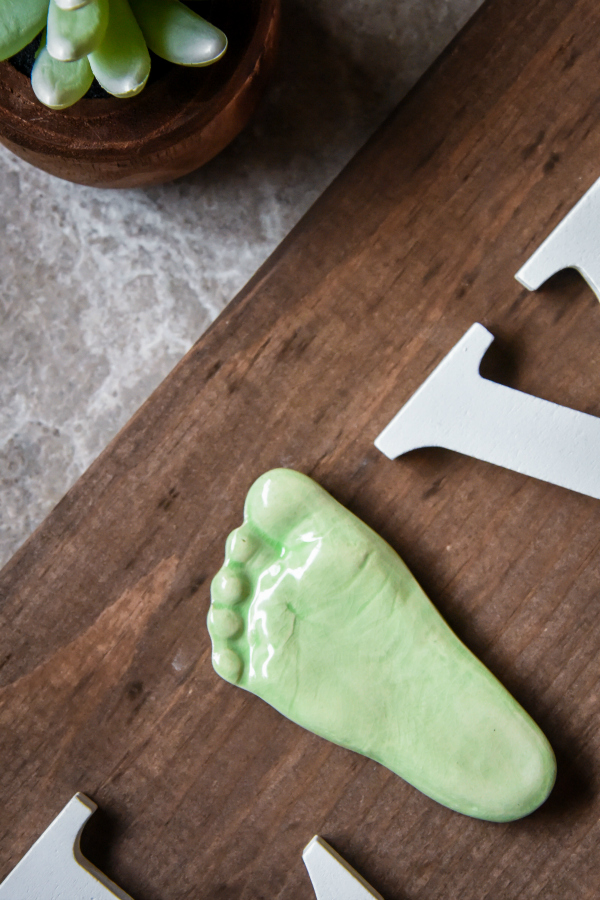 Memories in Clay makes the entire process effortlessly easy if you'd like to have a keepsake of your own, for your child, or adoring grandparents. Looking for unique ornaments to decorate the tree this holiday season? You'll love the Baby Handprint or Footprint Ornaments ($64.99), which is a 3D replica of your baby's hand or foot and can be hung on the Christmas tree or even placed in a shadow box for safe keeping.
Connect with Memories in Clay