With the holidays around the corner, consider giving the gift of reading as you help your child with their wishlist or prep your holiday shopping list.
This post is in partnership with Running Press and Workman Publishing. It contains some affiliate links and I will be compensated if you make a purchase after clicking on my links.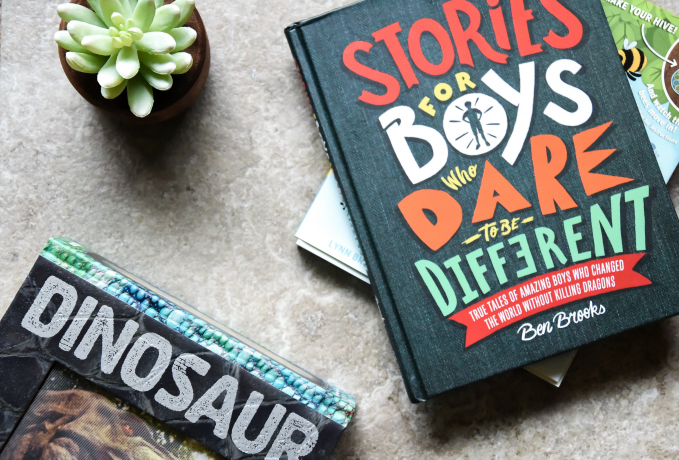 It is almost hard to believe that it is already November yet it won't be before long that we're amid the hustle and bustle of the holiday season. With the holidays around the corner, consider giving the gift of reading as you help your child with their wishlist or prep your holiday shopping list. I developed an inextinguishable love for reading early on in my life. There's hardly anything better than cuddling up with a good book! It is a simplistic luxury that many people take for granted. I simply wish I had more time for reading, but I always make time to read to my children since it's a wonderful way to foster a love for reading. I believe it's never too early to start! That's why I'm ecstatic to partner with Running Press and Workman Publishing since these companies have a number of titles that are perfect for the little bookworms. Their mission is to help parents raise lifelong readers and book lovers by sparking curiosity and creativity.
For the Creative Kid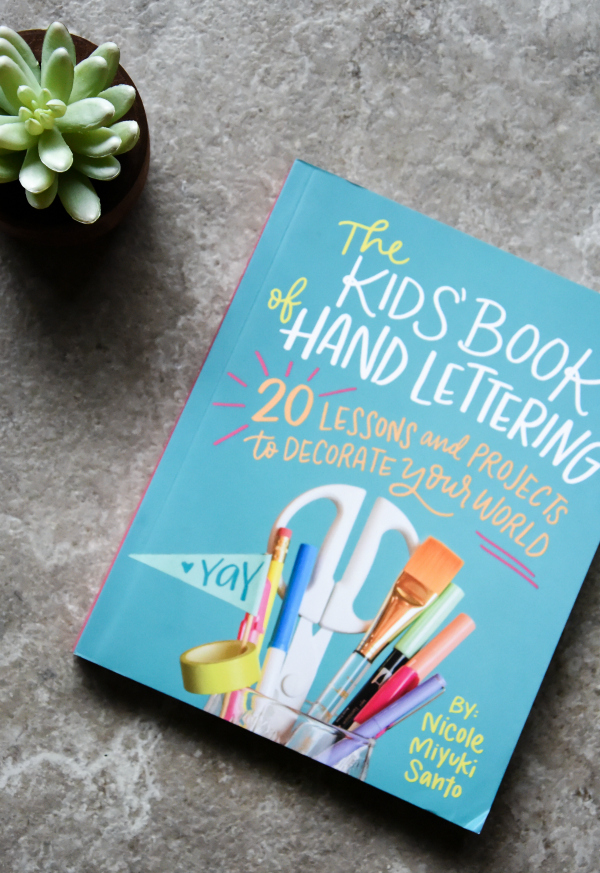 The Kids' Book of Hand Lettering: 20 Lessons and Projects to Decorate Your World is a beautiful book of projects that will inspire kids to join the hand-lettering movement. Calligraphy artist Nicole Miyuki Santo walks children through the basics of hand lettering as well as introducing doable projects, including room art, bookmarks, picture frames, tote bags, party balloons, and more.
For the Thoughtful Kid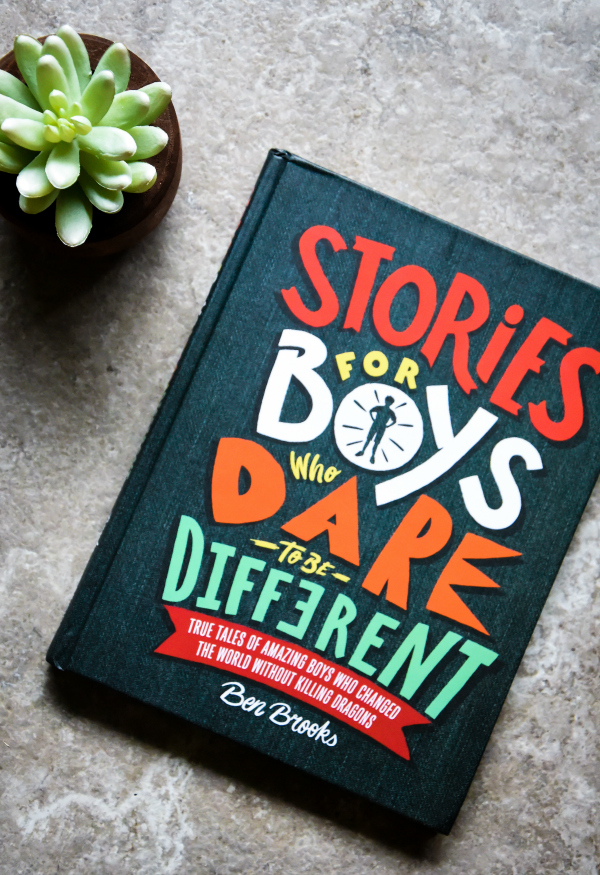 Stories for Boys Who Dare to be Different by Ben Brooks is an illustrated book that tells the stories of 76 men throughout history, celebrating introverts and innovators, sensitivity and resilience, individuality and expression. This book is beautifully illustrated as it is educational, featuring men who helped change the world…without slaying dragons including well-known figures to lesser-known figures! Some of these men include Galileo Galilei (astronomer, physicist, and engineer), Jeffree Star (makeup artist, entrepreneur, and musician), Alan L. Hart (physician, radiologist, tuberculosis researcher, writer, and novelist), Percy Bysshe Shelley (poet), and Don McPherson (former football player).
This book contains a wealth of information that adults and children alike would enjoy. The illustrations, short biographies, and fun facts are entertaining enough to captivate anyone's attention.
For the Curious Kid
The success of Atlas Obscura: An Explorer's Guide to the World's Hidden Wonders proved that readers are riveted by a world of strange curiosities – some far-flung and exotic, some hidden in plain sight. Now, The Atlas Obscura Explorer's Guide for the World's Most Adventurous Kid by Dylan Thuras and Rosemary Mosco brings a sense of curiosity and exploration to the audience who enjoys discovery more than anyone: kids.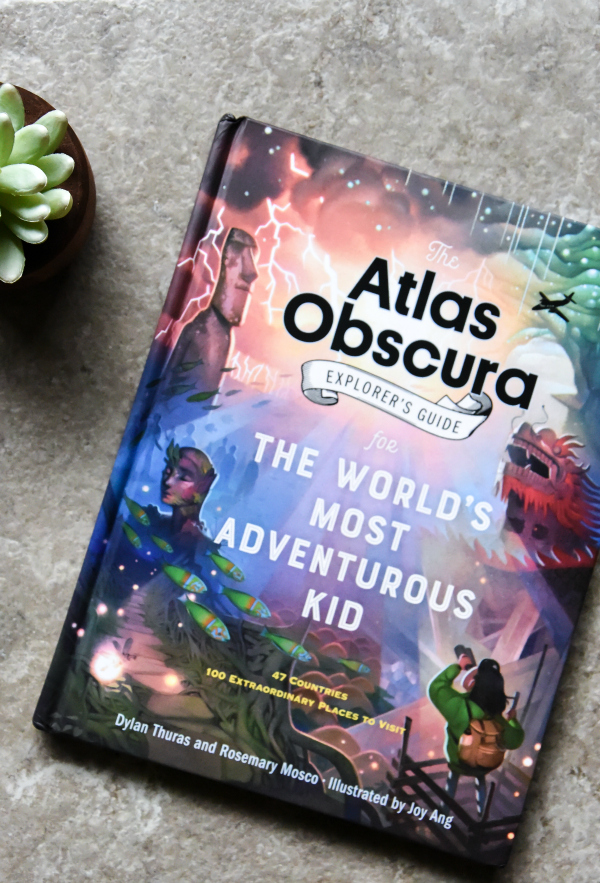 Kid or not, Atlas Obscura Explorer's Guide for the World's Most Adventurous Kid is the perfect guide for anyone that has a penchant for exploring, including the ones young at heart! This book is a passport to the world's most mesmerizing and mysterious wonders, presented in a stunning full-color illustrated expedition to 100 real destinations in 47 countries on every continent.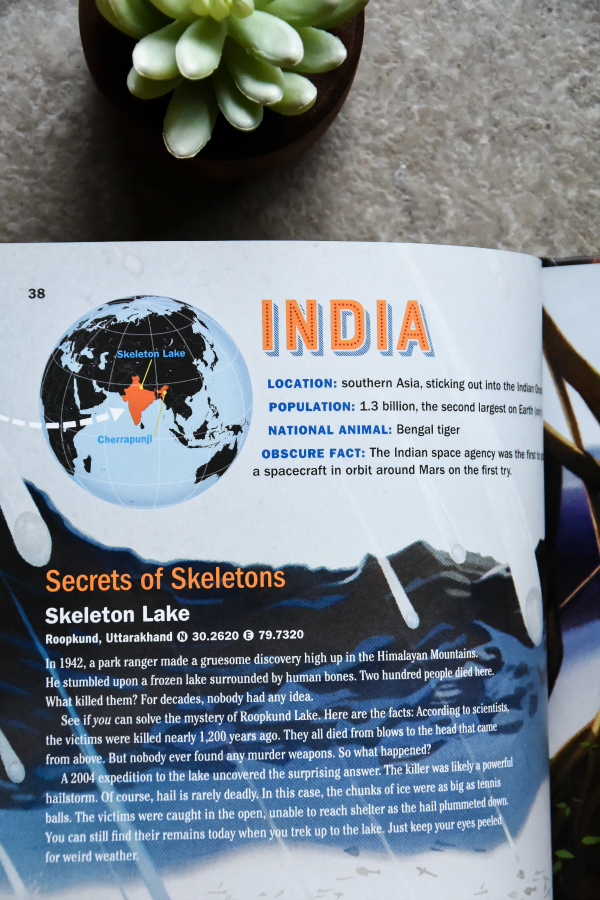 It also includes a travel packing list, world map, GPS coordinates, and obscure facts as well as travel advice, which is sprinkled throughout the book.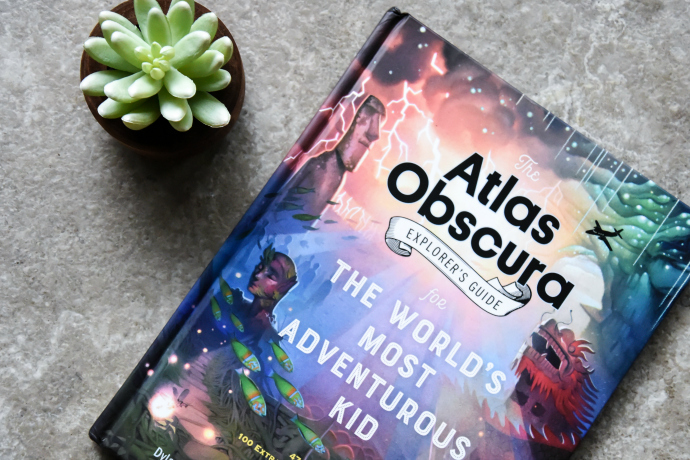 With each turn of the page, young explorers will embark on a worldwide daisy chain voyage between common points of interest as they:
→ Discover incredible caves! Cueva de los Cristales (Cave of the Crystals or Giant Crystal Cave) was discovered beneath Mexico's Naica Mountain in 2000 when miners were searching for lead and silver. It's like no other cave in the world, because it contains giant icicle-like crystals. Some even measured up to 37.4 feet tall. Most caves are known to stay cool, around 60ºF (15ºC), but this cave rests atop what was once a bubbling magma (hot, liquid rock). Therefore, the leftover embers make this cave hotter than the Sahara and wetter than a rainforest. In fact, it's too risky and dangerous to stay in it too long! On the next page (page 18), they'll explore the largest cave in the world, Hang Son Doong. Hang Son Doong is located in Vietnam and is nestled in a lush preserve called Phong Nha-Ke Bang National Park. The ceiling is higher than the Great Pyramid of Giza. It is so high that you could fly a 747 airplane through it!
→ Witness the massive migration of blue whales through the North Atlantic in Iceland then take flight with giant fruit bats in Zambia as they migrate to a national park for a late night snack.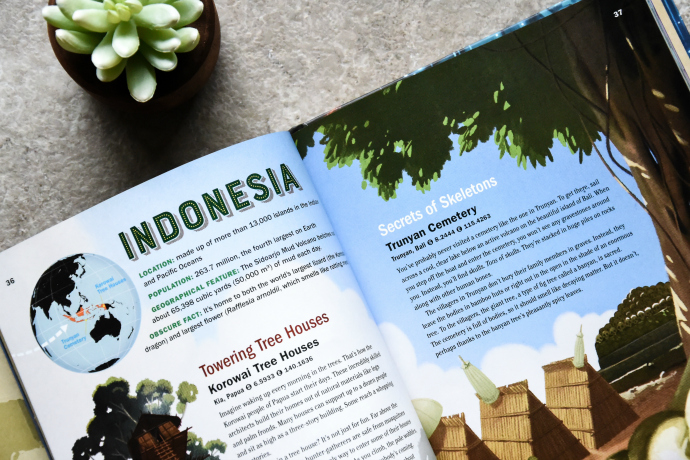 → Scale towering tree houses! One tree house, the Minister's Tree House in Crossville, Tennessee, stands at nine stories tall. It's practically a castle in the sky! I first learned about this tree house on the Exploring with Josh channel on YouTube. It's now abandoned since it didn't comply with safety rules, but this colossal structure is a sight to see, nonetheless! After "exploring" the Minister's Tree House on page 35, turn to the next page to wake up every morning in a tree house like the Korowai people in Indonesia.
→ Find rare animal islands in Australia where giant prehistoric-looking insects once crawled. Slither to Ilha da Queimada Grande (Snake Island) in Brazil where you'll find at least one golden lancehead pit viper per square meter!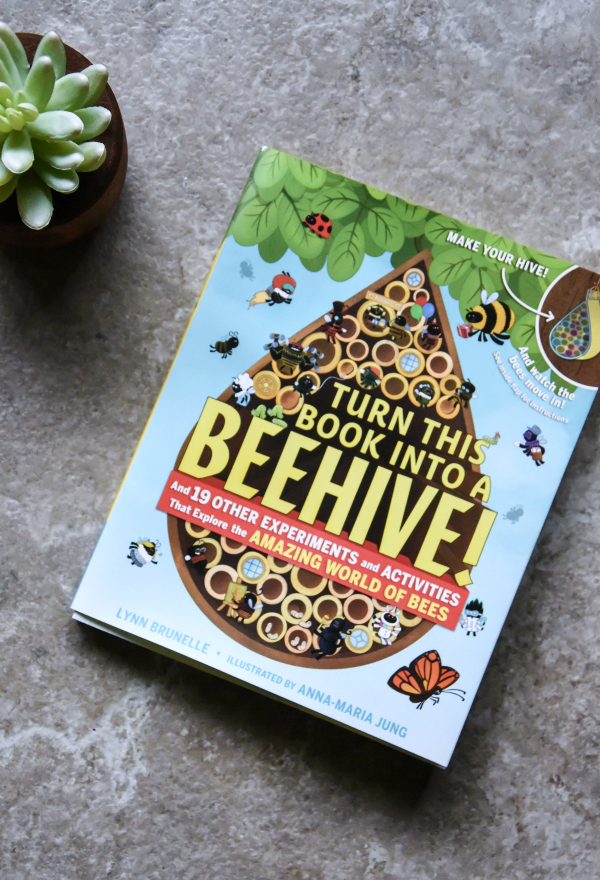 Turn This Book Into a Beehive! And 19 Other Experiments and Activities That Explore the Amazing World of Bees by Lynn Brunelle is an interactive introduction to the world of bees through exercises, activities, lively text, and full-color illustrations. The book includes a DIY project that allows young readers to literally turn it into a beehive by removing the cover and select pages. Packed with 19 sensory-driven experiments and activities, this book provides an early introduction to environmentalism as well as inspiration for burgeoning conservationists.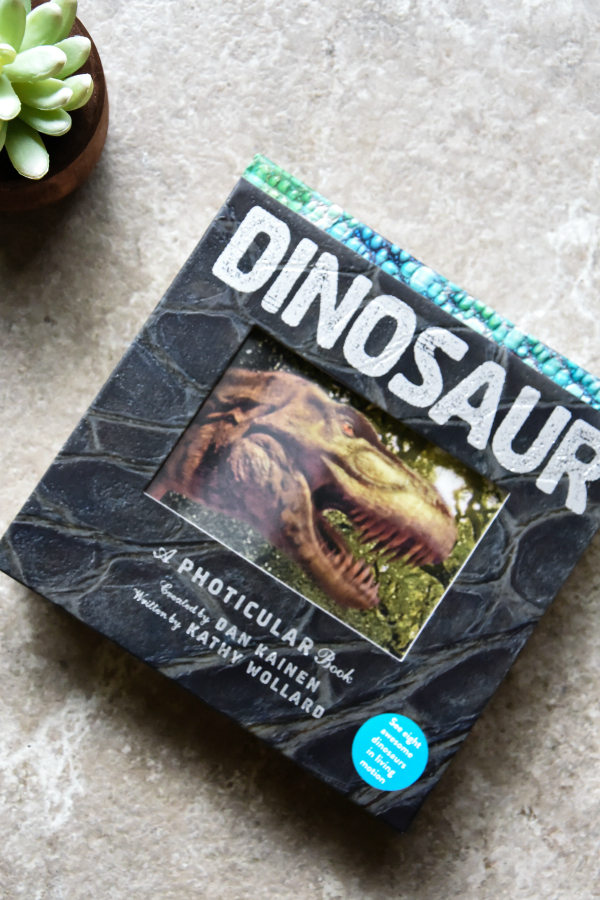 Dinosaur: A Photicular Book by Dan Kainen and Kathy Wollard is a celebration of everyone's favorite prehistoric beasts. This bestselling series with over two million copies in print uses lifelike animation to bring readers on an expedition a hundred million years back in time. With images sourced from the Discovery Channel and using Dan Kainen's masterful Photicular technology, Dinosaur will take readers on a journey back in time almost 70 million years ago. On this expedition, they'll encounter lifelike animations. This includes a roaring T.Rex, a velociraptor flapping its feathered arms, and a pair of triceratops engaged in a battle, to name a few.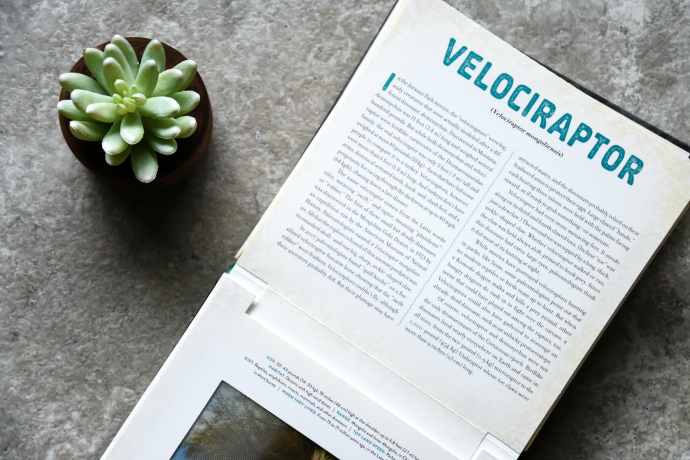 Each of these jaw-dropping images includes an informative profile by science writer Kathy Wollard. Young readers will learn that:
→ In 1971, a protoceratops was found preserved in a struggle with a velociraptor. Scientists believe that the fighting pair may have been buried in a flood of wet sand.
→ Parasaurolophus had about 300 teeth that were composed of six different materials.
→ The first sauroposeidon fossils were discovered in 1994 by dog trainer Bobby Cross while he was walking his dogs across a stretch of farmland in Oklahoma.
→ A full-grown eoraptor was the size of a slender, medium-sized dog.
Stunning and well-written, Dinosaur is an adventure into the world of these captivating creatures!