In Disney/Pixar's vibrant tale of family, fun, and adventure, an aspiring young musician named Miguel embarks on an extraordinary journey to the magical land of his ancestors. There, the charming trickster Héctor becomes an unexpected friend who helps Miguel uncover the mysteries behind his family s stories and traditions.
This movie was provided by Disney•Pixar on the behalf of MPRM Communications, but opinions are completely my own. This post may also contain affiliate links, in which I'll receive a commission if you purchase via my link(s).
Coco follows the story of a 12-year-old aspiring musician Miguel, yet it is difficult to pursue his love for music since his family of shoemakers has an overwhelming disdain for it. Music was considered as a curse to the family for generations after his great-great-grandmother fell in love with a musician that chose to pursue his dream than to be with his family. That is why they rather for Miguel to join in the family shoemaking business. The shoemaking business at least brought the family together. Miguel loves his family, but he much rather be a musician than a shoemaker.
But, how can he follow his dream when his family has banned music? He can't help but be drawn to it. He believes that it is his destiny. He even has a handmade guitar that he hides in the attic, which is also hideaway for watching footage of the local legendary musician that he aspires to be like: Ernesto de la Cruz. He soon becomes convinced that Ernesto de la Cruz is his great-great-grandfather and that he is destined to be a musician, after all.
In order to prove this to his music-hating family, he is determined to participate in the village's music contest. His dreams are seemingly thwarted after his family destroys his beloved, handmade guitar. How can he prove to his family that not all musicians are the same? Not to be hindered, Miguel runs off to sneak into Ernesto de la Cruz's mausoleum to borrow his guitar that sits proudly on display to use for the music contest. This is where the journey begins! His impulsivity spurs a chain of events that sends him off into the Land of the Dead. His journey has its fair of challenges, but ultimately, he learns more about his culture, the power of forgiveness, and gets a better understanding of the true meaning family.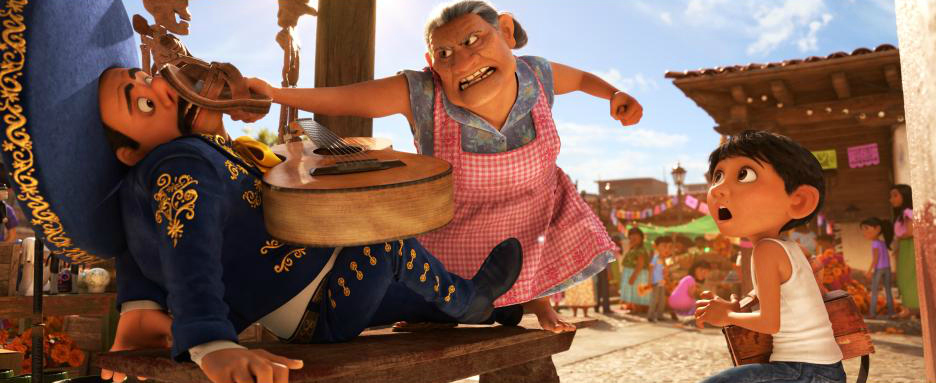 Miguel challenges his family's generations-old ban on music, spending time with a local mariachi. But his grandmother Abuelita promptly puts a stop to it. "Coco" features Lombardo Boyar as the voice of the mariachi, Renée Victor as the voice of Abuelita and Anthony Gonzelez as the voice of Miguel.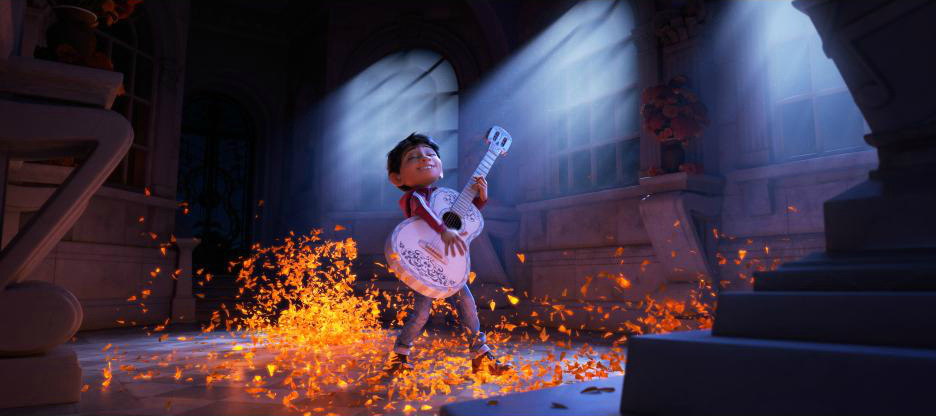 Miguel dreams of becoming an accomplished musician like the celebrated Ernesto de la Cruz (voice of Benjamin Bratt). But when he strums his idol's guitar, he sets off a mysterious chain of events.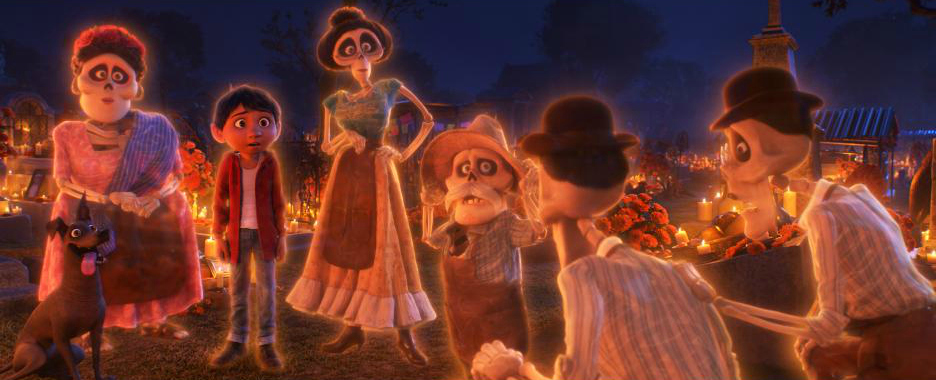 The impulsive choice that sets off a series of events ultimately lands him in the Land of the Dead where he's able to interact with his late family members, including Tía Rosita (voice of Selene Luna), Tía Victoria, Papá Julio (voice of Alfonso Arau), and Tío Oscar and Tío Felipe (both voiced by Herbert Siguenza).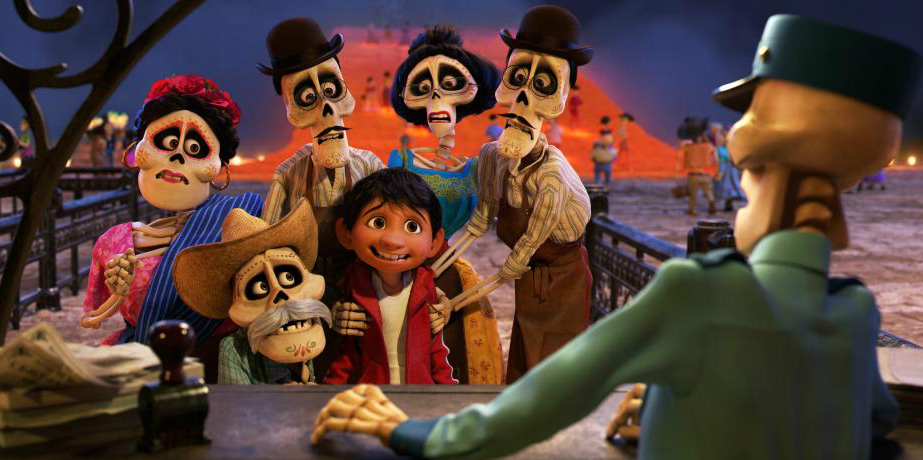 He finds himself magically transported to the stunning and colorful Land of the Dead where he meets his late family members, who are determined to help him find his way home.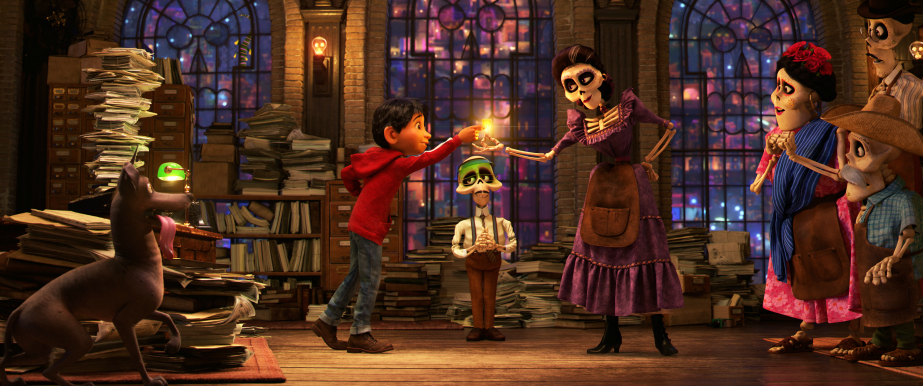 Aspiring musician Miguel learns from the head clerk in the Department of Family Reunions in the Land of the Dead that he'll need a blessing from a family member to return to the Land of the Living. But Miguel's great-great-grandmother Mamá Imelda's blessing comes with an unfortunate condition.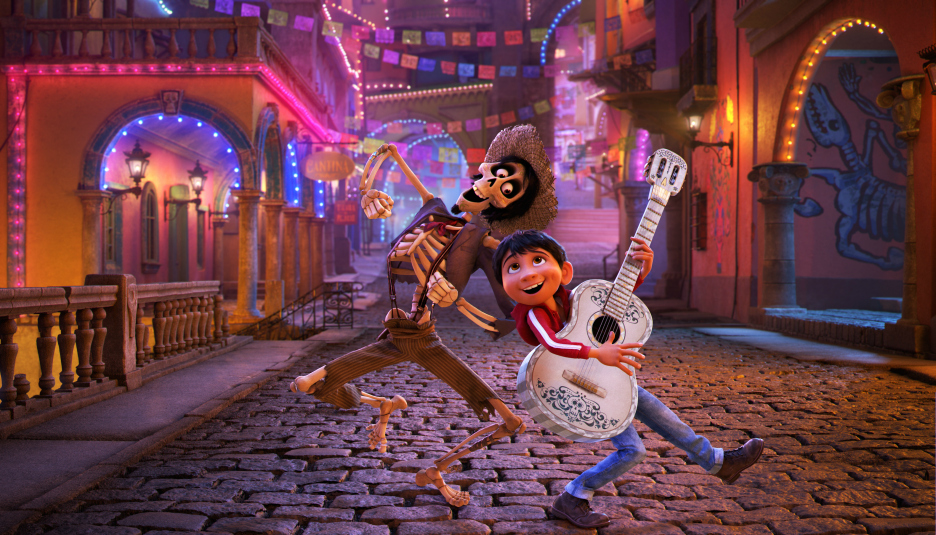 His love of music ultimately leads him to the Land of the Dead where he teams up with charming trickster Hector. "Coco" features an original score from Oscar®-winning composer Michael Giacchino, the original song "Remember Me" by Kristen Anderson-Lopez and Robert Lopez, and additional songs co-written by Germaine Franco and co-director/screenwriter Adrian Molina. Also part of the team is musical consultant Camilo Lara of the music project Mexican Institute of Sound.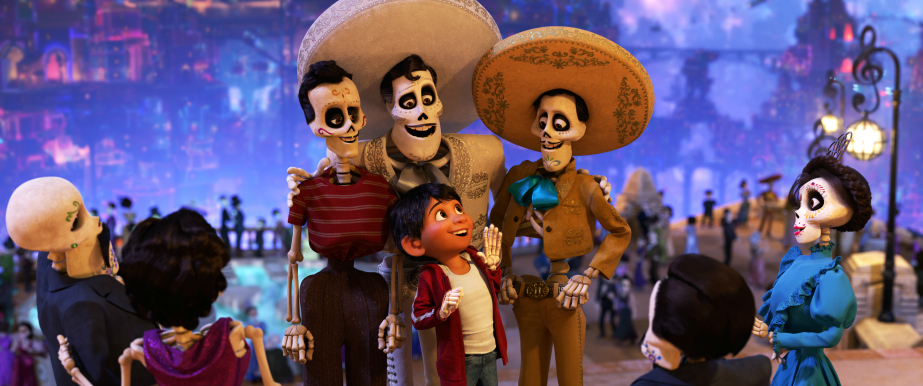 Miguel journeys through the Land of the Dead in search of his idol, Ernesto de la Cruz. Miguel meets the popular performer at Ernesto's annual Día de Muertos party.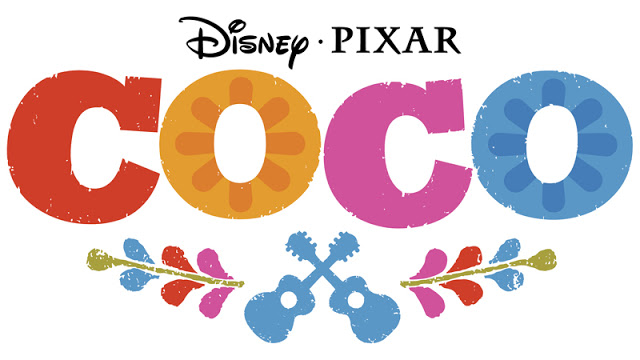 The movie became the highest grossing film of all time in Mexico and has earned widespread praise receiving 97 percent from critics and 95 percent from audiences on Rotten Tomatoes.
Coco is now available on 4K Ultra HD, Blu-ray, DVD and On Demand and can also be found digitally on HD and 4K Ultra HD as well as on Movies Anywhere.
Coco is packaged several ways to ensure viewers get the most out of their in-home viewing experience. The multi-screen edition includes Blu-ray, DVD and a Digital copy, giving viewers the flexibility to watch the film on different devices. Those with 4K Ultra HD capability may opt for Digital 4K Ultra HD or the 4K UHD Combo Pack, which includes 4K UHD, Blu-ray, and a digital copy. 4K Ultra HD provides four times the resolution of HD, bringing the rich color, textures, and sounds to life and immersing viewers in two fantastically animated worlds. Dolby Atmos audio heightens the memorable score created by Oscar®-winning composer Michael Giacchino and his 83-piece orchestra, as well as original songs like "Remember Me" by the Oscar®-winning team behind "Frozen," Kristen Anderson-Lopez and Robert Lopez.