Medifast has a special offer for 7 Days of Free Medifast Meals, bonus gifts, and free shipping on the first order as part of their renewal plan. For a limited time, you'll receive free shipping and 20% off any order of $300 or more with coupon code BIGDEAL20 between now and January 14th, 2018.
This post is sponsored by Medifast Go, however, all opinions are my own. This post also contains affiliate links.
One of the most common health goals for the new year is losing weight. This one of the reasons why I turned to Medifast a few months ago. With winter now at full throttle and the beautiful spring season a few months away, I've been determined to lose those lingering postpartum pounds from my third pregnancy. My goal has to been to shed at least 30 lbs. While I've not fully accomplished my goal yet, Medifast at least has given me to the boost that I needed to help jump start my weight loss goals for 2018. In the upcoming updates, I'll share my before and after pictures. In the meantime, I'll share one of my favorite Medifast hacks.
Chocolate Peppermint Smoothie
If you're looking for a way to not only jump start your healthy goals for the New Year but a way to jump-start your morning, this Chocolate Peppermint Smoothie is perfect. The combination of peppermint and chocolate will always be a classic! This energy-boosting smoothie is a great way to start your day off fresh. The banana not only gives it a creamy texture, but it also makes this smoothie quite fulfilling. It is refreshing and satisfying to the last drop. It gives me the natural fuel, whether I need an energizing way to start the day or simple yet effective midday boost. Energy is much needed when I need to tackle a long and sometimes hectic day ahead of me, especially now that the holiday season is behind me. This means a mountain of to-do lists, projects, and homework!
Alternatively, you can infuse this smoothie with mint. I've also combined the Medifast French Vanilla Shake with a few drops of peppermint or mint flavor drops and was as just as satisfied with the flavor. Best of all, these flavors don't add extra calories!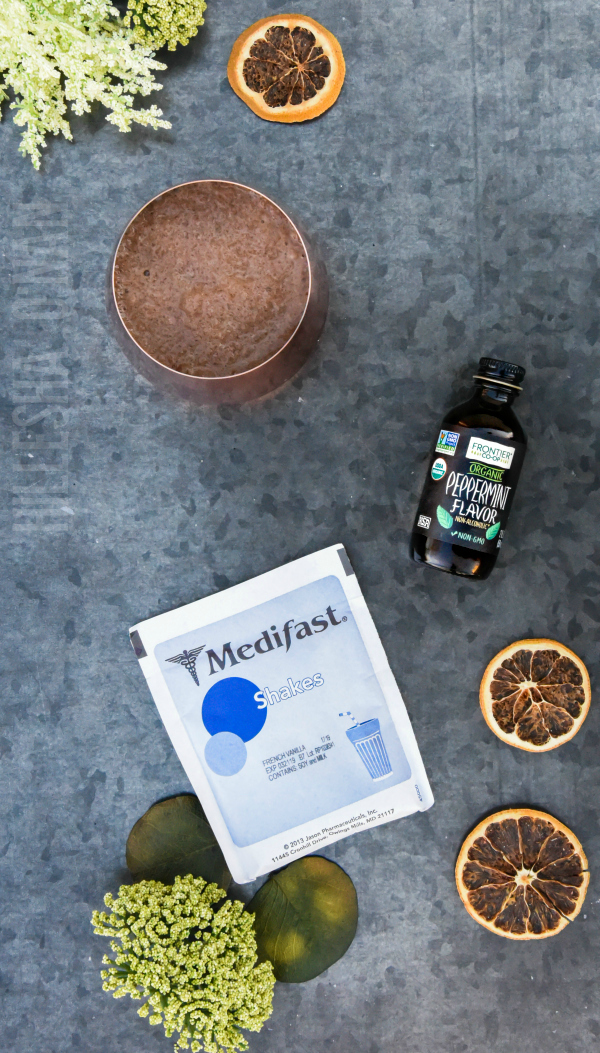 ❏ 4 oz of Water
❏ Few Drops of Peppermint or Mint Flavor
❏ 1 Banana (optional)
❏ 4-8 Ice Cubes
❏ 1 Packet of Medifast Chocolate Shake
Place all ingredients (water, peppermint flavor, a packet of Medifast Chocolate Shake, banana, and ice cubes) in the blender. Blend the ingredients until you reach the desired consistency. Enjoy immediately!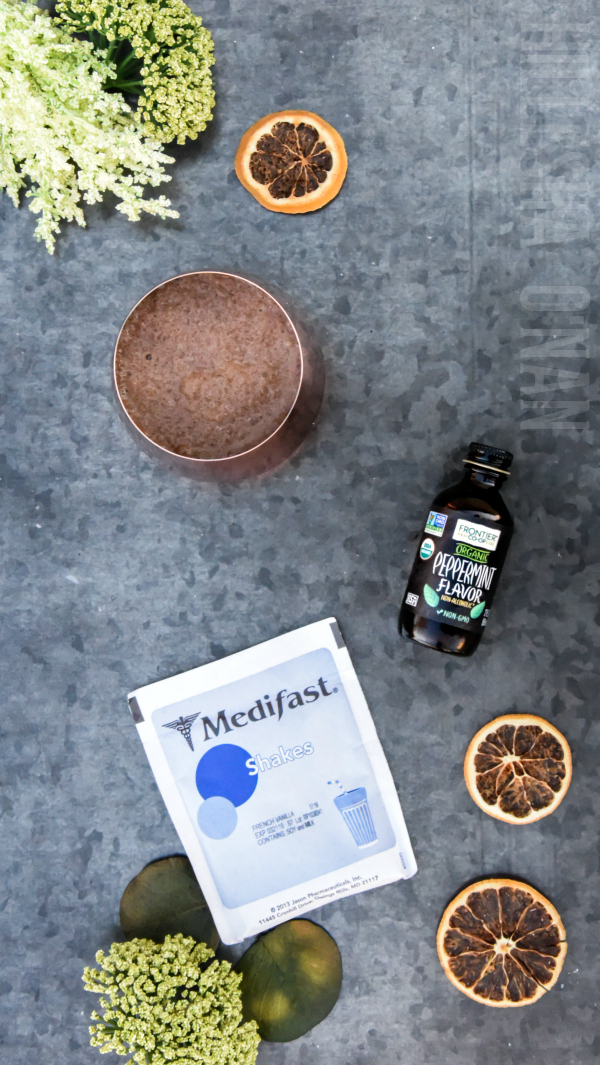 How Medifast Go Works
What is Medifast Go and how does it exactly work? It is a clinically-proven diet program that guarantees fast weight loss and it is easy to follow. I'm able to eat six times a day, which includes five Medifast meals and one Lean and Green meal. Spacing out the meals 2-3 hours apart helps me deter mindless snacking. Recipe ideas for Lean and Green meals can be found on their site. You can even find meal inspiration from fellow Medifasters via social media such as Instagram. Busy? Their Flavors of Home® meals may be a better option for you. Each Flavors of Home® meal has the right portions of vegetables, lean protein, and healthy fat.
If you're new to my dieting progress, I encourage you to read past Medifast Go posts to see if you think this will be the right diet plan for you. This is the best time of year to start the Medifast Go diet plan, especially since they're running a special offer for 7 Days of Free Medifast Meals, bonus gifts, and free shipping on the first order as part of their renewal plan. It is hard to get bored with this plan, because they have over 150 foods to choose from, including protein bars! Meals are delivered right to your door. Plus, you'll receive a food journal, plan guide, and dining out guide to help you get the best out of this program.
Special Offers
Receive Medifast with 7 Days of free meals included in the first month's order with a renewal plan. $15 off orders of $150+ with coupon code SAVINGS15 at checkout! Some exclusions apply. Both offers expire on April 30th, 2018.
*Average weight loss for Medifast Direct® customers using Medifast Go™ is 11 pounds. Medifast Direct customers are in weight loss, on average, for 8 weeks.