This post was sponsored by Nature Made® as a part of an Ambassador Program for Influence Central.
I knew there were going to be many changes that I'd have to grow accustomed to after I moved from a suburban area to the heart of a city a few years ago. I didn't I know that one of the changes would start with my hair. It wasn't long after I moved that my hair started to look dry, dull, and straw-like. It also started to shed like crazy! I couldn't figure out what was going on with my hair at first until I started using a shower filter. I noticed a significant improvement in my hair and skin. This indicated that the water was the culprit. This shouldn't have come as a surprise since my city is known for their bad water. Hard water not only causes lackluster hair, but it can significantly thin it out and lead to hair loss – scary!
I couldn't see myself paying $150 for another shower filter once it broke down to pieces within a few months. It felt like all of that money went down the drain! That's why I took a different route by using a chelating shampoo and apple cider vinegar hair rinse to remove the mineral content build-up from hard water.
I follow-up with flaxseed oil to help keep my hair moisturized and balanced. I love that flaxseed oil doesn't weigh down my hair in the process like other hair-friendly oils such as argan, coconut, and jojoba oil. The quality of my hair has tremendously improved since it's much thicker and doesn't shed as much. I've also started to use Nature Made® VitaMelts for Hair, Skin, and Nails to help promote healthy hair, skin, and nails.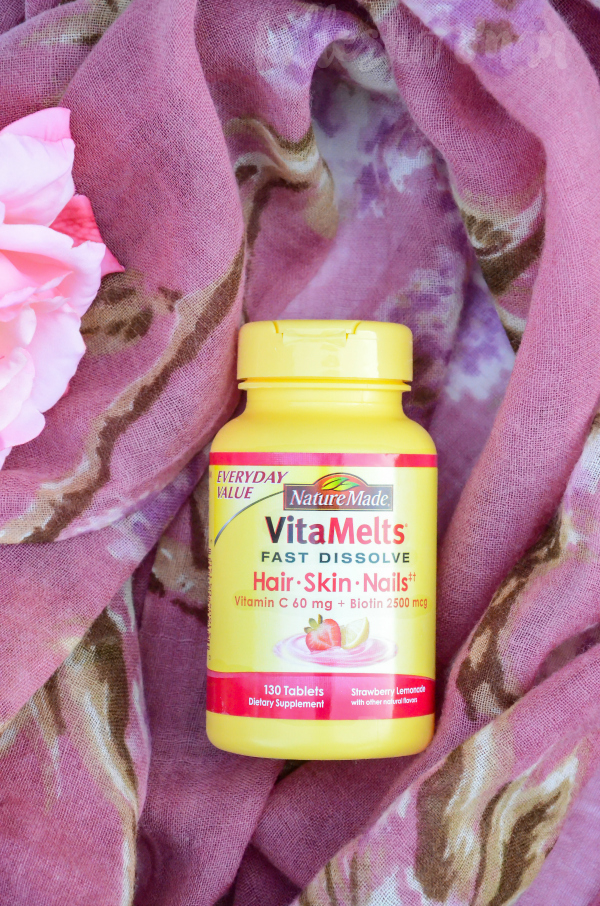 Biotin deficiency is another culprit that can cause lackluster hair, nails, and skin. The Nature Made® VitaMelts for Hair, Skin, and Nails is a powerhouse of ingredients that are essential in aiding biotin deficiency. These tablets have a delicious Strawberry Lemonade flavor and they melt within seconds! †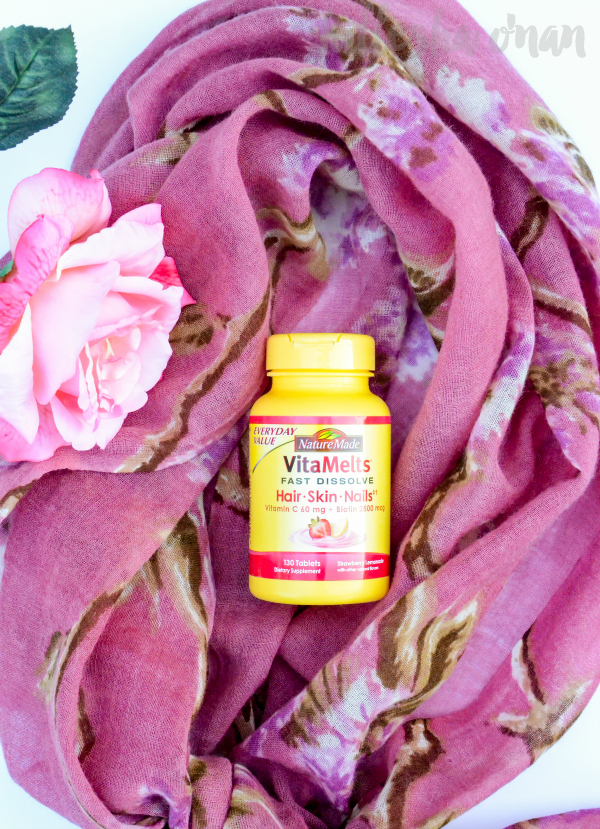 Walmart is my go-to destination to purchase supplements like the Nature Made® VitaMelts for Hair, Skin, and Nails at an everyday low price! They have a wide selection of supplements and vitamins by Nature Made. Nature Made provides an easy and convenient way to help the body get the nutritional support it needs every day, whether it be to support bone health, immune health, or energy metabolism. †
Adhering to a healthier lifestyle can be achieved by visiting https://www.healthyhabitbuilder.com. You'll receive specific motivation and tips addressed to your needs when you join the Healthy Habit Builder program – it's free!
$50 Walmart Gift Card Giveaway
Enter for a chance to win 1 of 60 $50 Walmart gift cards! No purchase is necessary. Winners will be selected on or about November 10, 2016.
† These statements have not been evaluated by the Food and Drug Administration. This product is not intended to diagnose, treat, cure or prevent any diseases.