Look no further than Brentwood Home if you're looking for a way to improve your sleep! The Brentwood Sleep Wellness Bundle ($230) is bound to bring bedtime to the next level. That's why I've teamed up with Brentwood Home for this wonderful giveaway! The bundle features noteworthy bedroom essentials that will change the way you sleep. Best of all, this bundle is crafted with healthy and natural materials that are safe for you and your home.
Brentwood Home Coupon
The Code: OURHOME 10% Brentwood Home Coupon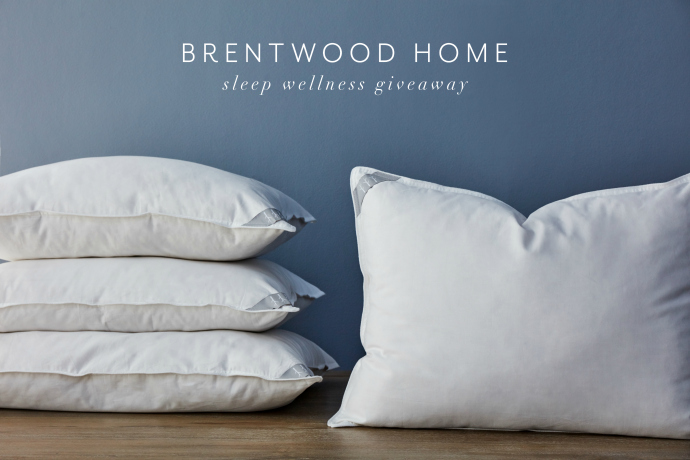 One winner will receive everything that is pictured above. This includes 2 Latex/Kapok Pillows and 2 Molded Latex Pillows. Here's to a blissful slumber!
☽ In this sleep wellness bundle, you'll receive four pillows that will make look forward to bedtime! Two pillows are filled with all-natural latex ribbons that have a responsive feel that provides uplifting support, combined with silky-smooth kapok. They'll be the perfect fit for people who switch between multiple sleeping positions, as they easily mold to your neck and head. The cover is made of organic cotton, grown without toxic pesticides or fertilizers, so you can sleep safe and sound.
☽ The molded latex pillows that are included in this bundle are bouncy, resilient, and molded to perfectly contour your head and neck. They're made with healthy materials for your sleep, like a 100% organic cotton cover, and they're certified free of synthetic materials by the Eco-Institut.
Brentwood Sleep Wellness Bundle Giveaway
One winner will receive a Brentwood Sleep Wellness Bundle (a $230 value) from Brentwood Home. The giveaway will conclude on October 31st.
Brentwood Sleep Wellness Bundle Giveaway

About Brentwood Home
For over 30 years, the makers at Brentwood Home have been handcrafting mattresses, bedding, and products for the home in their Los Angeles factories. This kind of experience is important to me when it comes to shopping for my home. Their products are worth every coin, especially since they're durable enough to withstand years of heavy use. With this much expertise, it's clear that Brentwood Home knows how to combine comfort with craftsmanship.
Brentwood Home also operates their own factory, which gives them complete control over the production process. From design to development to manufacturing, everything they do is in-house and up to their own standards. The best part is that they eliminate the middleman by shipping directly from their factory to the customer. This enables them to cut manufacturing costs and pass the savings on to you.
Connect with Brentwood Home
This post is in partnership with Brentwood Home.