UMA is a luxurious line of natural and organic oils. Shrankhla Holecek is a holistic medicine practitioner and yogi that is the founder and visionary behind UMA Oils. These oils are cultivated, harvested, distilled, and crafted by hand at Shrankhla Holecek's family estate in India. Some of the top names in the beauty industry like Tom Ford and Estee Lauder trust them to procure the finest essential oils to use in their products! Uma's farm-to-bottle face oils adhere to the centuries old principles of Ayurveda; the science of inner health and balance help skin obtain and maintain the ultimate glow from within. They have won the approval of PopSugar, Vogue, Stylist UK, The Sunday Times UK, Refinery 29, Uptown Magazine, Marie Claire, and Yahoo! Beauty.
Oils have been dominating the beauty industry for years, but mankind has used them since the dawn of time. Their wealth of benefits and uses are endless! They can be used for everything from naturally alleviating anxiety and stress to keeping acne at bay and offsetting the signs of premature aging.
The History Behind Oils
Cleopatra, the Queen of the Nile, soaked her tresses with honey and castor oil. She favored essential oils like myrrh, rose, cypress, frankincense, and neroli for fragrance. Modern day celebrities such as Gisele Bündchen uses facial oil to calm acne flare-ups, while Jennifer Lopez uses it to keep her skin glowing. It's hard to find a find a female celebrity interview that doesn't mention an oil that's part of their beauty regimen. Oils are everywhere!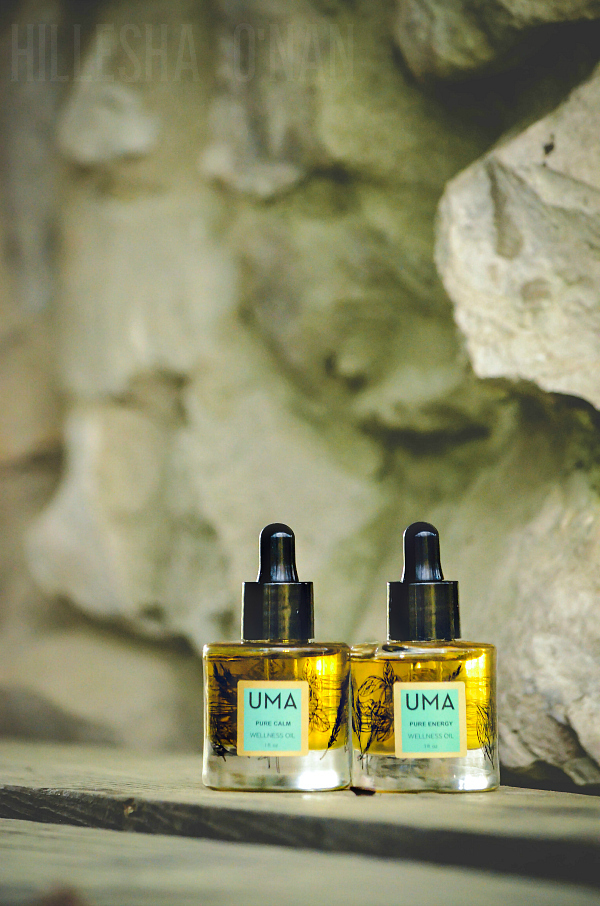 Uma's line boasts five facial oils (Beauty Boosting Day Face Oil, Deeply Clarifying Face Oil, Ultimate Brightening Face Oil, Total Rejuvenation Night Face Oil, and Absolute Anti-Aging Face Oil); five wellness oils (Pure Rest Wellness Oil, Gorgeous for Good Wellness Oil, Pure Energy Wellness Oil, Pure Bliss Wellness Oil, and Pure Calm Wellness Oil); and one Intensely Nourishing Hair Oil. Each oil is 100% certified natural and organic. They're free of synthetic fragrances and emulsifiers, parabens, GMO's, mineral oils, and preservatives. These oils are always tested on real women, never animals!
I was first introduced to their facial and wellness oils last summer. They've completely rebranded the Uma Collection with bold new packaging since then. It took over ten months of extensive research, design work, and stringent vendor selection to bring this new look to life. Each individually crafted UMA bottle was decorated by hand, using line drawings that took months to perfect. The oils inside – the very same formulas that are getting so much love across the globe – are still handcrafted and hand-poured, as always. I can easily attest that their oils are the most well-crafted and potent oils that I have ever used!
The Pure Energy is a wellness oil that is energizing and uplifting. It's the perfect wellness oil to use to help jump start my morning, especially if I have a long day ahead of me. I've found it to work exceptionally well! The best and the surefire way to get the most of the wellness oils is to apply 4-5 drops between your toes, the soles of your feet, and pulse points. You can also use them in aromatherapy diffusers for even more therapeutic benefits.
Wedding planning, moving, deadlines, lack of sleep, first dates, vacation planning, overwhelming workload, job interviews, or simply the everyday hustle and bustle of life can pack on varying amount of stress! We have all experienced stress at some time or another.
As you may already know, stress and anxiety can have an effect on our skin and overall health. That is why it's important to find ways to manage our stress and anxiety during stressful times. Wellness oils like the Pure Calm helps me naturally relieve stress and anxiety. I don't usually have trouble sleeping at night, but it helps lull me into a blissful slumber for those nights that I do! This wellness oil consists of a harmonious blend of chamomile, vetiver, jasmine, geranium, sandalwood, lavender, and clary sage essential oils. It truly lives up to its name, because the smell of it is so calming and enchanting!
Giveaway
One winner receive three wellness oils from UMA – Pure Calm, Pure Energy, and Pure Bliss (a $255 value).

Please note that a winner must sign up for their newsletter, which will be verified at the end of the giveaway.
What Others Are Saying About Uma Oils
"A beauty brand specialized in (really) magic oils inspired by Ayurveda and tradition." – Vogue Italia
"After switching out my nightly routine with their unique oil blends for just two weeks, I noticed fewer wrinkles and fine lines, a decrease in dark spots and an increase in brightness combined with less rosacea on my cheeks — big score!" – Yahoo! Beauty
Connect with Uma Oils

"They say youth is wasted on the young. I say good skin is, too." – Lesley Jane Seymour, Editor in Chief of More Magazine
This post is sponsored on behalf of UMA. All opinions are exclusively my own. The information on this website is based upon my research and personal use of UMA. I'm not a doctor, nor do I pretend to be one. Statements, products, and techniques mentioned have not been evaluated by the FDA and are not intended to diagnose, treat, cure or prevent any disease.