This post is in partnership with Lovepray Jewelry.
Lovepray Jewelry is a yoga-inspired company that's based in San Diego, California. Their jewelry is handmade, comfortable, and meticulously crafted with natural materials. Each fashion-forward piece is created for those who are young in spirit and style.
There's no denying that you'll be looking relaxed and recharged, whether you're trekking to and from yoga class or embarking on your next traveling adventure. Their jewelry is sold primarily online, on their website and in their Etsy shop. They're also available in several shops, boutiques, and yoga studios and at the shows that they attend, mainly in Southern California.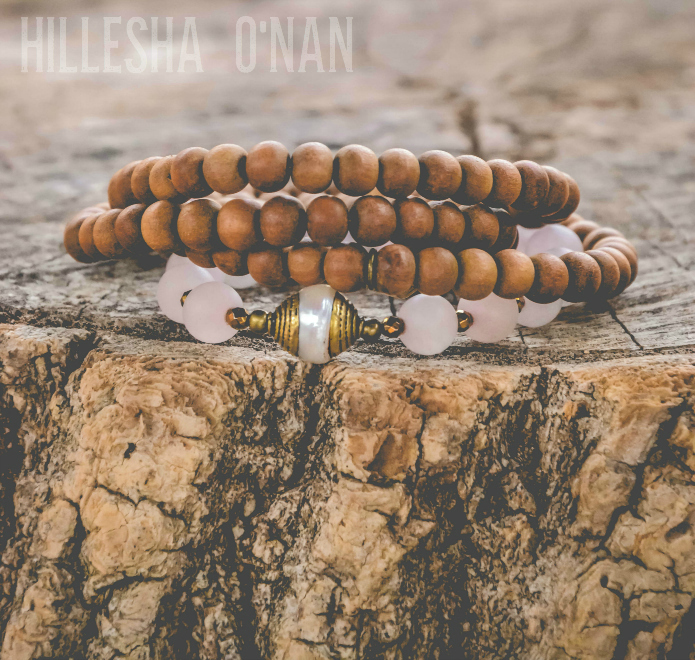 Jewelry helps me express facets of myself in a meaningful way, especially with mindful pieces like Healing and Love Bracelet ($89 – $98). It beautifully empowers self-expression! It's casual, yet elegantly understated and can also be worn as a necklace. The Healing and Love Bracelet evokes a sense of confidence, calm, and femininity each time I wear it. I also love how it adheres to my style and easily complements almost any outfit.
The deeply aromatic sandalwood encompasses and enhances both the spiritual and physical well-being of men and women. It is thought that sandalwood guides away from the distractions of the mind back to the sensual joy, yet the hallmark of this bracelet is the rose quartz. The rose quartz is known as the love stone. Its energetic nature opens the heart chakra. This makes it beneficial for every type of love: unconditional, family, romantic, platonic, and self-love. It's also known to give a sense of comfort and soothing energy throughout the day. Additionally, the Tibetan pearl guru bead adds a sophisticated touch.
Exclusive Coupon
Readers will receive a 20% off discount at LOVEPRAY Jewelry with coupon code CHICFORTE when applied at checkout.
Connect with LOVEPRAY Jewelry
"A woman's relationship with accessories is important and elemental. She should choose her accessories as she chooses her friends, seeking out the ones that complement who she is, let her have fun, make her feel confident when she walks down the street, and stick through her ups and downs. Because of your accessories, like your friends, tell the world who you are." – Nina Garcia, Fashion Journalist, Critic, and Judge on Project Runway
This post is in partnership with LOVEPRAY Jewelry and Tomoson.