One of the most common health goals for the new year is losing weight. It seems like no matter where you turn, there are commercials, magazine articles, blog posts, and social media endorsements that are offering suggestions for a new you for the new year, whether it's losing weight, eating healthier, or signing up for a gym membership. That's why I'm here to assure you that this is not just another post on how to lose weight. Instead, it's how you can jump start your weight loss goals for the new year!
Winter may be in full throttle, but it won't be before long that it's spring and we're thinking La vita è bella until we try on last year's swimsuit. Oy vey! Before Googling the latest fad diet or looking for burkini suppliers; jumpstart weight loss, reduce your cravings, improve digestion, enhance skin and hair quality, relieve bloating, amp up your immune system, and detox with the Kaeng Raeng cleanse that Alicia Silverstone has endorsed in the past. Kaeng Raeng has also gained recognition from Lucky Magazine, Cosmopolitan, Nature & Health, Well + Good, The Dr. Oz show, Vital Juice, Diets in Review, and Telemundo, to name a few.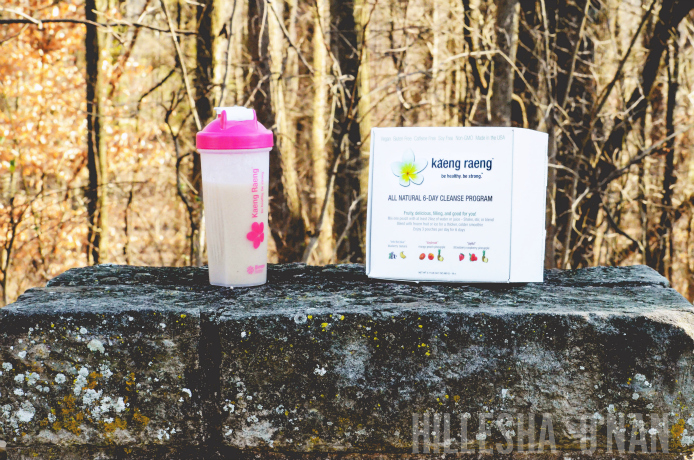 Cleanse Without Fasting
Created by certified personal trainer Lindsay Reinsmith, Kaeng Raeng means "be healthy, be strong" in Thai. This all natural, non-GMO, nut-free, soy-free, gluten-free, caffeine-free, and vegan detox cleanse is designed to help you get back on track to a slimmer and healthier you. It also doesn't contain artificial colors, flavors, sweeteners, preservatives, laxatives or stimulants. I tried their 3-day cleanse ($79.99) in the past to boost my energy and improve my digestion. Cleanses are beneficial in aiding the body to its optimal peak. Our bodies can get taxed by the years of prescription medications and unhealthy foods.
One of my main goals for the past couple years was to lose weight, yet I wasn't seeing improvement in my weight even though my diet has been nearly vegan (I'm a vegetarian) for a few years now. I also drink 2.2 liters of water a day. My energy levels were also extremely low. The truth is carbs are my weakness and even the processed vegetarian/vegan foods that I eat every now and then have their disadvantages. That's why I decided to try Kaeng Raeng's 6-day cleanse ($129.99) to help give me the boost that I needed.
One of the first things that I noticed that my energy levels went through the roof! I didn't even have take afternoon naps like I normally do. I can honestly say that I haven't had this much energy for ages! I've been able to maintain that energy after the cleanse, thanks to their 15-day Daily Green Energy ($34.99 – $59.99).
Each Kaeng Raeng pouch (glai roong "daybreak", reunn "joyful", and juu juu "into the blue") contains a full serving of real fruit, 9g of fiber, 15g of pea protein, 2 billion live probiotic cultures, and daily vitamins. You can blend it with at least 24 oz of water plus juice or a non-dairy milk like cashew, flaxseed, or almond milk. I once tried it with plain water, while I tried with flaxseed milk another time. I found the taste to be the most desirable with coconut water, especially coconut water with pineapple juice.
Weight Loss
I didn't weigh myself before the cleanse or on the first day of the cleanse. I started to after the 2nd day since I was noticing that my clothes were fitting better. There was already a 3 lb weight loss by the 4th day! Ironically, I wasn't able to know how much more weight I lost by the final day since my Fitbit scale decided to malfunction on that day. I know the weight loss may be temporary, but this vegan detox cleanse taught me that I need to reduce my intake of carbs and processed foods much as I can.
The Bottom Line
Some days were easy, while other days weren't so easy with the 6-day cleanse, but it was all or nothing! I love that at least this detox cleanse is different than most cleanses since you're allowed to enjoy the cleanse with raw fruits and vegetables. This ensures a safe detox without depriving yourself of vital nutrients.
In addition to the weight loss and improved energy, I also noticed the area under my right eye wasn't puffy. I've tried numerous methods, including various eye creams to address this ongoing issue without much success. This goes to show that my diet was most likely the culprit after all this time. My hair was also softer and shinier than usual.
The downside was that I had slight cystic like acne along my jawline in the beginning, but this is a common issue with detox cleanses. My skin cleared up within a few days. Headaches are also common, but I didn't get one until the 4th day. It didn't last for long, though! These symptoms are our body's ways of adjusting to a different diet, while it's eliminating a build-up of toxins.
Overall, I highly recommend giving your weight loss goals a boost with Kaeng Raeng! Users get the best results when they ease into the cleanse by eliminating processed foods, animal products, dairy, and fried foods from their diets 2-3 days beforehand.
Connect with Kaeng Raeng
What are your health goals for the New Year?
This post is in partnership with Kaeng Raeng.