While most of us wouldn't think of lacing our food with chemicals, many of us don't take it into consideration that's exactly what we're applying on our skin. Our bodies absorb 60% of what we apply on our skin, which is why it's crucial to learn about what's in our beauty products! Jillian Michaels is one of many celebrities who rely on makeup artist Paige Padgett to not only make them look beautiful, but for her sound advice on the do's and don'ts of skin care. Paige takes it a step further by revealing her findings in her new book, The Green Beauty Rules: The Essential Guide to Toxic-Free Beauty, Green Glamour and Glowing Skin – a guide that helps readers learn how to go 'green' with their own cosmetics and skin care!
"Finally, a green beauty book written for the glamorous girl. Paige has been a makeup artist for ten years. No one is more qualified to show you how to be glamorous and green. She explained to me that just like toxic chemicals in food, toxic chemicals in cosmetics are just as harmful to your body. Paige Padgett shows you exactly how to rid your beauty routine of toxic chemicals without having to make your own cosmetics or settle for substandard beauty products that don't work. She will empower you to make good choices for you and your family while keeping you gorgeous. With something useful for everyone, The Green Beauty Rules is the green beauty book you've been waiting for." – Jillian Michaels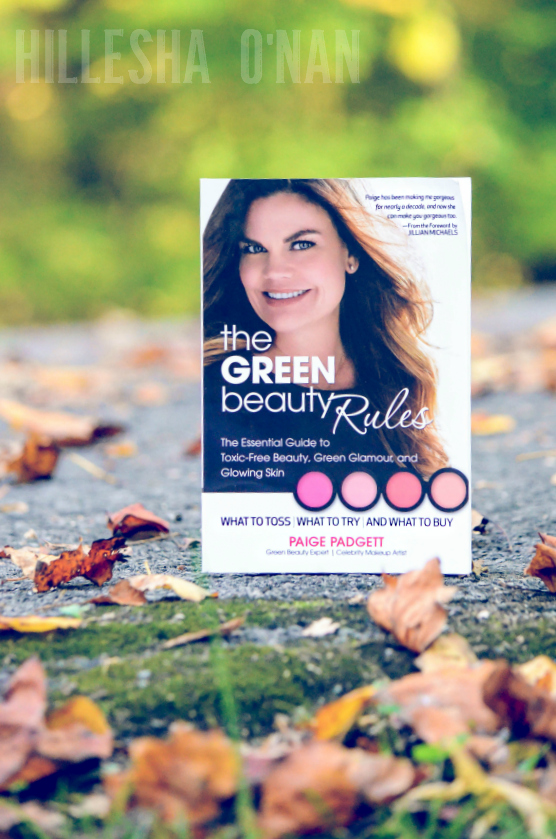 In The Green Beauty Rules, Paige shares her tried-and-true tips in a no-nonsense, yet down-to-earth manner. I have similar books, such as the books by Sophia Uliano (Gorgeous for Good: A Simple 30-Day Program for Lasting Beauty – Inside and Out, Do It Gorgeously: How to Make Less Toxic, Less Expensive, and More Beautiful Products, and Gorgeously Green: 8 Simple Steps to an Earth-Friendly Life) and The Honest Life: Living Naturally and True to You by Jessica Alba. I still find myself sifting through these books from time to time. The Green Beauty Rules is one of those books that I can easily pick up again and again since the advice is timeless, practical, and inspiring!
One of my favorite chapters is "Green Beauty Looks," which covers ten achievable looks that is complete with a step-by-step guide: Flirty, Sultry, Bronzed, Glamorous, Natural, Bold, Flushed, Gamine, Chic, and Classic. Some of Padgett's go-to beauty products include ZuZu, Ecco Bella, Jane Iredale, Zuli Organic, Kjaer Weis, and my personal favorite – Tata Harper!
Inside The Green Beauty Rules, You'll Find:
► Debunking the five biggest green beauty myths
► A list of the top estrogenic chemicals to watch out for in products
► Three eco-attitudes and how to flow between them
► How to achieve the look of NARS Orgasm Blush
► Paige's 80/20 beauty diet
► A step-by-step guide to greening your beauty routine
► Paige's Top Ten daily use products
► The three P's to avoid — perfume, parabens, petrochemicals
► Tools for identifying greenwashing, reading labels and decoding packaging seals and stamps
► The difference between natural, organic, and chemically safe
► How to effectively use the Environmental Working Group Skin Deep Database
► The 60-Second Save – How to quickly identify chemically safe products
► Sample Green Beauty Routine
About Paige Padgett
Paige Padgett, a leading authority on green beauty, has never been afraid to go against the grain. An irreverent free spirit, she follows her instincts and her heart. At the mere age of 12 she announced to her family that she was no longer eating red meat. Ironically, her half-Native American grandfather was a cattle rancher. It was no surprise then, that when beauty experts said she couldn't provide safe and eco-friendly makeup artistry and still create beautiful faces, she set out to prove them wrong — and did.

Now considered a leading authority on green beauty, Paige is the Green Beauty Expert for Dasani ECOmmunity Facebook Page, DailyGlow.com, Jillian Michaels Wellness Team, and founded Paigepadgett.com, a green beauty website. In addition, she is often sought out by the press and has been featured in Shape, Elle, GenLux, Tresdope.com, Beautyblitz.com, The Los Angeles Times, Vegetarian Times, Natural Health and Whole Life Times Magazine. Her television, radio, podcasts and live appearances include "Martha Stewart Radio," "San Diego Live," "The Jillian Michaels Radio Show," "Green Is Good," "The Healthy Voyager" and "The Jillian Michaels Wellness Cruise."
Connect with Paige Padgett
This post is in partnership with HCI Books.