As someone who loves beauty products, giving beauty-related gifts to my female friends and family members has become second nature. Here's a curated list of favorites that are bound to garner smiles from the beauty fiends in your life!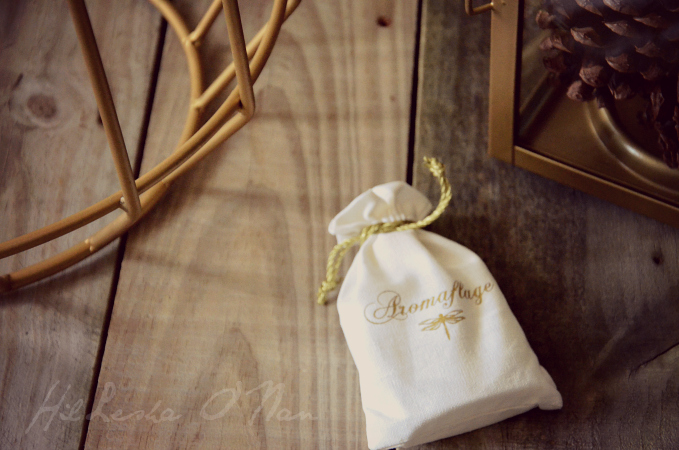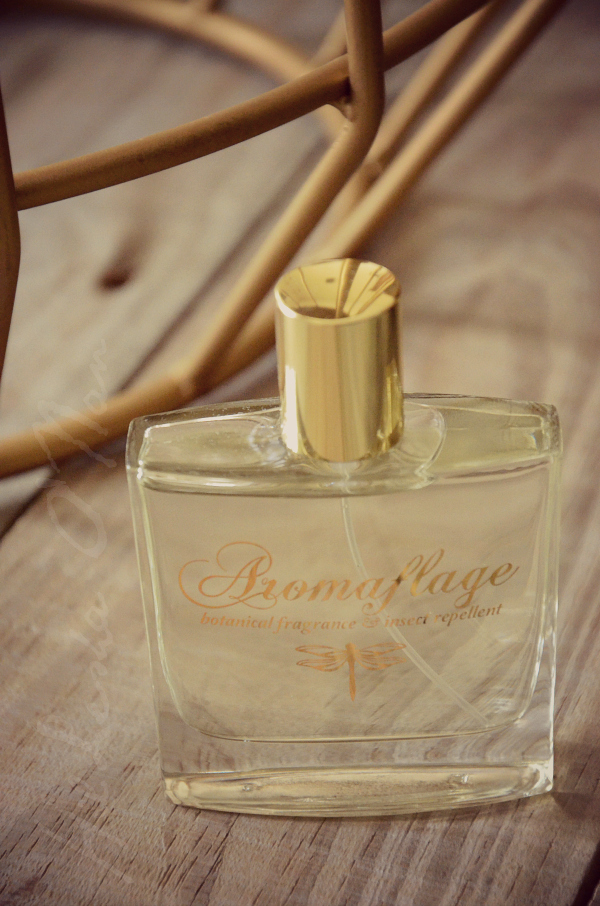 Aromaflage is a botanical fragrance that naturally repels insects without the use of chemicals, DEET, or parabens. You can rest assured that no one will know you're wearing an insect repellant, unless you tell them. Even if you do, they most likely will not believe you! Not only it keeps the nuisances at bay, but it has a delicate, beautiful scent that is inspired by the Southeast Asian jungle. It is filled with gorgeously fragrant top notes of citrus fruit, warm cedarwood, and silken vanilla. It also has Vitamin E as an ingredient, which is nourishing for the skin. The Aromaflage Flagship Bottle is perfect for warm weather, outdoor activities, and traveling. Aromaflage also offers a purse-sized of this fragrance that's essential for travelers, the Aromaflage Purser ($30).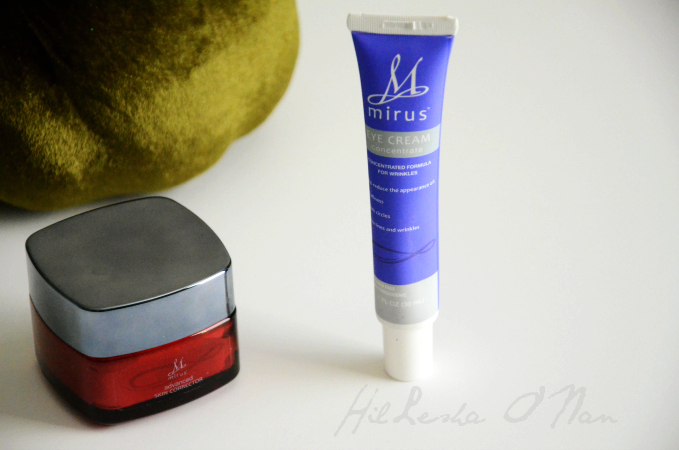 Mirus: $17.49 / $34.99
More than a skin corrector that reduces the appearance of signs of aging (i.e. wrinkles, fine lines, and loss of elasticity), the Mirus Advanced Skin Corrector ($34.99) fundamentally improves the look of skin without surgery. It also targets damaged skin and scarring. It glides on smoothly with effortless ease and instantly. I have sensitive, combination skin that is prone to breakouts, yet I can use this skincare product without any worries whatsoever since it doesn't encourage acne. Instead, it has made my skin noticeably smoother and well-hydrated.
Nothing can make a person appear significantly older than they are than crow's feet or "tired" eyes. The Mirus Eye Cream Concentrate ($17.49) addresses the common issues that occur around the eye region, especially signs of aging and fatigue. Using this eye cream religiously day and night for two weeks can help reduce puffiness around the eyes. It can also help ghastly dark circles pull off a Houdini, while two months of usage can reduce the appearance of fine lines.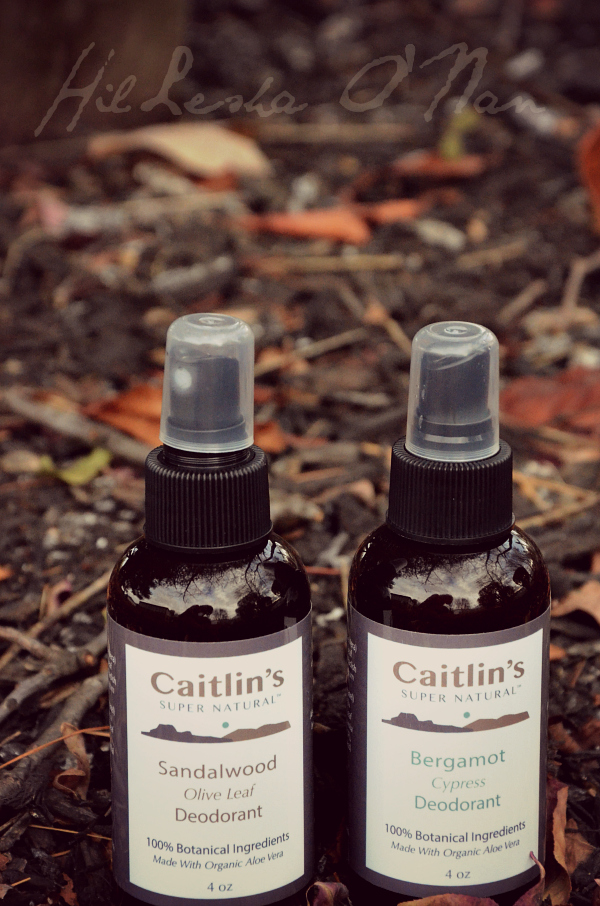 Our bodies help regulate temperature by sweating. Sweating is also a natural and healthy to rid our bodies of toxins. It is mostly odorless, yet it can become a mortifying issue when the bacteria multiply and decomposes in these secretions. This results in body odor. Many deodorants quickly nix this issue by preventing body odor. Not only they prevent body odor, but they also help you keep dry. The majority of those deodorants contain aluminum zirconium, aluminum chloride, or aluminum chlorhydrate. Research has proven again and again that these ingredients are linked to cancer, especially breast cancer; neurotoxicity, and a host of other ailments. They can also cause itching, irritation, and redness. Considering that sweat is our body's #1 way of sending toxins on their merry way, they're unable to work effectively when the aforementioned ingredients are present. This results in toxin build-up over time.
Caitlin's Super Natural is committed to using 100% all-natural, vegan, and botanical ingredients in their deodorants. Not only their deodorants naturally prevents body odor, but they also nourish the skin and impart aromatherapeutic benefits. The three available scents are Sandalwood & Olive Leaf, Lavender & Currant, and Bergamot & Cypress. Each deodorant is free of ingredients that are ubiquitously found in many deodorants, such as aluminum, parabens, alcohol, artificial fragrance, or triclosan. It's completely natural and healthy. Also, Caitlin's Super Natural regularly volunteer at Katog Choling, a non-profit retreat center in the Ozark Mountains. Each purchase supports their ongoing efforts!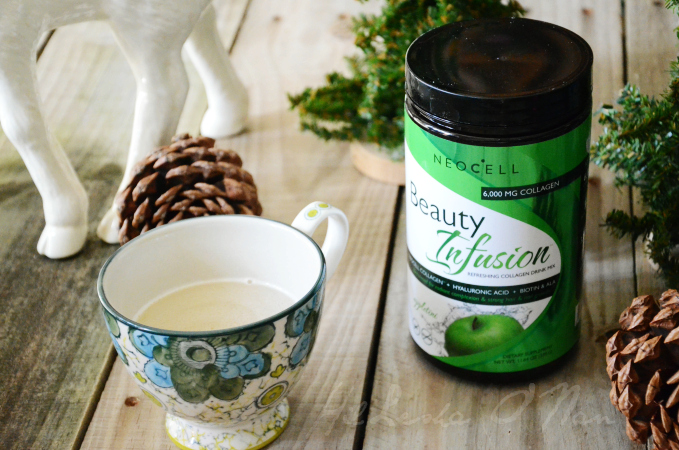 Our bodies stop producing collagen once we turn 30 years old. We start losing one to two percent of collagen every year after that, thus eventually leading to brittle nails, loss of elasticity in the skin, and thinning hair. NeoCell Beauty Infusion, an all-natural beauty drink mix, makes up for the loss of collagen with essential nutrients that strengthen the hair, skin, nails; nourish the skin, and protects our skin from environmental stress with powerful antioxidants. One scoop of NeoCell Beauty Infusion combined in a glass of water, juice, or smoothie delivers 6,000 MG of NeoCell collagen™ Type 1 and 3, 50 MG of Hyaluronic Acid, 3,000 MCG of Biotin, Alpha Lipoic Acid, and Vitamin C. Each serving is nearly 40 calories and is free of gluten, soy, wheat, lactose, and artificial ingredients.
It comes in three tantalizing flavors: Cranberry Splash, Appletini, and Tangerine Twist. Out of all three flavors that we received, the Appletini is our favorite!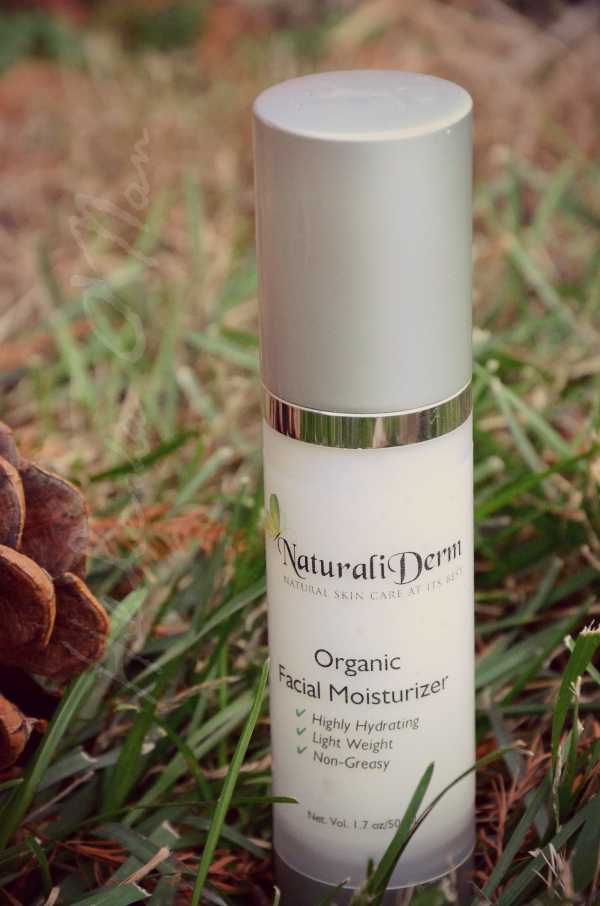 The NaturaliDerm Organic Facial Moisturizer is ideal throughout the year since it is lightweight and quick absorbent. This lightweight formula nourishes the skin with innovative ingredients. These ingredients are scientifically proven to protect the skin from the aging effects of free radicals. 5% of each sale is donated to the National Breast Cancer Foundation in honor of the founder's mother, who has battled breast cancer twice, thanks to early detection! You'll receive a 25% off coupon by clicking here.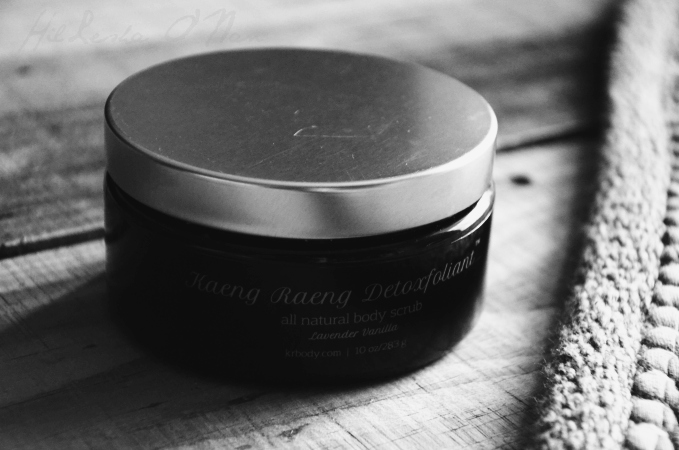 Dry, dehydrated is the most common issue during the cooler seasons. Moisturizing body scrubs like the Kaeng Raeng Detoxfoliant Body Scrub slough off dead skin, revealing smooth, soft, and glowing skin! It's lightly scented with Lavender and Vanilla Absolute essential oils that evoke a sense of serenity. It also made of other naturally opulent ingredients (Himalayan Pink Salt, Dead Sea Salt, Organic Virgin Shea Butter, and Organic Apricot Kernel Oil).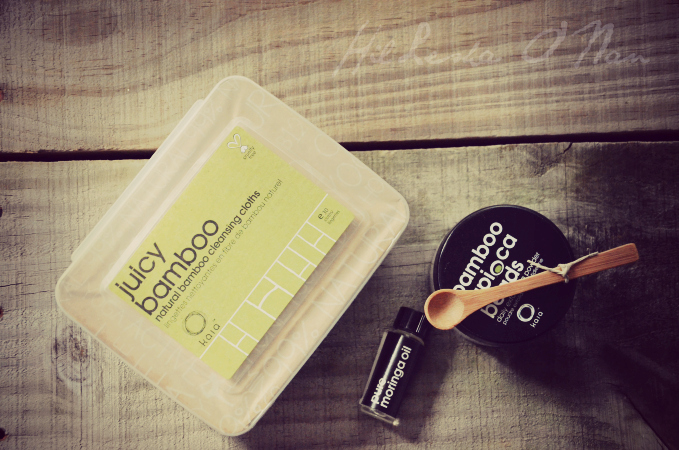 Toronto-based brand, Kaia Naturals is a natural skin care line that was established in 2009. Their objective was fulfilling a scarcity in the beauty industry, a need for newness when it came to cleansing. They have accumulated a cult following with those who lead a wellness lifestyle, such as travelistas, veganistas, yogistas, or simply any woman on-the-go. They've also emerged as the artisan skincare brand over the years. Their Juicy Bamboo Cleansing Cloths ($15.50 – $19.50) and Bamboo Tapioca Beads Cleansing Kit ($38) not only harnesses the power of bamboo, but they're also 100% natural and perfect for travel.
The versatility of the Juicy Bamboo Cleansing Cloths is phenomenal, as they function as a toner, cleanser, and eye make-up remover. In fact, they won the 2014 Canadian Beauty Innovation Awards for Best Natural Beauty Product. They effectively remove the most stubborn make-up, including waterproof mascara. It doesn't sting the eyes in the process. These facial cloths are 100% biodegradable, made in small batches, harvested from unbleached bamboo natural fibers, and saturated in vitamins B12, C and E. Shortly after that, they're soaked in citrus essential oils — the highest and purest quality grade from Europe and the Middle East. They're also fortified with a wholesome blend of honey that has been heated and liquified, sunflower oil, and jojoba oil. Love, love, love!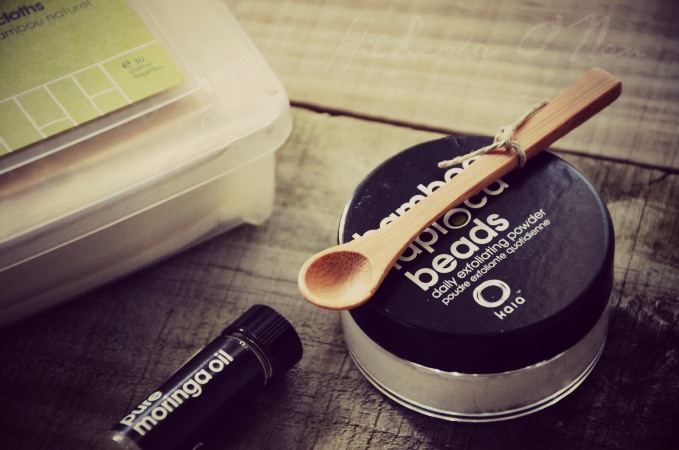 The Tapioca Beads Customized Cleansing Kit takes cleansing to a different, yet more exciting level! This exfoliating cleanser is made from natural ingredients to help restore the skin's health and radiance. The ingredients include coconut, chickpeas, citrus fruits, and tapioca. The powdered formula's versatility is endless since the cleansing kit is customizable, including the consistency by adding droplets of different liquids of your choice. You can also use this kit to make facial masks.
It comes with a small and adorable, wooden spoon to help whip up your concoctions. Some of the ingredients that you can blend with the powder include Ginger Tea, Almond Oil, Sea Buckthorn Oil, Avocado Oil, Rosewater, Rosehip Oil, Green Tea, Coconut Oil, Plain Yogurt, or the oil that also comes with the kit: Moringa Oil. Moringa Oil has always been one of my favorites since it removes makeup without much effort. It's known for its rich properties. It contains 6x the vitamin C of oranges. It also deeply penetrates the skin without leaving an icky, greasy residue. There isn't a better way to wake up the skin in the A.M.!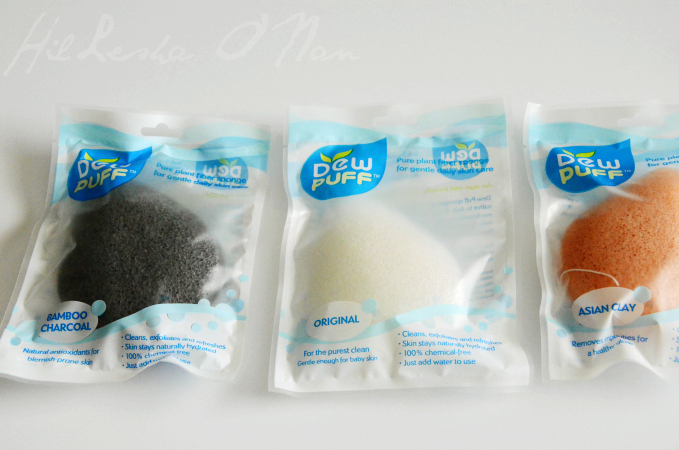 Konjac sponges are seemingly replacing the widely known, yet costly and over-hyped Clarisonic cleansing device since these sponges deeply cleanse, exfoliate, and detoxifies the skin just as good, if not better. These sponges also gently and effectively remove traces of make-up with ease. I prefer to use them alone, but they also are used in conjunction with a facial cleanser. They're even ideal to use after surgery, medical spa treatments, minor wounds, and even bruised skin since they're so gentle.
Dew Puff's konjac sponges are derived from pure konjac plant fiber and are available in three varieties: Bamboo Charcoal, ideal for blemish prone skin; Original, ideal for all skin types; and Asian Clay, ideal for dry and aging skin. Konjac root, also known as elephant yam or kon-nyaku in Japanese, is the ingredient that contributes to exceptional skin that looks soft, lively, and youthful. Best of all, they're affordable and stocking stuffer worthy! Each Dew Puff lasts up to three months when used twice a day.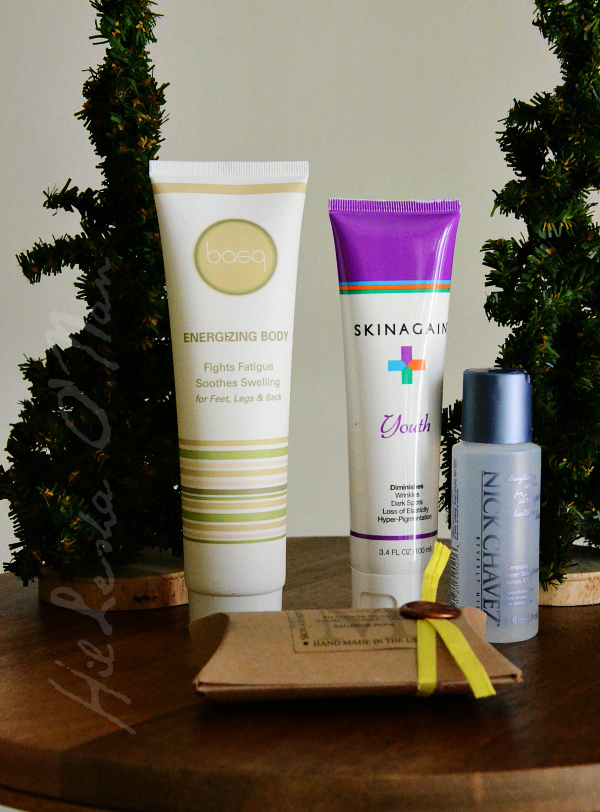 Beauty subscription companies like Birchbox, Glossybox, Julep Maven, and Beauty Army, are the perfect way of discovering new brands and products. There's nothing like the anticipation of receiving a new box at your doorstep every month, making it a fun and exciting experience since you never know what you will receive. The downside is that these products can be hit or miss, and quite frankly a waste of time and money.
Spaphile took the initiative to separate themselves from the rest with the "Best of 2014″ VIP Box. For $75, you will receive over $250 worth of products that they have perfectly curated: Youth Anti-Aging Cream by SkinAgain (a $64 value), Eyelash and Eyebrow Enhancer by Wink Natural Cosmetics (a $39 value), L'eggs Sheer Energy Tights (a $5.99 value), ZICO Premium Coconut Water (a $1.68 value), Quest Nutrition Protein Bar (a $2.39 value), Tri Miracle Square Travel Packs by MASHK (a $10 value), 3-Day Spa Passes redeemable at any Burke William Spa location (a $120 value), Energizing Body Gel by basq (a $20 value), and Ceramide Super Strenghtening Serum XXX by Nick Chavez (a $12 value).
derma e's award-winning Microdermabrasion Scrub ($32.50) is a simple, effective, and inexpensive way to quickly improve the appearance of the skin for all of the festivities during this season. It's practically a facial in a jar, but at the fraction of the price! It's truly the best facial scrub I have ever used.
This scrub has a thick, white, and grainy texture that's reminiscent of toothpaste. The granules are sand-like and not abrasive at all with sensitive skin like mine. The light citrus scent is pleasant and uplifting. It has an exclusive crystal blend that includes Dead Sea Salt and Volcanic Sand, which is deeply rich in Silica, to buff away dull surface cells, help diminish the appearance of fine lines, wrinkles and acne scars, and absorb excess skin oils. It's made with natural astringents (Lime and Lemon Peel). It also boasts antioxidants, such as Grapeseed and Vitamin E, to help redefine the skin. This results in touchable, soft, smooth, and younger looking skin! In a matter weeks, the slight acne scars that I have are starting to fade. My experience has been so positive that once my supply has depleted, I'm considering on buying the Reduce the Acne scars bundle ($53.96), which consists of the Microdermabrasion Scrub, Scar Gel, and Very Clear® Moisturizer.
The Hydrating Night Crème with Hyaluronic Acid ($29.50) is thick and creamy, making it ideal for the cold, brisk weather when the skin is at its weakest. It's so deeply rich in moisture that I preferably use it every other night to avoid breakouts. It truly keeps the skin soft and supple, but I've found that using a dime-sized amount goes a long, long way!
An eye cream, such as Hydrating Eye Crème with Hyaluronic Acid ($19.50), is always part of my skincare arsenal. This eye creme has been proven to reduce wrinkle volume, area, and depth. It also firms, tones, deeply hydrates, and diminishes the appearance of crow's feet. I can't comment on the effectiveness of its anti-aging properties since I'm not experiencing that yet, but I can attest that I have been looking well-rested lately!
Product submissions were received for the Holiday Gift Guide. All thoughts and opinions are exclusively my own.