Inspired by Elizabeth's vintage-inspired jewelry line is brimming with pieces that range from necklaces, rings, earrings, hair clips, and bracelets, mostly meticulously crafted in bronze or silver. Their design aesthetic is unique, feminine with an edge, sophisticated, yet playful and modern vintage. It perfectly channels the likes of Audrey Hepburn and Katy Perry if they were to meet! These pieces are not meant to be worn by a shrinking violet, because they naturally send invitations to compliments and conversations.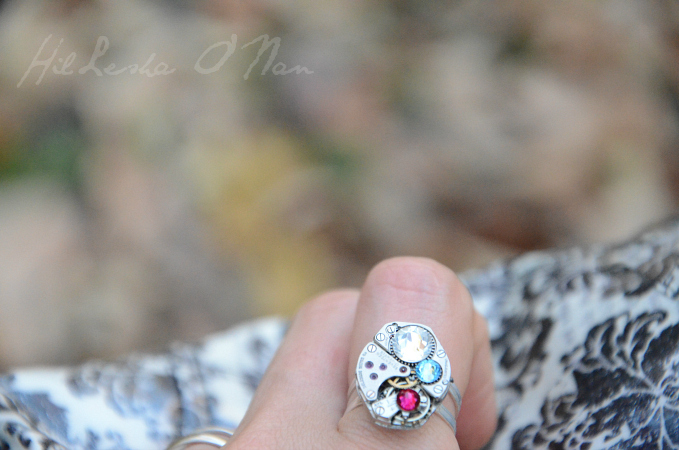 Their bestselling and most loved collection is the Mother's Ring Collection. Their Mother's Ring Collection is ideal for mothers and grandmothers alike, boasting four different ring styles. The Custom Made Mother's Steampunk Birthstone Ring in Sterling Silver ($55) that I received is nothing like anything else in my jewelry collection! It is like wearing a work of art that was exclusively made for me, as it is refashioned with elements that includes a non-working, barrel shaped vintage watch movement and Swarovski Crystals. It's a juxtaposition of materials that are simple, recycled, and lovely! The ring may be inexpensive in price, but it is high quality.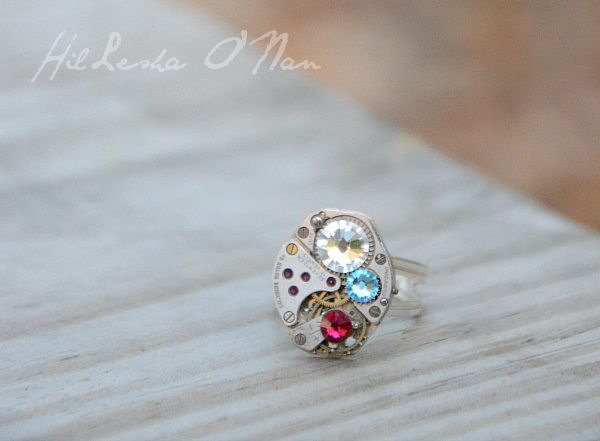 You can choose up to three crystals, such as one large crystal and two small crystals. The crystals represent birthstones, which can include your birthstone color along with your childrens' birthstones, or simply just their birthstone(s)! Mine features a large, clear Swarovski Crystal (my birthstone) and two small Swarovski Crystals (aquamarine and ruby), which are the birthstones of my children.
The Mother's Ring Collection perfectly goes with the Mother's Necklace Custom Birthstone Wing Necklace ($45), which features a non-working vintage Elgin watch movement that has been repurposed into a 2″ long detailed silver tone wing necklace.
Connect with Inspired by Elizabeth