This post is in partnership with Andrea Schroder: The Poetry of Fragrance.

Andrea Schroder started out small by creating natural fragrances that were derived from her garden. She had a dream to repurpose her grandmother's (Kathleen Partridge)who try, whom was a well known poet in London. It wasn't long after that The Poetry of Fragrance by Andrea Schroder was born! Today, Andrea Schroder combines the beauty of fragrance in conjunction with her grandmother's uplifting poetry with her organic candle line. Her organic candle line has quickly become a national brand that is known for its sublime, natural fragrances. The Poetry of Fragrance by Andrea Schroder was even selected as a 2014 nominee for Martha Stewart's American Made.
Each candle is hand poured and made with pure organic coconut oil, providing a clean, long-lasting burn. They also come with an uplifting, original poem written by her grandmother. These candles can be bought at Nordstrom, Hallmark, or her web-site.
Andrea Schroder is a mother of four, philanthropist, interior designer, and lifestyle expert. She is also an avid gardener and homemaker that supports various charities, such as Somaly Mam Foundation and Child Help, that help children.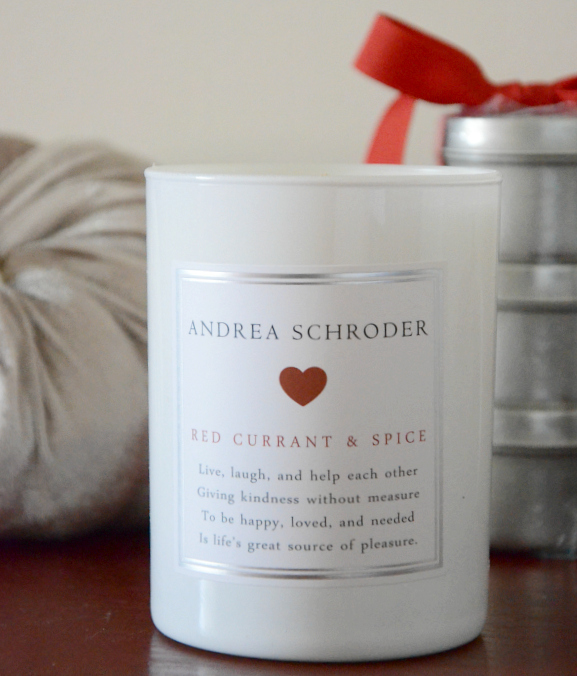 The Holiday Gift Box ($50) is customizable, giving one of two wintry scents (Cedar Woods or Red Currant and Spice Candle), a holiday notecard, and the choice of color in ribbon (Evergreen, Marble Grey, Black Noir, or Apple Red). It also comes with a box of matches and three travel sized candles. The Red Currant and Spice Candle was the primary scent in my gift box, and the three travel sized scents included the Vanilla Teak, Cedar Woods, and Red Currant & Spice Candle.
I've tried purchased and/or reviewed my fair share of candles over the years, but I'll have to say that the Red Currant and Spice Candle is one the best candle scents I've tried so far. It's wondrously combined with delicate white florals, woodsy notes, and a spicy blend of cinnamon, nutmeg, and cloves. This unique seasonal scent is not only beautiful, but it's strong enough to travel throughout the home yet not overwhelming to my hypersensitive sense of smell.
The nature-inspired Cedar Woods evokes the smell of the wintry outdoors with a rich, deep scent of cedar, fresh cypress, cool musk, and warm woods.
One of my most favorite scents in the world is the scent of vanilla, but it didn't take me long over the years to realize that not all vanilla scents are the same. Andrea put her spin on the timeless Tahitian vanilla scent by combining it with a fresh smell of earthy vintage teak wood, giving it a notable, warm fragrance.
Candles are known for adding ambiance, tranquility, and tantalizing the senses with a flicker of a flame. If you have a candle lover in your life, give them the gift of fragrance, beauty, and light with this candle line. Although the Holiday Gift Set ($65), Holiday Gift Box ($50), or Travel Candle Gift Set: Holiday Home ($14.95) will make the most ideal gifts during this holiday season, this line also offers a Candle Club Membership (3 Months: $99, 6 Months: $189, or 1 Year: $349; Coconut Oil & Goats Milk Soap ($7.95), 10.5 oz Candles ($35), and 2 oz Travel Candles ($5.95).
Connect with Andrea Schroder