Nothing takes away a beautiful, dewy glow like air travel. The multiple hours of re-circulated air flowing though a small, overcrowded space wreaks havoc on your skin. But these pint-sized beauty must-haves pack a serious moisturizing punch. So load up your TSA-approved Ziploc with these new products:
For Hands & Body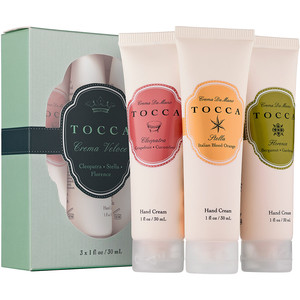 TOCCA's Crema Veloce ($16) is the perfect travel must-have for hand and body moisturizing both in-flight and during your stay away.
The set includes three of the cult-classic hand creams in Cleopatra, Stella and Florence scents. The 1 oz size makes them a no-fuss item in your handbag or carry-on. Each hand cream is enriched with coconut oil, shea butter and aloe. These moisturizing, quick absorbing hand creams will leave your skin feeling soft, silky and delicately scented. Best of all, it's free of parabens!
For Instant Skin Revitalization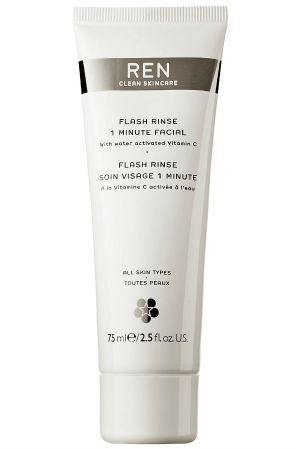 Transform your complexion in 60 seconds with the REN Flash Rinse 1 Minute Facial ($48).
This travel-friendly treatment instantly revitalizes and visibly rejuvenates the skin instantly. Formulated with potent, water-activated Vitamin C it neutralizes urban grey in a flash to leave skin looking firm, toned and smoothed while reducing signs of fatigue, photo-aging and skin imperfections. Skin instantly glows with renewed health and radiance.
The gel contains boswellic acid, magnesium and stabilized 10% Vitamin C in a silica/glyceride matrix which avoids activation and oxidation before use. The gel is applied to a dry face and massaged in for a few seconds before adding water. The water then activates the gel to deliver to the skin an intense shot of fresh, active and potent Vitamin C.
100% of women that participated in product trials said their skin was more luminous and felt smoother and firmer…transformed!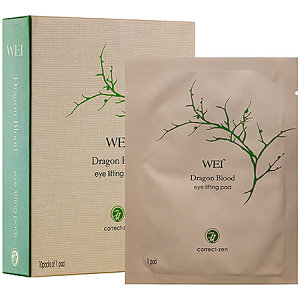 Soaked in a firming solution of Dragon Blood extract, the WEI Beauty Dragon Blood Eye Lifting Pads ($60) quickly provide an invisible support for the entire eye area that reveals an instant lifting and tightening effect, leaving you with firmer looking skin.
Specially formulated with red sap known as "Dragon's Blood" from the legendary Dragon Tree, this crimson resin diminishes the appearance of sagging skin around the delicate eye area while providing long-term firming and lifting benefits.
What is in your travel beauty bag?