Compression socks are essential for long distance traveling, yet many are utilitarian in style, designs, and colors. This all changed once Sarah Stabile was recovering after having knee surgery. Her doctor encouraged her to wear compression socks to reduce the likelihood of blood clots, especially during air travel. Frustrated with the lack of styles that were available for compression socks, Sarah set out to create SoxxyAir.
SoxxyAir compression socks are comfortable with pizzazz! They are a medical necessity to help increase circulation, decrease the risk of deep vein thrombosis (DVT), reduce swelling, and muscle soreness. Also, they reduce jet leg. You can be rest assured that you'll arrive at your destination feeling refreshed and energized after a long flight, bus, or car ride.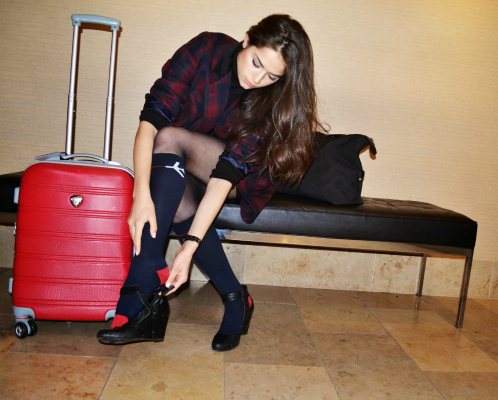 Right now, Sarah's main focus is bringing awareness to her latest project: her IndieGoGo campaign. For this campaign, she has partnered with five charities to create sock designs that give back. These charities include the Michael Stabile Memorial Scholarship Fund at Trinity Pawling School, Jesse Lewis Choose Love Foundation, Kristen Ann Carr Fund, Bob Woodruff Foundation, and WhyHunger.
Designing with a purpose allows Soxxy to give back in a more meaningful way. Each pair of socks cost $25, and $8 from the sale of each socks will be donated to that specific charity.
Note: SoxxyAir Charity socks won't be available until end of April.
Also, readers will receive a 20% off discount with coupon code: SoxxyAirs.

This post is sponsored by SoxxyAir and BrandBacker. All opinions and thoughts are exclusively my own.