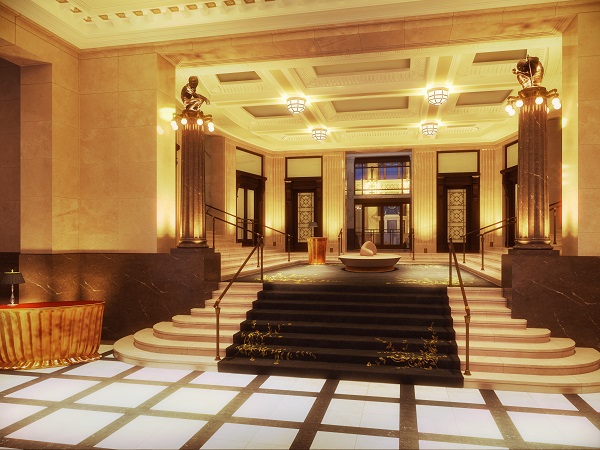 Park Hyatt Vienna, the brand's first hotel in Austria, opens on June 1st in a 100-year-old building that once housed the Austrian Hungarian Monarchy Bank. The 143-room hotel, which has 35 suites, is the only hotel in Vienna's Golden Quarter, the new pedestrian-only, exclusive shopping district. It stands on one of the city's most beautiful squares, Am Hof.
Nestled between St. Stephen's Cathedral and the stock exchange, the Golden Quarter forms part of Vienna's First District, a UNESCO World Heritage Site. The area has become an elite shopping district and is now home to flagship stores for Louis Vuitton, Emporio Armani, and a new Prada, which is housed in the Park Hyatt.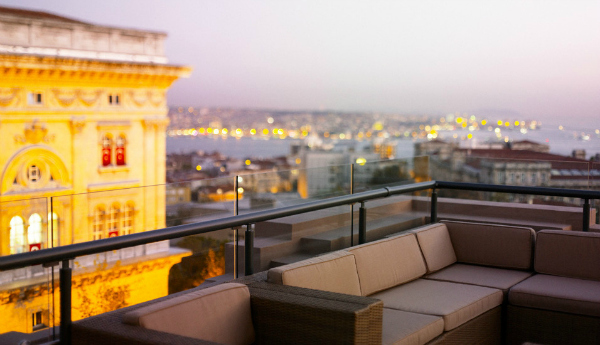 With 21st century travelers in mind, the hotel combines modern technology and amenities with Viennese tradition and the building's Art Nouveau style. Public spaces and guest rooms are decorated in rich, earthy panels of polished inlaid wood, hand-selected Italian and Greek marble, fine leathers, and custom-designed carpets. Noteworthy elements include:
• The pool, located in the original bank vault, is tiled in golden-colored stone, an allusion to the gold bars once stored there.
• Guest rooms, 430 to 1,830 square feet and many with 14-foot-high ceilings, are among the largest in the city.
• Four food and beverage options: Austrian and international cuisine at The Bank, the main restaurant, which has an open kitchen; Wiener schnitzel and tapas at The Pearl; afternoon tea and pastries in The Lounge; and single-malt whiskeys and cigars in The Living Room.
• 6,900 square feet of beautifully refurbished meeting space that can handle anything from a boardroom meeting to a fashion show and a traditional Viennese ball.
• The Arany Spa: six treatment rooms, Technogym-equipped fitness center, and separate wet area with steam bath, sauna, sanarium (a combination sauna and steam room), and vitality shower.
In keeping with the Park Hyatt brand, Park Hyatt Vienna is a showcase of contemporary art, architecture, and design. (Park Hyatt hotels have invested in world-class contemporary art since the first one opened in Chicago more than 30 years ago.) Park Hyatt Vienna's artwork includes:
• Custom oversized replicas of Art Nouveau jewelry such as period hair combs and brooches designed by Carl Otto Czeschka, one of the most important designers of the Wiener Werkstätte.
• A restored mural discovered beneath layers of paint on the ceiling of the space that now houses The Bank restaurant.
• Works for the hotel's central glass elevator and top suites done by students of the Art School of Vienna and the University of Applied Arts.
The hotel opens just as the spotlight turns on Vienna for:
• The 150th anniversary of the Ringstrasse, the boulevard that runs around the historic center
• The 75th anniversary of Sigmund Freud's death
• The 100th anniversary of the outbreak of World War I, which Vienna will commemorate with special exhibits
• July 28 marks the launch of the European Peace Walk, the new 340-mile permanent walkway between Vienna and Trieste, Italy, created to celebrate Europe's culture of peace
Vienna is more accessible than ever for U.S. travelers. In July, Austrian Airways will add a new route, Newark Liberty-Vienna International, with five non-stop flights weekly, and in May, it will increase frequency on Chicago O'Hare-Vienna to daily non-stops. In addition, the Vienna Main Railway Station is slated for completion in 2015.
Park Hyatt provides discerning, affluent business and leisure guests with elegant and luxurious accommodations. Guests of Park Hyatt receive highly attentive personal service in an intimate environment. Located in several of the world's premier destinations, each Park Hyatt is custom designed to combine sophistication with a distinctive regional character. Park Hyatt features well-appointed guest rooms, meeting and special event spaces for groups, critically acclaimed art, food and beverage programs, and signature restaurants featuring award-winning chefs. There are currently 32 Park Hyatt hotels in the following locations: Abu Dhabi, Beaver Creek, Beijing, Buenos Aires, Busan, Canberra, Carlsbad, Changbaishan, Chennai, Chicago, Dubai, Goa, Hamburg, Hyderabad, Istanbul, Jeddah, Maldives, Melbourne, Mendoza, Milan, Moscow, Ningbo, Paris, Saigon, Seoul, Shanghai, Siem Reap, Sydney, Tokyo, Toronto, Washington D.C., and Zurich.