The reviewer has been compensated in the form of a Best Buy Gift Card and/or received the product/service at a reduced price or for free.
My love for music is undeniably strong and versatile. There is hardly a day in my life that goes by that I'm not listening to music. It is my favorite way to relax and unwind. Listening to music, along with my Fitbit One device, also helps me get and stay motivated during exercise. In fact, research shows that music can increase the intensity and duration of a workout by as much as 15%.
Most people use earbuds for exercise, yet earbuds have a tendency to slip out or hurt during active use. This was always my problem in the past, thus I had no choice but to forgo earbuds. In 2008, an Ironman Triathlete and a 24-time marathoner addressed this issue by creating ergonomically designed earbuds to ensure comfort and an exceptional fit. They also provide best-in-class audio quality and durability.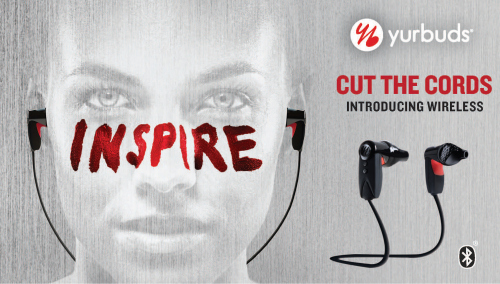 yurbuds is passionate about serving their customers and our community. They listen to and learn from their athletes to produce solutions to their needs. They are dedicated to innovating and creatively changing the industry of sports audio. Their goal is to empower athletes through exceptional products and services to help them to push past their barriers, reach new personal bests, and #neverstop.
Cut the cords and unleash your inner athlete with the Inspire Limited Edition Wireless Sports Earphones. These Stereo-Bluetooth® earphones lock in place comfortably so they never hurt and never fall out. The 15mm drivers provide the biggest sound available, providing the motivation you need to #neverstop. These sweat and water resistant earphones feature full track & call control with a wind-blocking microphone designed for call clarity. The athlete tested battery lasts up to 6 hours and provides visual and audible indicators when running low. This is sound with no strings attached.
Key Features:
· With yurbuds TwistLock™ Technology and FlexSoft Comfort Fit, these Stereo-Bluetooth® earphones lock in place comfortably and are guaranteed never to hurt or fall out.
· Bigger sound for music and calls provided by 15mm drivers
· Smart Battery powers a week's worth of workouts and provides visual and audible indicators when running low.
· Dedicated Pairing Button for simple 1-touch pairing.
· Compatible with all Bluetooth® devices.
· Earphones that never hurt and never fall out.
· Bigger Sound provided by 15 mm drivers
· yurbuds®, the #1 selling sports earphone company in the United States, is transforming the athlete experience with its new Inspire Limited Edition Wireless earphones to get you motivated through music. Launching at CES 2014 in Las Vegas this January, athletes, and tech enthusiasts will be able to enjoy the first-ever Stereo-Bluetooth® wireless earphones guaranteed to never hurt and never fall out.
You can purchase the Yurbuds and other health and fitness products at Best Buy to help you get motivated this year.