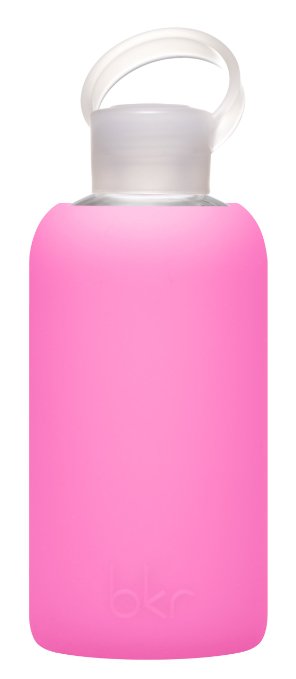 Brooke Burke showed off her fabulous figure in Los Angeles on Tuesday with her neon pink Bambi Bkr bottle in tow! The super fit star seems to have taken a cue from Bkr's latest celebrity fan Naomi Watts, who was spotted twice last week working out with a blue version of the glass and silicone bottle.
Hydration is the key to health and wellness, so it's no wonder stars are getting out of the plastic bubble and stepping out in droves with their brightly bottled beauty reminders. Bkr (pronounced as "beaker") debuts new colors each season inspired by RTW runway trends, making them the must-have, fashion forward fitness accessory in an out of the gym for Hollywood's biggest stars and supermodels. Each bottle is BPA-free and dishwasher-safe with a non-toxic silicone sleeve that beautifully protects the bottle, while providing a firm and steady grip. The cap is made of food-grade, recyclable polypropylene.
Other fans of Bkr include: Gisele Bundchen, Alessandra Ambrosio, Ana Beatriz Barros, Reese Witherspoon, Jamie Chung, Kristen Bell, Hilary Duff, Jenna Dewan, Natalie Portman, Jessica Alba, Olivia Wilde, Amy Smart, Malin Akerman, Jennifer Garner, Ashley Greene, Amanda Seyfried, and Alicia Silverstone.
Bkr believes in giving back. Each purchase supports initiatives that fund early detection cancer research and combat the global water crisis.