I received this product for free from the sponsor of the Moms Meets program, May Media Group LLC, who received it directly from the manufacturer. As a Moms Meets blogger, I agreed to use this product and post my opinion on my blog. My opinions do not necessarily reflect the opinions of May Media Group LLC. or the manufacturer of the product.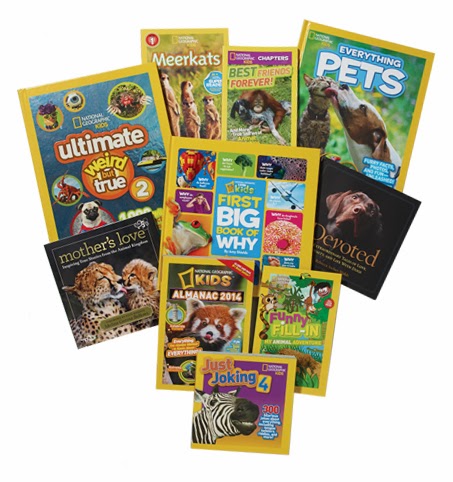 National Geographic offers educational entertainment for moms and kids. Their fantastic books are packed with photos, facts and fun, offering the perfect balance of "edu-tainment" for kids and parents. If you're looking to get your kids excited about learning, National Geographic books are a great place to start. Plus, your purchase of any National Geographic title supports conservation efforts. After all, what kid wouldn't be thrilled to see pictures, facts and fun printed in real full-color picture books? Kids ages 4 to 12 can learn about dogs, ducks, elephants, and more from the photo-packed books from National Geographic. Believe me when I say that adults can also learn from their books. You can't go wrong in picking up a few gifts here!
We received our own Holiday Book Boutique kit, including 10 National Geographic books and materials. The books we received are:
National Geographic Kids Chapters: Best Friends Forever, National Geographic Kids Chapters; Everything Pets, Funny Fill-In: My Animal Adventure; National Geographic Reader: Meerkats; Ultimate Weird But True 2; Almanac 2014; Little Kids First Big Book of Why; Just Joking 4; Devoted; Mother's Love.
The books brought pure joy to our little man! Now, this is the time of year, as it gets colder when our boy is inside more, we're desperately trying to find something to keep him occupied in the house. The Holiday Book Boutique kit is just what he needs when there's no homework! These books are clever ways to educate him. We are fortunate that he loves studying about animals, and he loves education. Winter is a good time of year for reading, so why not get them ready with a few of these National Geographic books!