Suave Naturals Rainforest Fresh Body Wash proves that a luxurious feeling doesn't have to come with a steep price tag. This thick, rich, and soothing body wash can help you mentally bask trekking in a beautiful, lush tropical rainforest, while it refreshes and cleanses your skin beautifully.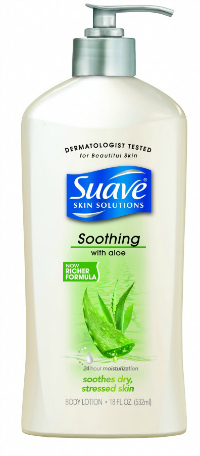 Knowing that having beautifully moisturized skin is the signature key to any look, I've been using the Suave Skin Solutions Body Lotion in Aloe and Cucumber. My skin is very sensitive, but this lotion is soothing and doesn't irritate it in the least. It's also thick and richly moisturizing for the bouts of dry skin that I experience from time to time. Despite it being thick in texture, it absorbs quickly and efficiently without leaving a tinge of greasiness – a problem that I have with a lot of lotions that are on the market. It also helps that it has a fresh, delightful scent that evokes the senses that bring a sense of serenity.
How Wendy Williams Unlocks Her Softer Side:
– Starting the day off with tough skin is enough to put anyone on edge. While I have a fabulous staff to help ensure my show runs smoothly, it's up to me to take care of my skin. First, I freshen with the delightful fragrance of Suave Naturals Body Wash. I finish my routine by softening my skin with Suave Skin Solutions Body Lotion for clinically proven moisturization – lasting up to 24 hours a day.
– It's not a secret that the chaos of preparing a family meal is enough to get anyone in a tough mood. Formal family meals sitting around the table? Forget about it! I make my boys dinner and we gather around the island, grab a fork and dig in! Family time doesn't have to follow a formula. Our quality time takes my edge off from a busy day at work.
– If I'm feeling on edge, I surround myself with things (and people) that make me positive. Call me superstitious, but every time I start a new episode of The Wendy Williams Show or start a new project, I wear my lucky ring to keep jitters away. It keeps me from snapping!
Disclosure: I'm writing this review and hosting a giveaway on the behalf of Suave and Weber Shandwick.