They dreamt up the idea for Rileyroos after being frustrated with the lack of stylish and developmentally friendly shoe choices when they had their first child. They created Rileyroos with a focus on style, comfort and ease, which they think is most important for little growing feet.

Rileyroos design inspiration comes from a combination of European fashion trends and American spirit and casualness. They designed the line to imitate barefoot walking and to protect little feet. The sole of a Rileyroos shoe is flexible and its rubber-padded sole curls above the toes to provide leverage as a child begins crawling. Unlike many heavy or bulky first walking shoes, Rileyroos' lightweight construction and protective bottoms support a child's foot as he or she starts walking and provides traction to prevent falls on slippery surfaces.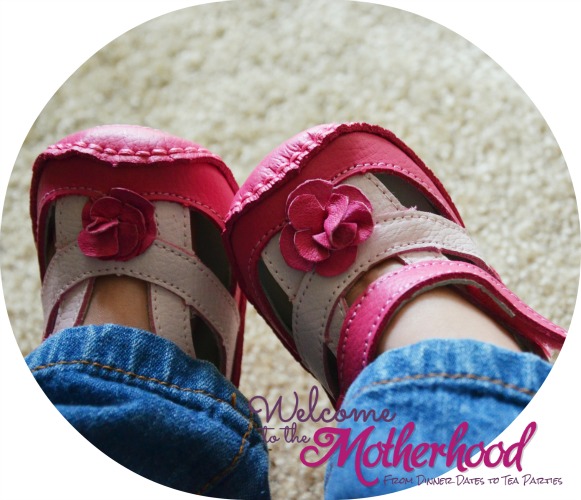 Now that I have a little walker on my hands, it's a must for my daughter to have a pair of comfortable and durable pair of shoes for our summer outings. For the summertime, the Allyson in Safflower ($36) fits the bill perfectly. My daughter still has a little bit of time to grow into these sandals, as you can see in the above picture. I know that they will fit her perfectly in no time at the rate that she is growing. I love that these sandals provide a suitable amount of protection and ensures the comfort that all little feet need. These sandals are beautifully crafted soft leather with accent colored stitching. They also feature leather sole with rubber padding and a closed toe area to ensure superior protection.
The Deets:
• Handcrafted from high quality, durable leather uppers
• Super soft and lightweight
• Padded leather collars for added comfort
• Velcro closure for secure fit and easy on and off
• Leather linings for breathability
• Flexible and form-fitting leather outsoles with rubber padding
Connect with Rileyroos: Pinterest | Facebook | Twitter
Disclosure: The item(s) in this review was provided to the reviewer for keeps and the purpose of writing a review. This in no way affects the quality of the review provided. No monetary exchange occurred in exchange for the writing of the review. The views expressed in this review are strictly that of the reviewer. All reviews provided here are the work of the reviewer and remain completely unbiased.