This summer, celebrate National Tea Day (June 10th) with Rooibee Red Tea. Rooibee Red Tea is derived from the South African Rooibos bush and is USDA-certified organic. It is a great way to jump start your morning, yet can help you wind down, relax at the end of the day, and lull you into a blissful summer slumber. That is just a small sampling of what it can do, considering its wealth of benefits. To top it off, it is refreshing, rejuvenating, gluten free, low in calories, and naturally caffeine-free.
Those behind Rooibee Red Tea are moms and dads, sons and daughters, sisters and brothers who want to live right and take care of their families, community, and environment. They created this family-friendly, caffeine free tea as a healthy alternative to high-sugar juices and sodas, that rejuvenates without stimulants and refreshes without anything artificial.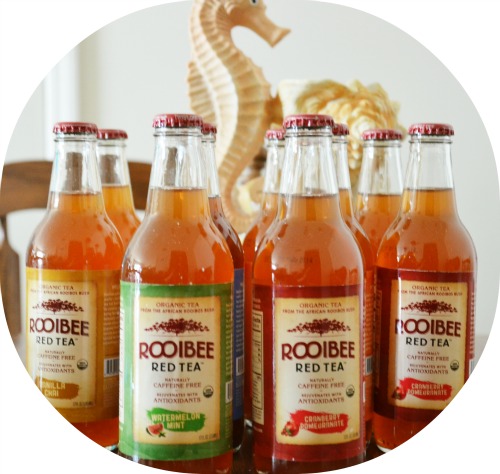 Rooibee Red Tea comes in five flavors: Vanilla Chai, Peach, Unsweetened, Watermelon Mint, and Cranberry Pomegranate. I didn't think I'd like the Cranberry Pomegranate or Watermelon Mint, but those two ended up being my favorites. The mint in the Watermelon Mint was very subtle, thus I was able to enjoy it better. My least favorites were Vanilla Chai (never been much of a Chai fan) and Unsweetened (I prefer unsweetened tea to be freshly brewed and piping hot).
About Rooibee Red Tea: Rooibee Red Tea is made and bottled locally in Louisville, Kentucky. It is Certified Organic by the Kentucky Department of Agriculture. It is also now available nationwide. You can connect with them via Facebook and Twitter.
Disclosure: The item(s) in this review was provided to the reviewer for keeps and the purpose of writing a review. This in no way affects the quality of the review provided. No monetary exchange occurred in exchange for the writing of the review. The views expressed in this review are strictly that of the reviewer. All reviews provided here are the work of the reviewer and remain completely unbiased.