The comfort level of Naturalizer shoes are superbly indescribable, pure bliss. They're a definite far cry from the painstakingly heels that I've worn in the past, which I am slowly, but surely veering away. I have wide feet with a high arch and a high instep, so comfort is key. Since 1927, Naturalizer has been proving that comfort and style go hand in hand with their vast selection of women's shoes that fit for you. They're one of the few brands that cater to women that have unconventional widths or have a size that isn't easily found with other brands. I know why my mother said that a pair of Naturalizer shoes she had were one of the most comfortable shoes she ever had. That was quite a few years ago.
Each pair of shoes feature their exclusive N5 Comfort System that entails five essential features that will make your feet good at the end of the day as they did in the beginning. Those noteworthy features are balance, breathability, flexibility, lightness, and softness that will help you get through every step of the way.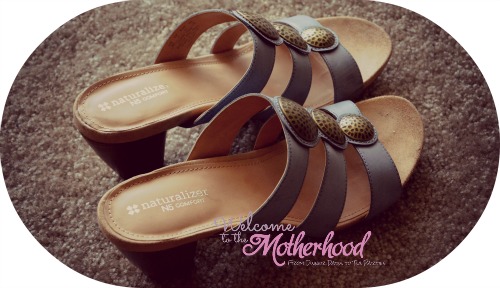 I've been donning the Egypt Sandals (Available in Black Leather, Brown Leather, Caravan Sand Leather, and Spring Denim Leather) (regularly $85; on sale for $69.99) from their Spring '13 Collection. These sophisticated and chic, yet comfortable sandals feature metal disc ornaments, smooth lining, cushioning insole with N5 Comfort System; 1/2 inch platform midsole, and a non-slip outsole, 2 1/2 inch heel.
Prize(s): One winner will a gift card to receive a pair of shoes of their choice at Naturalizer – no matter the cost!
The giveaway will conclude on May 15th.

Disclosure: The item(s) in this review was provided to the reviewer for keeps and the purpose of writing a review. This in no way affects the quality of the review provided. No monetary exchange occurred in exchange for the writing of the review. The views expressed in this review are strictly that of the reviewer. All reviews provided here are the work of the reviewer and remain completely unbiased.