SeabuckWonders, the premier source for health supplements and personal care products made from the Himalayan Sea Buckthorn Berry. Also known as the Dr. Oz 'miracle berry', this robust superfruit is packed full of powerful antioxidants, vitamins, essential fatty acids and the entire family of Omegas (3, 6, 9 AND the rare Omega 7) to enhance your daily health and beauty routine. Are you interested in smoother and more hydrated skin, shinier hair, a healthier smile and nails….all while boosting your immune response, aiding digestion and improving overall wellness? Look no further. SeabuckWonders is proud to offer the first and ONLY full line of products made with 100% USDA Certified Organic Himalayan Sea Buckthorn.

They have been the Sea Buckthorn experts for almost 20 years, offering supplements and personal care products with the highest concentration of sea buckthorn and Omega-7 for better results. Experience the benefits yourself by trying out their body lotion, supplements, facial cleanser, seed and berry oils, hydrating serums and creams.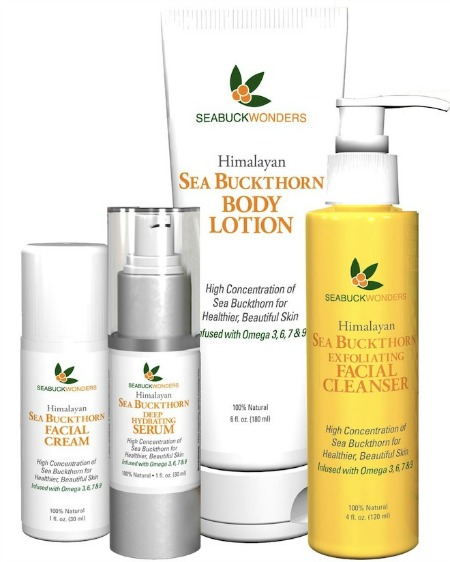 SeabuckWonders skincare line boasts four different products, the Facial Cream ($19.97), Body Lotion ($14.97), Exfoliating Facial Cleanser ($16.97), and Deep Hydrating Serum ($34.97). Each product is formulated with a high concentration of Organic Himalayan Sea Buckthorn and is infused with Omega 3, 6, 7 & 9. They're also vegan, non-GMO, paraben-free, cruelty-free, and gluten-free.
I'm happy to report that I wasn't disappointed in any of the products in the least, but my top favorites are the Body Lotion and Exfoliating Facial Cleanser. The lotion is deeply moisturizing, but it isn't greasy in the least and doesn't sit on top of the skin since it absorbs very well – perfect for this bitter cold weather! As for the Exfoliating Facial Cleanser, it's very gentle to my sensitive skin, making it perfect for everyday use.
I normally avoid most serums since they usually breakout my skin, but this one wasn't the least bit of oily. Not only it gives the skin the moisture that it craves for, but it also improves the tone and texture. Lastly, their Facial Cream is another great product that can be used on all skin types, including oily skin, because it contains natural anti-inflammatory agents that balances and regulates the skin. Sea Buckthorn is also a mild analgesic, which discourages the desire to pick or scratch at the skin.
I love that most of the SeabuckWonders skincare products are under $20, which is quite a deal since their products do "wonders" for the skin!
Disclosure: The product(s) in this review was provided to the reviewer for keeps and the purpose of writing a review. This in no way affects the quality of the review provided. No monetary exchange occurred in exchange for the writing of the review. The views expressed in this review are strictly that of the reviewer. All reviews provided here are the work of the reviewer and remain completely unbiased.