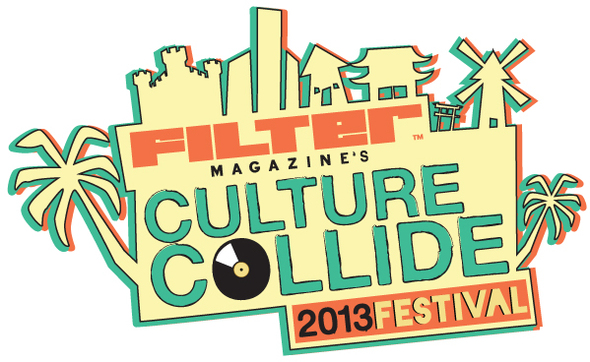 It's official! FILTER Magazine's fourth annual Culture Collide Festival will return this fall, bringing five days of compelling and distinctive music and more to Los Angeles. Running October 9-13, Culture Collide 2013 is slated to also feature the second annual Culture Collide Creative Summit -a collection of interactive panels and forums speaking to the evolving music and entertainment industries- as well as Comedy Collide showcases and a selection of daily globally-themed happy hours.
New this year, FILTER is offering early bird Culture Collide wristband tickets priced at just $20 for a limited time, before going up to the $30 general admission price later this spring.
"We have quite a few surprises up our sleeve for this year's Culture Collide Festival," said Alan Miller, co-founder and co-publisher of FILTER Magazine. "Not only will music fans continue to get the incredible and eclectic music experience they've come to expect, this year FILTER is looking to expand the festival without borders, further establishing Culture Collide as not just another music festival, but a complete lifestyle experience."
FILTER Magazine's Culture Collide is a five-day international music and arts festival taking place this October 9-13, hosting artists and bands from all over the US and the globe, as they bring their unique perspectives on music and culture to LA's East Side. Culture Collide can be summed up as a musical melting pot where live performances, showcases and diverse food and drink choices from around the world converge across multiple venues and stages. Stay tuned for Culture Collide artist announcements coming soon.
Culture Collide Early Bird Ticket Purchase Info:
To purchase Culture Collide Early Bird Festival Tickets, priced at just $20, visit Ticketfly and enter the code: cc2013 at the official Culture Collide ticketing site: http://www.ticketfly.com/purchase/eventV2/245637/tfly.