The holidays always hold a special place in my heart, because it's a time my family and friends can usually be at the same time at once, despite conflicting schedules and the busyness of our lifestyles. The holidays are going to be extra special this year since we have a "new" addition to our family…my daughter, who will be reaching her 5-month milestone next month.
I'm planning on making the holidays even more memorable by getting our pictures professionally taken together as a family. Therefore, I enlisted upon Cookie's Kids help on finding the perfect holiday dress for my daughter.
It's easy to get overwhelmed with their web-site, because they have a broad selection, yet they make it easy for the customer by sorting everything by gender, brands, colors, sizes, and prices. Organization is the key when it comes to online shopping. I wish more sites were like this, because there's no bigger turn off than when a web-site is disorganized and/or cluttered. I also like that Cookie's Kids showcase their products accurately, complete with superb photography.
To ensure a perfect fit, there is an Alva Kids icon next to the size option. Simply list your child's' stats (gender, age, height, weight, body/leg proportion, etc.)
I was half-expecting their prices to be costly like most children's clothing stores I've come across on the web, but I was pleasantly surprised that everything is shockingly affordable. In fact, most of the pieces that caught my eye were $20 or less, such as the Princess Faith "Asteria" Dress with Diaper Cover ($19.99) that I immediately added to my cart.
My next goal was to find matching shoes. I fell for the Rugged Bear "Corduroy Bows" Booties ($6.99), yet I was slightly disappointed that they only offered two sizes that I was unsure of: 0-3 months and 6-9 months. Since my daughter is 4 months, I didn't want to risk getting the wrong size, especially since I wasn't for sure which one would fit her better. I'm glad I didn't settle for the first choice (As Smokey Robinson says, "you just have to shop around"), because I shortly stumbled upon the Gerber "Pretty Prima" Mary Jane Booties ($6.99), which I added to my cart without hesitation. The subtotal of the outfit came to $26.98. Not bad at all! To top it off, they included a subscription to Parents magazine since my order came to $30+ after they added the shipping rate ($5.95).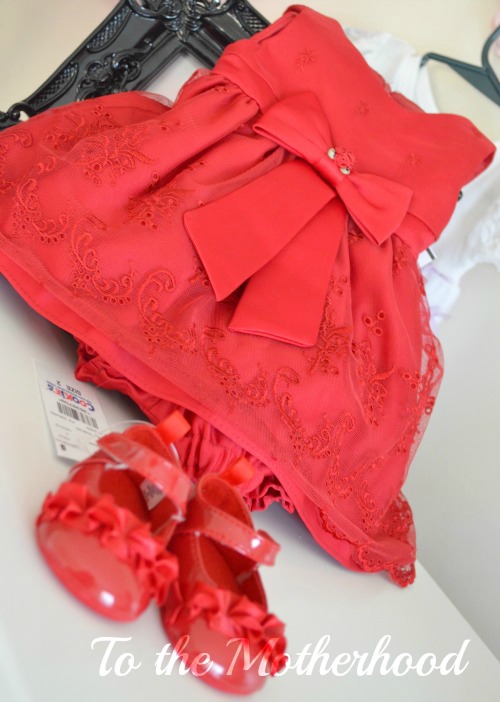 I was floored when my order finally came, because everything was more beautiful than I expected. I was afraid that the two reds wouldn't look good together, because not all reds are the same. Yet, that wasn't the case at all – they matched perfectly!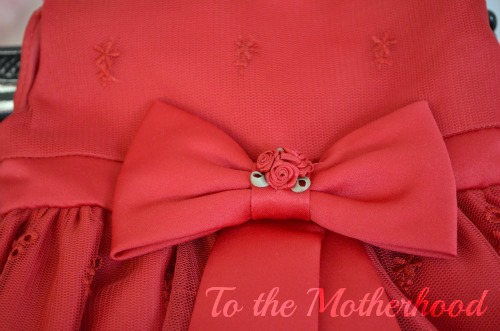 The empire waist bodice features an oversized bow.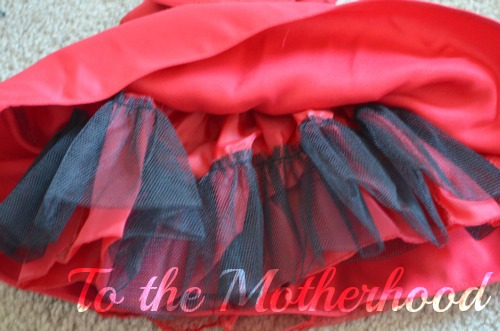 The full tulle skirt (underneath the dress) adds a delicate, feminine touch of sophistication.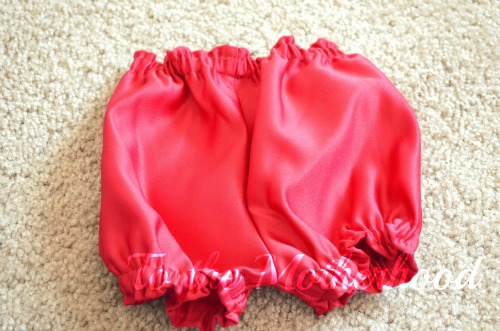 Providing an ample amount of coverage and comfort, the bloomer-esque diaper cover has an heirloom appeal.
Not only the Mary Jane Booties are supremely stylish, but they're utterly comfortable! This is important for tiny, growing feet. The shoes are made of patent leather, featuring Velcro ankle straps and a dainty ruffle trim.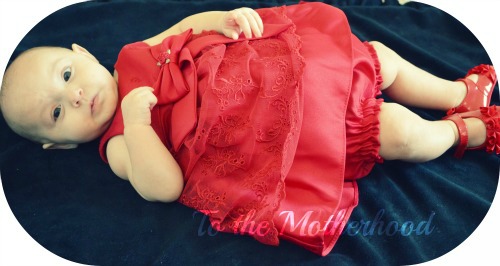 The dress fit my growing girl (14 lbs) perfectly. She seemed in awe of her outfit. However, the shoes were a different story since she hates anything on her feet, whether they're socks, a blanket, or shoes. After a little fussing, I was able to slip the shoes on her feet.
I don't regret my choices in the least, because I thought the outfit looked simply adorable on her! Overall, I found my shopping experience with Cookie's Kids to be a good one. Their site is simplistic in design, yet offer an impressive selection of cute and budget-friendly clothing. Most importantly, their site is very easy to navigate and well categorized. They also ship in a timely manner.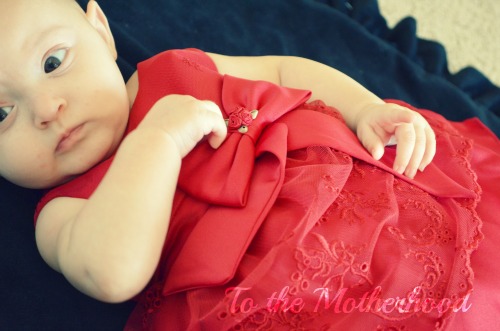 In 1972, a young man named Cookie and his brother Marvin went into business together. They rented a 1600 square foot store in Jamaica, Queens, fixed it up, bought inventory and Summer and Fall, and opened a day after Thanksgiving with a full stock of holiday toys. The toys were a success and they put the extra money toward buying children's clothing for the next season. When that did well, they bought more clothing. The business was on its way.

As the brothers Cookie, Marvin and Sonny, who had come in as a third partner in the business, began to open new stores in new locations, inventory expanded. Besides the latest fashions, their customers wanted shoes, toys, backpacks, and accessories and they were prepared to deliver.

By the late 1990s there were six superstores throughout the NYC area, and though they previously had different names, by that time they were all named Cookie's Kids. Also in the late '90s came an important addition to Cookie's Kids' inventory: school uniforms. It was the steady success in uniform sales that paved the way for founding CookiesKids.com in 2007, which originally sold uniforms and soon after the entire Cookie's Kids Inventory. Cookie's Kids have 7 stores in the NYC area in Bronx, Brooklyn, and Jamaica as well as online.
I am a member of the Collective Bias™ Social Fabric® Community. This shop has been compensated as part of a social shopper insights study for Collective Bias™ and CookiesKids.com #CBias #SocialFabric"