When I first became a parent, about six and a half years ago, I quickly realized that taking a baby out requires a lot of planning and patience. It isn't always an easy walk in the park, especially since it can take an hour or two to get ready to just go to the store. If you're anything like me, you'll probably take everything in your diaper bag (or handbag), but the kitchen sink, delaying things even more. This is where Due Date Bags ($225) waltzes into the picture. Available in three different colors, these diaper bags are teeming with style and class. Word has it that Vanessa Minnillo and Ali Landry love theirs!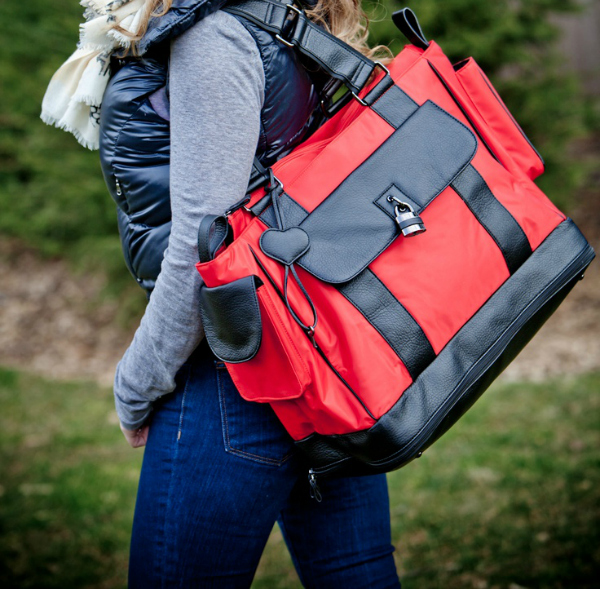 The traffic-stopping exterior features two side pouches, a pouch on the front and back, a lock and key embellishment, detachable padded heart dangle, and microfiber with faux leather pebble grain trim. Inside each diaper bag, amidst labeled pockets (Bottle, Diapers, Juice Box, and Umbrella), are stroller straps, an unlabeled double pocket with their embroidered logo, featuring a hip cartoon woman; cosmetic bag, snack bag, and a large zippered bag that can easily hold extra clothing for 2 children. They also offer an optional working mom insert (sold separately; $75), which boasts a padded pocket for your iPad® and a place to store sunglasses and eyeglasses in addition to the umbrella and bottle pouches.
Perhaps, a kitchen sink could fit in here, after all…..
The bottom of the diaper bag serves as a fully functioning changing station, which is not only complete with a changing pad, but it also has labeled pockets where you can store the essentials – wipes, diaper ointment, diapers, diaper buds, and toys. I love this concept! The labels help me immediately find where everything is instead of playing guessing games.
Honestly, I wish I had this diaper bag at the time when my daughter was born. This would have deterred the need of having to bring a few bags at the hospital, which included her diaper bag, a weekender with my clothes and essentials, and purse.
Due Date Diaper Bags cater to moms from all walks of life – stay at home mother, working mom, and first-time mommy. They may be slightly costly, but they're well worth the price if you take their functionality and versatility into consideration.
This post is in partnership with Due Date Bags.