Joovy, an American company, has one goal in mind for parents, and that is make their life more simplistic by providing premium, yet affordable baby products. Joovy prides itself in their double Os – Joovy, Caboose, Nook, Kooper, Groove, Room2, Cocoon, Spoon, Cocoon! Parents everywhere love their products for their simplicity, reliability, versatility, functionality, and fashionability.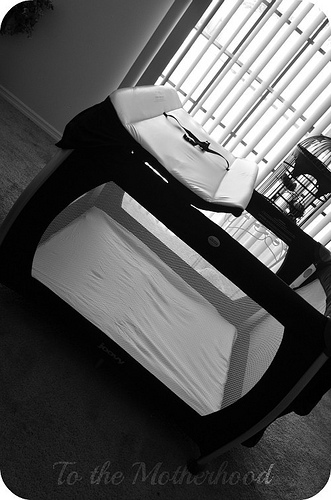 Today's playards are nothing like they used to be. They have even come a long way since my son was born and that was just six years ago. Playards such as the
Joovy Black Room Playard
($269.99), is versatile enough to be used for taking a nap, playing, diaper changing, and listening to music. It can hold babies up to 35 lbs. It includes a 100% cotton sheet (additional sheets are sold separately) that works for the bassinet or the playard floor. The sheets are utterly soft and made to last since they're very durable. I don't use the full size bassinet that is included, but it holds an infant up to 15 pounds.
Not only it boasts these additional features that modestly put playards from way back then to shame, but it's undeniably stylish, sleek, and sophisticated. Joovy takes proudly by using the best fabrics on the market today. The Room is made with 600D nylon fabric, which is super strong, durable and stain resistant.
Originally, I almost opted for the Orangie Room Playard, because it's a delightfully vibrant orange that exudes fun. I selected the black playard since it would perfectly coordinate with any room in the house.
During diaper changes, I'd mostly put my daughter in her crib, placing a changing mat underneath her to avoid making a mess on her sheets. She didn't like diaper changes at all, and she didn't hesitate at making a fuss about it. Strangely enough, she seems to like diaper changes since I've been using this removable changing table (holds an infant up to 25 lbs). She even smiles and laughs. Silly girl. Perhaps it's the material, I don't know! I love that it is easy to clean with only a few swipes. Also, it has four storage pockets on the side to hold all of the essentials for diaper changing.
I love all of the additional features, but the parent organizer is the ultimate contender for me, at least. It's known to be the largest organizer on a playard, featuring 9 compartments (including a hard plastic top for wipes) that can easily hold 9 lbs. of nursery items.
The bottom part of the organizer is generously spacious enough to hold my daughter's disposables and cloth diapers.
It has a built-in MP3 (iPod) jack with speaker that enables you to play your music from your playlist or the integrated music with sleep mode. This is good to use if you want to calm a fussy baby or lull them into a sweet, blissful slumber. Personally, I love the music that comes with it, because it features old-time favorites, such as "Twinkle Twinkle Little Star", "Old McDonald's Farm", and "London Bridge is Falling Down", to name a few. That's not all either, because it also has a built-in nightlight that is ideal for inside the bassinet or playard. You only need two AA batteries to fully utilize these features.
Last, it has a zippered travel bag that's perfect to use when you're on the go or traveling.
The Joovy Black Room Playard is unquestioningly the Ferrari of playards!
Disclosure: The item(s) in this review was provided to the reviewer for keeps and the purpose of writing a review. This in no way effects the quality of the review provided. No monetary exchange occurred in exchange for the writing of the review. The views expressed in this review are strictly that of the reviewer. All reviews provided here are the work of the reviewer and remain completely unbiased.