Hoover has been a trustworthy household name for over 100 years with appliances, especially vacuum cleaners and carpet shampooers. When it comes to household messes, such as grime and dirt, Hoover tackles the problem with such effortless ease.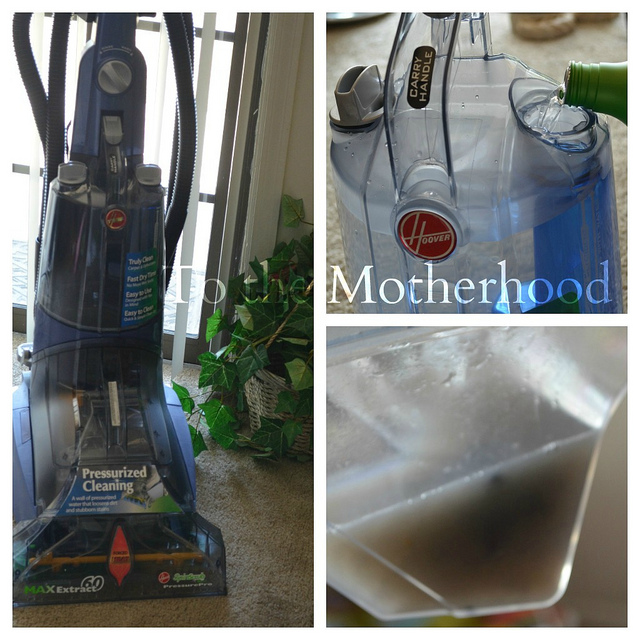 I have a 6 year old son, so you can easily be rest assured that my home endures a varied collection of messes, from dirt and grime to spills and stains. It is inevitable to have your share of messes anytime there is a boy in the household. I have tried practically everything in the past to get the carpet in pristine condition, including having it professionally cleaned. Most of what I tried was timely, rendered useless, and expensive. Unfortunately, my carpet is prone to getting dirty more easily since it is light beige. I prefer that shoes are taken off at the door, but it's like I'm talking to a brick wall at times. Boys will be boys, though.
There's nothing like having your own carpet shampooer, especially if it gets the job done and lasts. I've tried one before, and it did a mediocre job and probably lasted for only a few months. Not good at all, considering how much it was. I have only had the Max Extract® 60 Pressure Pro™ Carpet Deep Cleaner ($199.99 at Amazon) for a few weeks, but I can honestly say that it is the best carpet shampooer I have used.
I first tried out the deep cleaner in my daughter's room, which is a room that my son has always considered as play area before my daughter was born. He likes going in there to watch movies, play video games….or color. He recently received some dry erase crayons from a company. To my dismay, the black crayon somehow got into the carpet. I tried everything to get it out without any success, so I honestly wasn't sure if the deep cleaner would truly work for this case. I knew if I had any success with it, it would be very little. It took me in for a complete surprise when it did come out, which didn't take much effort at all. I was literally floored!
Pros:
– Assembling was a breeze!
– This deep cleaner is simple and easy to operate.
– Not only it removes dirt and grime with such ease, but it miraculously removes the toughest stains.
– My carpet looks brand new since I've received the deep cleaner.
Cons:
– You can only use Hoover's cleaning products for this deep cleaner. It's considered hazardous to use other brands. I'm not sure if this is just a sale's pitch, but I'm not willing to take the risk of finding out.
– When the tank fills up with dirty water, it can be be bit of a pain to take out. On a good note, it is really easy to clean.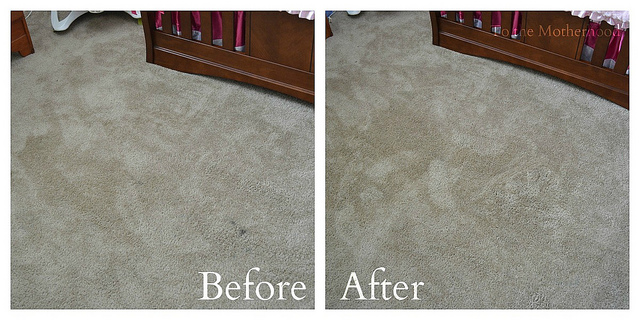 • MaxExtract® DualV® Nozzle Technology – it pulls up a lot of dirty water, making your floors dry fast.
• Pressurized Edge-to-Edge Cleaning – a wall of pressurized water that loosens and lifts stubborn stains with constant and relentless spray.
• SpinScrub® 60 – counter-rotating brushes engineered to surround carpet fibers, removing dirt at every angle. It's like treating your carpet to a deep, massaging salon shampoo.
• Heated Cleaning – powerful motor with forced heated air to help speed dry time.
• Auto Conversion Tools – conveniently positioned where they should be – right at your fingertips.
• SmartTanks™ System – separate tanks for clean and dirty water, so you can easily fill, empty and rinse each tank individually!
Overall, I have had a very good experience with using the Max Extract® 60 Pressure Pro™ Carpet Deep Cleaner. I've only a few minor annoyances, but they are very tolerable and can easily be overlooked. I believe that the $200 price tag is argumentatively reasonable. I know that as time goes on, you'll have to buy their brand of cleaning solution ($10 – $20) every time you use this deep cleaner. That can get costly. However, I much rather take that risk than rent a deep cleaner that I'd have to lug home.
I received a sample of this product to facilitate my review, but my opinions are entirely my own.