The Slumber Time Elite by Simmons Kids Crib N' More ($299; Available in Espresso at Target.com) is a convertible 4-in-1 crib that can function as a crib, toddler bed, day bed, and even a full size bed (daybed conversion kit included; toddler guard rail & crib conversion rails are available separately)! It is made of genuine, solid wood with a non-toxic lacquer. The 3-position mattress support easily adjusts to fit your growing child. Since I haven't thought of a nursery theme for my daughter yet, I have had a few select people look at the crib in person and they were quite impressed!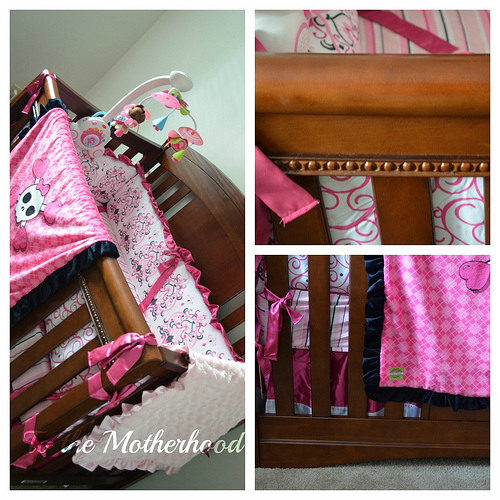 This crib has a simplistic, yet sophisticated and timeless appeal that makes it look more expensive than it really is. It features a V-Match Veneer panel headboard and thick, gorgeous moldings with subtle curves throughout the design. Simmons signature "Soft Detailing" is on all edges and corners. I love how strong and substantial it is – not flimsy in the least! It took my dad at least a couple of hours to set it up, mostly due to the fact that he had a little misunderstanding with the instructions. He had it set up in no time after he figured out what he did wrong. The wait and effort that was put into setting it up was well worth it. I really liked it when I saw pictures of it online (this was before receiving it), but fell in love with it after it was set up! Pictures of this crib doesn't do it any justice, because it is gorgeous and impressive beyond words!
The Slumber Time Elite by Simmons Kids Crib N' More is an excellent and affordable investment for those who are looking for a crib that will last a lifetime and grow with their child. This crib is from Simmons Kids Furniture by Delta™ Children's Products' "Elite Collection", which can easily be found at Target.com. The Elite Collection has been selected for its elegance and sleek design. It has been created to match your lifestyle.
Disclosure: The item(s) in this review was provided to the reviewer for keeps and the purpose of writing a review. This in no way effects the quality of the review provided. No monetary exchange occurred in exchange for the writing of the review. The views expressed in this review are strictly that of the reviewer. All reviews provided here are the work of the reviewer and remain completely unbiased.